2019 European Pony Championships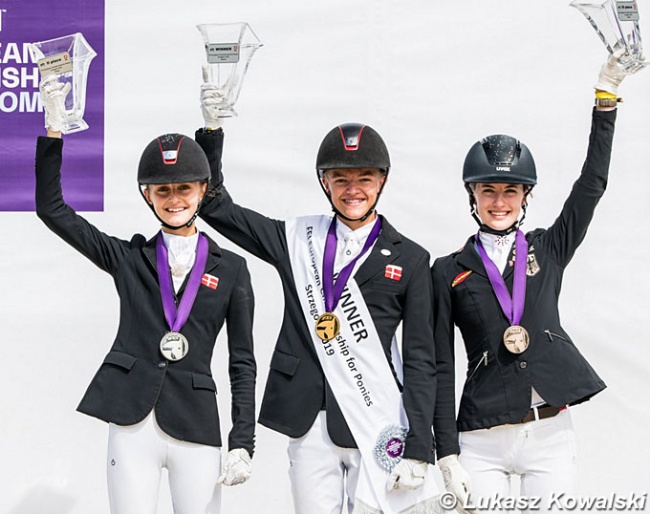 Fifteen-year old Alexander Yde Helgstrand claimed the gold medal by winning the individual test at the 2019 European Pony Championships in Strzegom, Poland, on Saturday 17 August 2019. The silver medal went to Liva Addy Guldager Nielsen, while Shona Benner earned bronze. 
Fifty-four riders competed in the class, which was contested over two days, and three pairs withdrew. Judges Graham, Hillier, Tornblad, Tissot, and Ebert officiated. 
All four Danes drew a starting place on Friday, while three out of four Germans and two Dutch were still to go on Saturday. While the Danish produced stellar scores that certainly gave much medal confidence, it was still anxiously waiting until the other favourites had gone today. 
Helgstrand and the 13-year old Danish team routinier Adriano B (by De Angelo B x Flying Dream) posted a whopping 78.216% and that mark remained unchallenged on Saturday. After earning triple silver at the 2018 European Pony Championships in Bishop Burton, Helgstrand junior now has two gold in his pocket with the Kur Finals still to come on Sunday.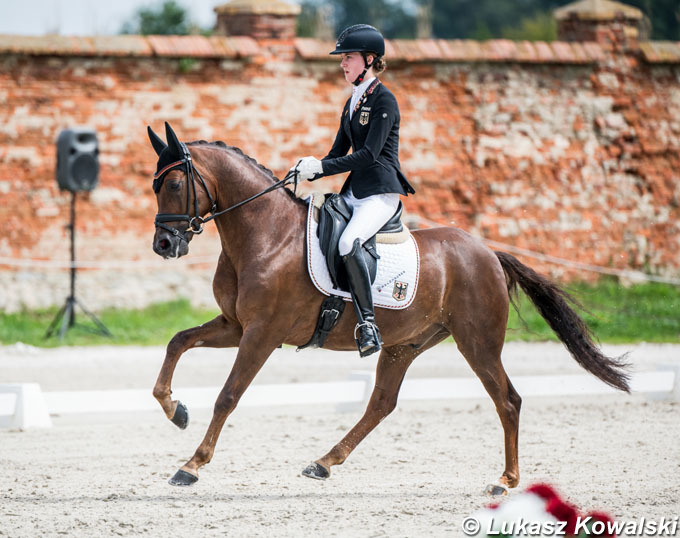 Danish Liva Addy Guldager Nielsen and the 13-year old gelding D'Artagnan (by FS Don't Worry x Colano) scored 77.351% and were second on Friday. The 15-year old kept a firm hold on that second place today, which delivered her silver. 
What looked like what was going to be a Danish 1 - 2 - 3, was prevented by German Shona Benner.  The 15-year old and her 9-year old Oldenburg bred Der Kleine Sunnyboy (by Der Feine Lord x Valentino) produced a 76.297% earning test. The judges were not unanimous on the German's performance with 73.919% (Tornblad, 6th) as her low score and 78.649% (Graham, 2nd). This is Benner's second bronze of the weekend, after already winning team bronze on Thursday. 
Benner elbowed Danish Nathalie Thomassen off the podium, whose ride on the 10-year old Danish bred Lykkehoejs Dream of Dornik (by Melli's Dornik x Cupkehof's Winobert) earned her a 75.703%.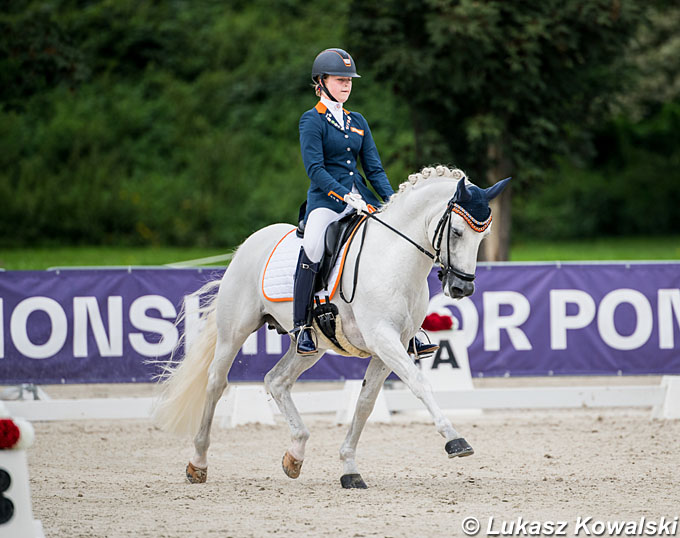 In her final year and last show on Rose van der Lof's 17-year old German riding pony stallion Elin's Noncisdador (by Nostramdamus x LP Nixen), Dutch Micky Schelstraete helped Holland secure team silver on Thursday. In the Individual test she slotted in fifth with 75.432%.
The youngest rider at the show, Germany's 11-year old Rose Oatley, made a stunning recovery after a disappointing ride in the team championship test that landed her 38th with 67.071%. Young Oatley was back on her A-game aboard the 9-year old palomino Daddy Moon (by Daddy Cool x Capri Moon) and scored 75.405% to finish sixth. Her marks did range from 71.757% (Hillier) to 76.892% (Graham) though.
Dutch Robin Heiden and the 8-year old Colourfull Cannonball (by Can Dance) moved into seventh place with 75.351%. Her individual scores went from 73.787 (10th) to 77.162 (3rd).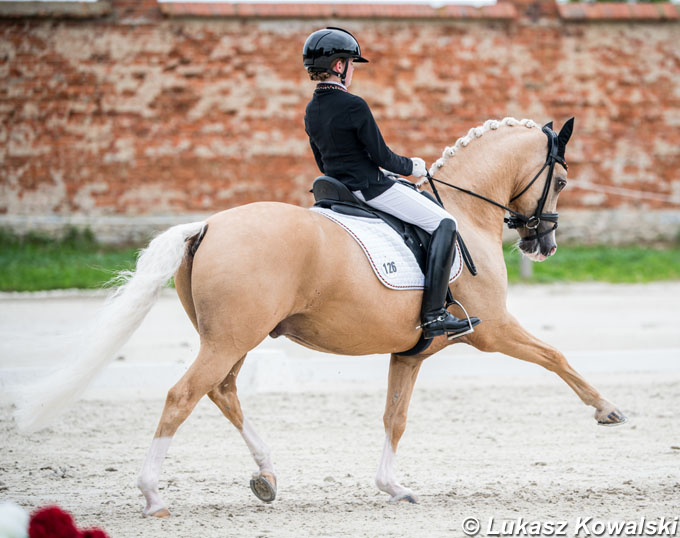 The highest placing riding from a non-medal winning team was Swiss Robynne Graf aboard the 10-year old Westfalian gelding Dallas (by Dressman). She placed a strong 13th after earning 71.676%. British Annabella Pidgley and the 11-year old Cognac IX (by FS Chambertin x Waldemar) was right behind her in 14th place with 71.432%.
Text by Astrid Appels
Photos © Lukasz Kowalski - Image Gallery from the 2019 European Pony Championships on Facebook
Related Links
Scores: 2019 European Pony Championships
Eurodressage Coverage of the 2019 European Pony Championships