2019 Spanish Youth Riders Championships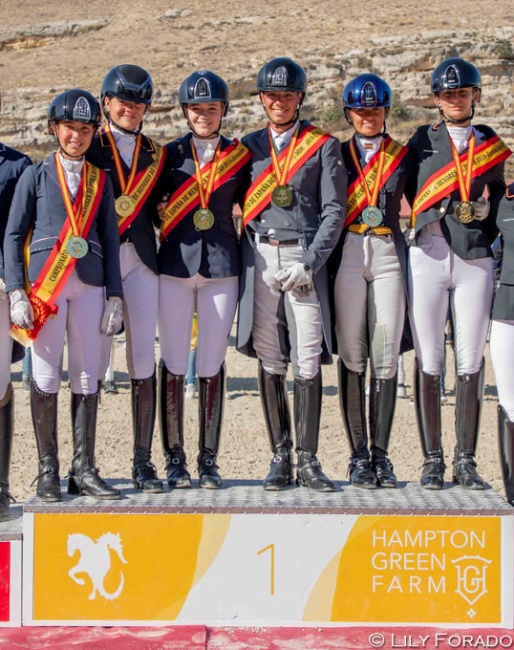 Children's rider Sofia del Olmo Bak, junior rider Natalia Bacariza Danguillecourt, young rider Carla de la Fuente de Pablos and under 25 Grand Prix rider Diego Martínez del Moral became the winners of the 2019 Spanish Youth Riders Championships held at Amtuna  Centro Ecuestre de Castilla y León  in Segovia, Spain, on 6 - 8 September 2019.
While the 2019 edition of the Spanish Youth Championships welcomed 35 children riders, 45 junior rider, 29 young riders and 7 Under 25 riders, press was clearly not welcome at this even! The Centro Ecuestre de Castilla y León is the host of some of Spain's most important national and international dressage competitions, but for the its Youth Nationals it made the decision that if press wanted to attend, they had to pay a 120 euro entry fee! The matter has immediately been reported to the International Alliance of Equestrian Journalists as never before did press have to pay for access to a competition of such stature, provide publicity and cover the event (which is highly costly for the journalist to start with, travel expenses, hotel fees, long work hours). While we had a colleague working at the event, Eurodressage questions whether it should even report on such an unfriendly show! But we do it for the riders!
The children category is a highly popular one in Spain and has both pony and horse riders between the ages of 12 and 14. Winer was Sofia del Olmo Bak on the 15-year old pony Sophienhof's Maroon (by Sophienhofs Marok). The Spanish-Danish born scored 68.654% in round 1, 71.077% in round 2 and 70.464% in round 3 to total a winning 210.195 points for the title. Nerea Lago Varela and the 16-year old Diabolo (by Santeno) were on del Olmo Bak's heels with 69.731%, 69.385% and 69.893%. They got silver with 209.009 % points. The bronze medal went to Marina Martinez-Losa on the 20-year old grey Picachu. She totaled 207.901%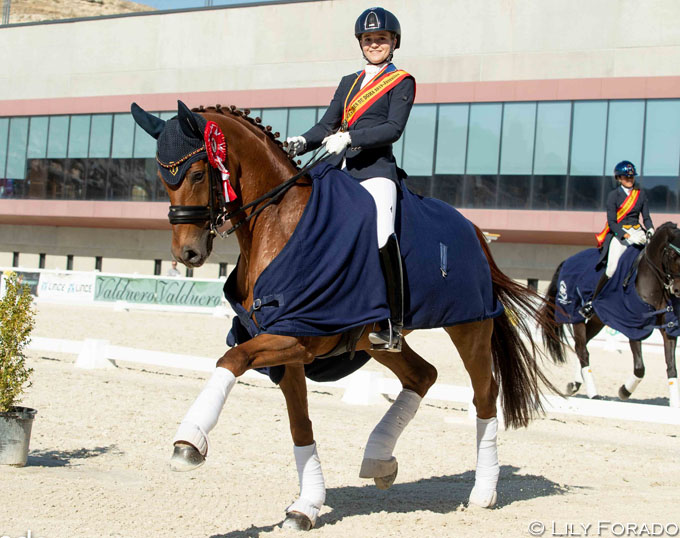 Natalia Bacariza Danguillecourt said goodbye to her time as a junior rider with a second, consecutive Spanish Junior Champion's title. Aboard the 9-year old German bred Romantico (by Belissimo M) she was a league of her own and won all three rounds to finish on a winning total of 226.608% points. She won the team test with 75.061%, the individual with 74.647% and the Kur to Music with 76.900%. Natalia splits her time between winters in Wellington, Florida, and summers in Europe. Sergio Moron Basoco and the 9-year old Danish warmblood Farnham L (by Furst Rousseau x Hohenstein) landed the silver with three consistent 70% earning rounds to finish on 214.909 points. He posted 70.485%, 70.029% and 74.395%. The bronze was for Felipe Montoya Martinez and the 14-year old Amber with 211.110 points. 
At Young Riders level Carla de la Fuenta de Pablos finished her career best year with the national title. Aboard the 12-year old Fay (by Fidertanz) she topped the leader board with 217.882% points for the gold medal, but it was not an easy victory as Juan Jose de las Cuevas and the 9-year old Oldenburg bred Denksport (by De Niro x Rubinstein) were neck to neck with 216.409% points. Carla won the team test with 72.176% and the individual with 71.971%, but was second in the Kur with 73.735%. Juan José was second twice (70.559%, 71.765%) and won the Kur (74.085%). The bronze medal went to Ona Sola Gonzalez-Hidalgo on the 10-year old Sirocco (by Sergio Rossi) with 211.330% points.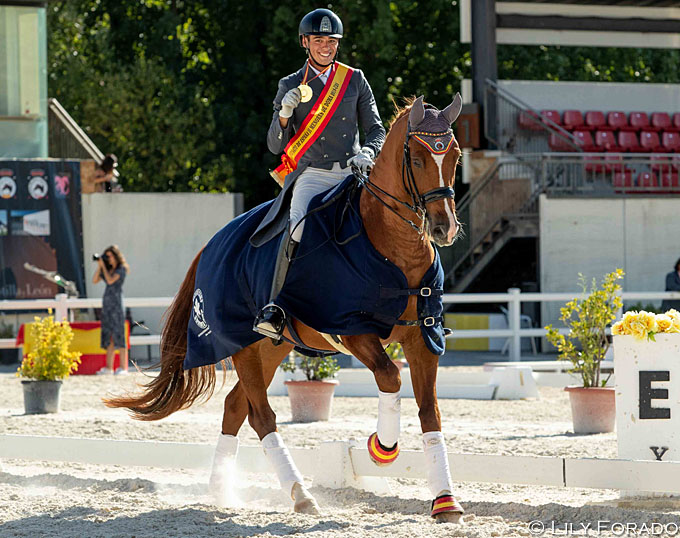 Seven Under 25 riders competed in Segovia and six of them completed all three rounds. The winner was Diego Martinez de Moral on the 11-year old For Olimpic Games (by First Dance) with a total of 208.423% points; He won all three rounds with 68.147%, 67.821% and 72.455%. Lucia Lopez de Ingunza and the 19-year old Verdal (by Jenetor) secured the silver with 204.127% points. She scored 66.765% in the Intermediaire II, 66.897% in the Short Grand Prix and 70.465% in the Kur to Music. Lara Insa Alcarez and the 17-year old Hanoverian Don Diago (by Don Frederico) slotted in third overall with 202.874% points for the bronze medal.
Photos © Lily Forado
Results - 2019 Spanish Youth Riders Championships - Segovia
Children
1 Sofia del Olmo Bak -  Sophienhofs Maroon -  68.654 71.077 70.464 --- 210.195
2 Nerea Lago Varela -  Diabolo -  69.731 69.385 69.893 --- 209.009
3 Marina Herrero Martinez-Losa -  Picachu - 68.615 70.500 68.786 --- 207.901
4 Lucía Borreda Ribes - Cariñoso LXXVII -  68.654 69.077 68.214 --- 205.945
5 Laia Canut Arenos - San Hit D'Alo - 68.538 67.654 68.107 --- 204.299
6 Milena Moral Pastó - Floridor - 67.808 67.885 68.536 --- 204.229
7 Lucía Mármol Salas -  Unique -  67.500 69.000 66.893 --- 203.393
8 Samuel Montero Melantuche -  Don Magic - 69.654 65.615 68.071 --- 203.340
9 Claudia Lledo Ros - Rececho  - 66.769 68.154 68.286 --- 203.209
10 Paula Taramona Rivera - Chopard - 65.462 68.385 68.071 --- 201.918
11 Claudia Lledo Ros - Cocktail - 67.692 66.923 67.214 --- 201.829
12 Elsa Bosch Portillo - Lindegaardens Zorro - 65.462 69.308 67.036 --- 201.806
13 Claudia Ferreiro Bach -  Erf - Danonino - 65.808 66.462 67.607 --- 199.877
14 Patricia Rodriguez Ruiz -  Casper -  66.308 66.577 66.393 --- 199.278
15 Paula Oro Ponce -  Impaciente Jf - 65.692 64.654 67.036 --- 197.382
16 Arianna Abad Feliu De La Peña -  Sunboy - 66.538 66.192 64.500 --- 197.230
17 Patricia Camacho Luque -  Dictador Er -  66.923 64.615 63.357 --- 194.895
18 Miguel Ángel Albert Villar - Ciceron -  64.731 66.077 62.000 --- 192.808
Junior Riders
1. Natalia Bacariza Danguillecourt - Romantico Ymas  - 75.061 74.647 76.900 --- 226.608
2 Sergio Morón Basoco -  Farnham L -  70.485 70.029 74.395 --- 214.909
3 Felipe Montoya Martínez - Amber - 68.788 70.147 72.175 --- 211.110 
4 Bruno Cid Romero - Brentana - 68.697 69.824 72.345 --- 210.866
5 Araceli Pons Solé - Walenka - 68.727 67.882 69.360 --- 205.969
6 Raquel Bailon Folch - Don Ingendeal - 69.152 67.676 69.045 --- 205.873
7 Lluc Fajula Cadena - Omega Brenda -  68.242 67.971 69.415 --- 205.628
8 Rodrigo Mora Vicente - Sir Henry -  67.394 68.441 69.575 --- 205.410
9 Carolina García García - Volvo - 67.303 68.765 69.200 --- 205.268
10 Nekane Pomposo Palenzuela - Deja Vu  -  66.121 68.206 70.735 --- 205.062
11 Fátima Garcia-Gullon Domínguez -  Show Time - 68.182 67.735 68.425 --- 204.342
12 Andrea Montoya Martínez - Gigolo- 67.545 67.088 67.500 --- 202.133
13 Nerea Tovar Valverde - Luz Fs -  67.091 66.647 67.900 --- 201.638
14 Claudia Triay Gomila - Karin Real - 66.818 66.265 68.500 --- 201.583
15 Ástrid Calvera Gispert -  El Dorado S-  67.818 65.882 67.850 --- 201.550
16 Jessica Castro Cachinero- Indiferent - 67.576 66.147 67.575 --- 201.298
17 María Araceli Martín Rivera - Showman - 66.061 67.618 67.200 --- 200.879
18 Isabel Herrero de Pablo - Diablo - 66.394 66.471 67.860 --- 200.725
Young Riders
1. Carla de la Fuente de Pablos - Fay - 72.176 71.971 73.735 --- 217.882
2 Juan José González de las Cuevas -  Denksport -  70.559 71.765 74.085 --- 216.409
3 Ona Sola Gonzalez-Hidalgo - Sirocco -  68.706 69.324 73.300 --- 211.330
4 Mónica Blázquez Lopez-Muñiz - Believe - 69.176 69.353 71.915 --- 210.444
5 Alejandro Oliva Lázaro - Fisherman's Friend -  68.471 69.500 72.305 --- 210.276
6 Elena Moncayola Pruja - Onix - 67.029 68.529 71.940 --- 207.498
7 Adrián Rodríguez Montilla - Walt Disney D'Alo - 67.706 67.588 70.550 --- 205.844
8 Carmen Gálvez González - Rivero -  66.618 66.529 71.120 --- 204.267
9 Andrea Herrera García- Rock Star - 66.912 67.235 68.395 --- 202.542
10 Julia Torrallardona Kröger - Don Winslow - 66.294 65.471 67.445 --- 199.210
11 Mario Pacheco García - Don King - 64.235 65.735 68.850 --- 198.820
12 Marta Suárez Navarro - Caprichoso Er -  64.912 65.118 68.355 --- 198.385
13 Carmen Garcia-Romero Moreno - Senado Iii-  64.912 64.824 67.090 --- 196.826
14 Adrián Rodríguez Montilla - Goldwyn Bcn- 65.853 63.647 66.780 --- 196.280
15 Nerea Matos Vilariño - Risto -  64.971 64.441 66.680 --- 196.092
16 Giovanni Torrens Bentz -  Euro Boy - 65.471 65.676 64.550 --- 195.697
17 Adan Esterlich Arasa - Llamantol - 64.765 65.235 64.615 --- 194.615
18 Andrés Herrera Bravo -  Saullo - 64.235 65.294 64.210 --- 193.739
19 Alvaro Gil Araujo -  Capri -  64.794 63.941 64.820 --- 193.555
Under 25 
1 Diego Martínez del Moral  - For Olimpic Games - 68.147 - 67.821 - 72.455 --- 208.423
2 Lucía López de Ingunza -  Verdal -  66.765 - 66.897 - 70.465 --- 204.127
3 Lara Insa Alcaraz -  Don Diago - 66.059 - 66.590 - 70.225 --- 202.874
4 Karin Huskova Huskova - Faramir -  64.441 - 67.462 - 70.595 --- 202.498
5 Ana Ceña Ortego - Furco A - 66.118 - 64.154 - 67.650 --- 197.922
6 Alfonso Gormaz Torcal -  Juncal LXXXVII-  64.000 - 64.308 - 67.295 --- 195.603
7 Karin Huskova Huskova - Florian  -  62.500 - 64.308 - 0.000 --- 126.808
Related Links
Hessel Ferrer, Bacariza Danguillecourt, Abollo Fontela and Martinez del Moral Win 2018 Spanish Youth Riders Championships
Pons Sole, Abollo and Blazquez Win 2017 Spanish Youth Riders Championships
Serrano Pons, Segui Pons, Navarro Torrens Win 2016 Spanish Youth Riders Championships
De La Fuente, Ramirez, Laiz Wins 2015 Spanish Youth Riders Championships
Sofia Argelich Wins 2014 Spanish Pony Championships