2019 Austrian Warmblood Young Horse Championships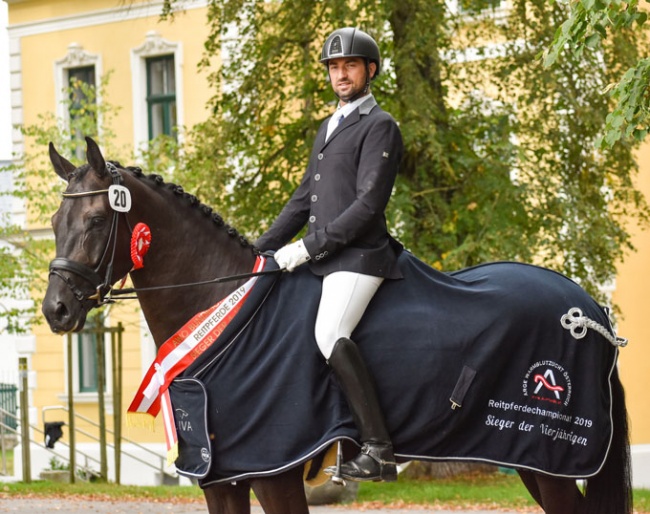 The 3-year old Fenomenal, the 4-year old Dark Knight Rises, the 5-year old Faveur EM and the 6-year old Fürstenberg became the winners of the 2019 Austrian Warmblood young horse championships held in Stadl Paura, Austria on 19 - 22 September 2019. 
Fenomenal and Dark Knight Rises Win Riding Horse Division
In the riding horse classes for 3 and 4-year olds, Germans Lisa Horler and Tanja Fischer were invited as guest judge rider. 
Fenomenal (by Van Vivaldi) claimed the champion's ribbon in the 3-year old class. Bred and owned by Franz Hummer-Niedermayr, this mare was presented by Heinz-Jörg wächter and received 9.0 and 8.0 from the test riders.  After scoring 9 for walk, 8.5 for trot and canter, 8 for conformation and 9 for general impression, she totaled a winning 8.57. The reserve champion was Geyer's Ferrero (by Florenz). under Heinrich Geyer he achieved a 9.5 and 9.0 from the guest riders, which was the highest mark from the Germans. She totaled 8.36 points for second place after receiving 8.5 for walk, 8 for trot, 6.5 for canter, 9 for conformation and 8 for general impression. 
In the 4-year old division, the black gelding Dark Knight Rises (by De Niro) topped the board. Under owner Martin Hauptmann, this gelding scored a total of 8.43 points after receiving a double 9 from the test riders. He is bred by Jurgen & Bettina Frantsits. The licensed stallion Van Austria (by Van Vivaldi) became the reserve champion. Owned by Thomas Blumschein, he was presented by Sandra Frey and placed second with 8.36 points. 
Faveur EM and Fürstenberg Win Dressage Horse Division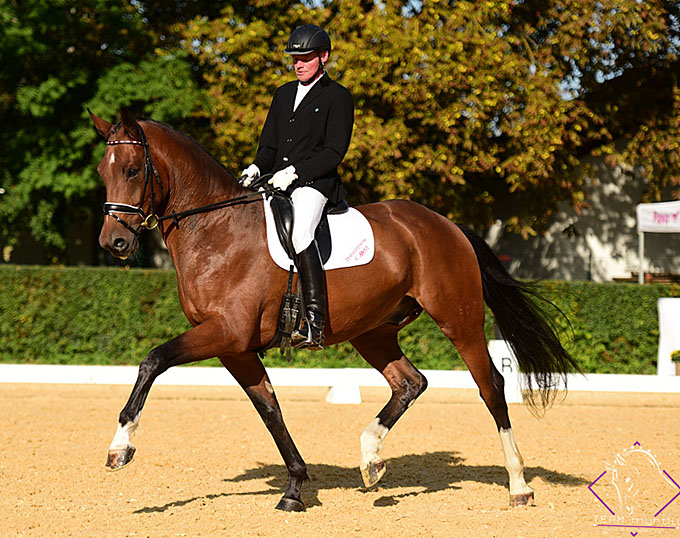 Two divisions were held for dressage horses, a group for 4 and 5-year olds and one for 5 to 6-year olds. Twelve horses competed in the finals. The best 8 of the preliminary round and best four of the consolation class moved on to the finals. 
In the 4 to 5-year old division, the 2018 Austrian warmblood riding horse champion Faveur EM (by Foundation) reigned supreme. Bred by Ernst Mayr and ridden by Hannes Mayr, he scored 7.8 for walk, 9.8 for trot, 9.1 for canter , 8.5 for submission and and 9.2 for general impression. With a total of 8.88 he was the champion. The reserve champion's title went to Ulrike Prunthaller and Edda & Wenzel Schmidt's Dörnberg (by Dante Weltino). He earned 8 for walk, 9.2 for trot and canter, 8.4 for submission and and 9.0 for general impression to total 8.76 points. 
In the 5 to 6-year old group, Ulrike Prunthaller steered no less than 3 horses into the finals and top three, winning them with Fürstenberg (by Franziskus). Bred by Herbert Stanek, the bay licensed stallion  scored 7.5 for walk, 9.8 for trot, 8.7 for canter, 8 for submission and 8.7 for general impression. He totaled 8.54 points. His barn mate Zefferelli van de Fils (by Zack) became the runner-up with 8.18 points. He earned 7.8 for walk, 8.5 for trot, 8.3 for canter, 8.0 for submission and 8.3 for general impression.
Results - 2019 Austrian Warmblood Young Horse Championships
3-year old Riding Horses
Fenomenal (by Van Vivaldi (Breeder & Owner: Dr. Franz Hummer-Niedermayr, Rider: Heinz-Jörg Wächter) 8,57
2 Geyer's Ferrero (by Florenz (B & O: Gestüt Geyer, R: Heinrich Geyer) 8,36
3 Broadmoars Fee Deluxe (by Don Deluxe (B & O: Broadmoar KG, R: Stephanie Dearing) 8,14
3 Henry W (by . Herbstkönig (B: Andreas Winter, O: Eniko Decsi, R: György Fekete) 8,14
5 Broadmoars Wahre Treue (by For Romance I (B & O: Broadmoar KG, R: Stephanie Dearing) 8,07
6 Strawberry Moon PL (by Fürsten-Look PrH. (B & O: Petra Lisec, R: Stephanie Dearing) 7,90
7 Justice M (by First Choice (B & O:. Franz Maier, R: Daniel Spindler) 7,50
8 Davina STH (by Smeraldo-STH (B & O:. Claudia Wuggenig, R: Stephanie Dearing) 7,40
4-year old Riding Horses
1. Dark Knight Rises (by De Niro (B: Jürgen & Bettina Frantsits, R: Martin Hauptmann) 8,43
2. Van Austria (by Van Vivaldi (B: Dr. Franz Hummer-Niedermayr, O: Thomas Blumschein, R: Sandra Frey) 8,36
3. Rubens PL (by Rosarius (B & O: Petra Lisec, R: Stephanie Dearing) 8,29
4. Black Magic (by Florenz (B & O: Cornelia Schmitt R: Marlies Länger) 7,93
4 - 5 year old Dressage Horses
1. Faveur EM (by Foundation (Breeder: Ernst Mayr, Rider: Hannes Mayr) 8,88
2. Dörnberg (by Dante Weltino (B: Josef Stürzlinger, R: Ulrike Prunthaller) 8,76
3. Zefferelli van de Fils (by Zack (B: Josef Pumberger, R: Ulrike Prunthaller) 8,56
4. Donna Romantika (by For Romance I (B: Günter Gasper, R: Tanja Scherf) 8,46
5. Fabergé EP (by For Romance I (B: Giulia Schwab, R: Giulia Schwab) 8,16
6. Finesse (by Fiderbach (B: Jakob Rainer, R: Stephanie Dearing) 8,08
5 - 6 year old Dressage Horses
Fürstenberg (by Franziskus (B: Herbert Stanek, R: Ulrike Prunthaller) 8,54
Zefferelli van de Fils (by Zack (B: Josef Pumberger, R: Ulrike Prunthaller) 8.18
Dörnberg (by Dante Weltino (B: Josef Stürzlinger, R: Ulrike Prunthaller) 8.16
Broadmoar's Don Alfredo (by Destano (B: Alfred Leser, R: Bettina Kendlbacher) 8.10
Broadmoars Maurizio (by  Millennium (B: Alfred Leser, R: Martin Hauptmann) 8.06
 Photos © Team Myrtill  - Pferdenews.eu
Related Links
Livaldo, Faveur EM, Skylight G, Saphir Win 2018 Austrian Warmblood Young Horse Championships
D'Artagnan, Furstenberg and United Europ Win 2017 Austrian Warmblood Young Horse Championships
Furstenberg, Jacarda M, Flamini, Cantate L Win 2016 Austrian Warmblood Young Horse Championships 
Beretta, Lynggaard, Morgenstern, Sir Raphael Win 2015 Austrian Warmblood Young Horse Championships
Feine Lady, David, Furst Silvano, Faustus MBH Win 2014 Austrian Young Horse Championships
David, Smeraldo, Sir Sambucco, Rosarius, Del Piero Win 2013 Austrian Warmblood Young Horse Championships