The Netherlands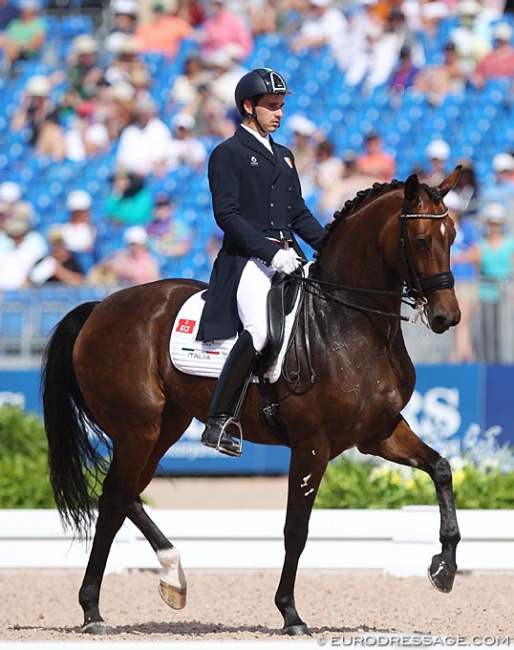 Italian Grand Prix rider Riccardo Sanavio has decided to leave his employer Glock stable in The Netherlands, where he has worked for Edward Gal, Hans Peter Minderhoud and Nicole Werner the past two years. 
The 29-year old Sanavio represented Italy at the European Young riders Championships in 2008 (Azeitao), 2009 (Ermelo) and 2011 (Broholm). 
Five years ago Sanavio went to Germany to work for Swiss horse dealer Daniel Ramseier before moving to Andreas Helgstrand in March 2016.
In the spring of 2017 Sanavio was hired by Glock as a replacement for Marieke van der Putten who left for RS2 Dressage.  Aboard the Glock horses he finished 5th on Trafalgar (by Totilas x Lord Loxley) in the 2018 Pavo Cup Finals and represented Italy at the 2018 World Equestrian Games on Federleicht (by Furst Piccolo x Ferragamo). He finished 34th in the Grand Prix.
In 2019 he did not compete at Grand Prix level due to Federleicht's soundness issues, nor did he show at any CDI's. However in Holland at the 2019 Pavo Cup Finals he finished 4th on Taminiau (by Toto Jr x Sandro Hit) and11th on King Karim (by Toto Jr x Painted Black). 
Sanavio and his girlfriend Nicole Stutz became parents to their first born, son Logan Reeve on 5 February 2019.
The Italian has now decided to leave Glock Stable and ride for Scuderia 1918 instead in Holland.
"Riccardo Sanavio is pursuing new challenges and we wish him well for the future," Glock stated briefly.
Sanavio told Eurodressage that "Scuderia 1918 will make a nice project with me. We start a partnership to buy riding horses, take them to competitions, and sell them. I will also have time to ride horses from other clients, and teach lessons. It's really interesting for me and I'm positive. We'll see what the future brings."
According to Sanavio, Gal, Minderhoud and Werner will continue to be his trainers.
Scuderia 1918 is a Milan based equestrian business that mainly focuses on show jumping but is now branching out to dressage. They have horses with jumper riders such as Lorenzo de Luca, Jessica Springsteen, and Daniel Deusser but also list Carl Hester as part of the team. 
"It was a good moment to start a partnership and try to start on my own, to stand on my own legs," Sanavio added.
Photo © Astrid Appels
Related Links
FISE Disappoints Its Riders, Sends No-One to 2019 European Dressage Championships
What's Happening: February 2019
Riccardo Sanavio Hired as New Stable Jockey for Gal/Minderhoud
Riccardo Sanavio's Usson van Essene Euthanized
Ricardo Sanavio to Represent Italy at Young Rider World Cup Finals
Truppa, Sanavio, Biliotti, Marconi Win 2009 Italian Dressage Championship