U.S.A.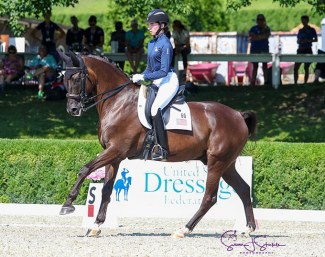 US Equestrian has added new riders to the Discover Dressage USEF/USDF Emerging Athlete Program List for the autumn of 2019.
In the autumn of 2018 the list included 11 riders with 13 horses. The autumn 2019 list has 10 riders with 12 horses. 
This program provides strategic guidance and educational opportunities for emerging athletes under the age of 25 in the discipline of dressage and is led by USEF Dressage Youth Coach George Williams.
"We are coming up on the second anniversary of the official launch of the Emerging Athlete Program. Although I see this program primarily as an important investment in our future, I'm excited to say that in the two years since we started we have already seen results," commented Williams. "For the coming year, we've tweaked the program outline a bit by adding more benefits to assist these promising athletes as they move up through the levels."
The current Discover Dressage USEF/USDF Emerging Athlete Program List includes:
Benjamin Ebeling (Moorpark, Calif.) and Behlinger, Amy Ebeling, Elizabeth Meyer, and Ann Romney's 11-year-old Hanoverian gelding
Kerrigan Gluch (Wellington, Fla.) and Bolero CXLVIII, Hampton Green Farm's 15-year-old P.R.E Stallion; HGF Brio, Hampton Green Farm's 14-year-old Andalusian Stallion; and Vaquero HGF, Hampton Green Farm's 12-year-old Andalusian Stallion
Callie Jones (Henderson, Ky.) and Don Philippo, her 11-year-old Hanoverian gelding
Tillie Jones (Lincoln, Neb.) and Apachi, Tillie and Tish Jones' 14-year-old KWPN gelding
Kayla Kadlubek (Fairfax Station, Va.) and Perfect Step, Dressage4Kids, Inc.'s 18-year-old Hanoverian gelding
Annelise Klepper (McCutchenville, Ohio) and Happy Texas Moonlight, Shannon Klepper's 12-year-old Oldenburg gelding
Natalie Pai (Wellington, Fla.) and Unlimited, Melanie Pai's 18-year-old Dutch Warmblood gelding
Christian Simonson (Ventura, Calif.) and FRH Rassolini, Christina Morgan's 16-year-old Hessen Warmblood stallion
Bianca Schmidt (Edina, Minn.) and Lou Heart, Eliana Schmidt's 15-year-old Hanoverian gelding
Anna Weniger (Apex, N.C.) and Don Derrick, Dawn Weniger's 15-year-old NRPS Gelding
Photo © Sue Stickle
Related Links
U.S. Young Riders Complete Successful 2019 Euro Tour, Cherish "Amazing Learning Experience"
Updated Lists for 2018 USEF Emerging Athlete and Dressage Development Programs
First Members for Discover Dressage Emerging Athlete Program Picked
New Pathway Program, Discover Dressage USEF/USDF Emerging Athlete Program, Launched