Verden Auction News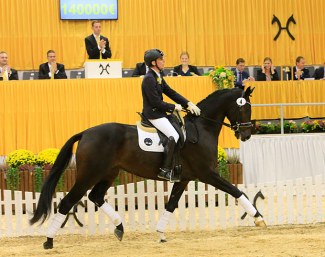 L'Avion became the price highlight of the 2019 Hanoverian Elite Autum auction on 12 October 2019.
This edition celebrated 70 years of auctions in Verden with a special gala in the Niedersachsenhalle on Friday 11 October. Both celebration days were sold out. 
L'Avion (by Livaldon x Longchamp) was the best seller of the elite lot, which included 89 horses, the largest collection of the last ten years. 
Bred by Katharina Oltmann and owned by Steffen Brunckhorst, the 2019 Bundeschampionate bronze medal winning L'Avion sold for 140,000 euro to Spain.  He will be trained at the Andalusian stud, which has already bought the top priced horse of the Verden Auction in July.
The most expensive jumper horse was DJ (by Diacontinus x Stolzenberg). This 4-year old sold for 97,000 euro and will be trained by auction rider Enrico Süßenbach in Isernhagen, Germany.
Fourteen horses sold for 50,000 euro or more.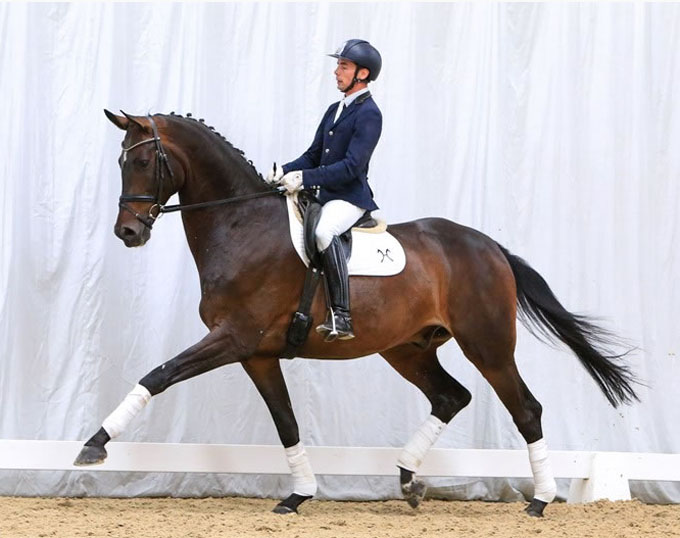 The second most expensive horse in the auction was the 7-year old Quaterpast (by Quaterhall x Prince Thatch xx) which sold abroad for 107,000 euro. 
The 4-year old mare Sira Scuderia (by Scuderia x Weltregent H also moves abroad for 101,000 euro.  The 5-year old stallion Solo con Giotto (by Scudera x Wolkenstein II) stays in Germany for 91,500 euro. Jumper Liberty Lux (by Lupicor x Dunhill H) fetched 90,000 euro. 
The 3-year old stallion Bonaparte (by Bon Coeur  Depardieu) found a new owner for 72,000 euro. The 3-year old gelding Singapore ZR (by Spörcken x Royal Diamond) was knocked down for 55,000 euro. 
The 3-year old stallion Lord Jever (by Livaldon x Stedinger) moves abroad for 53,000 euro, 4-year old stallion Meilenstein (by Millennium x Donnerhall) stays in Germany for 52,000 euro, while 4-year old gelding Finest Star K (by Finest x Sir Donnerhall) sold for 50,000 euro. 
For the third year now, the Hannoveraner Verband has been offering a fine selection of highly talented 2.5 year old colts at the Elite-Auction. The 16 representatives of the 2017 vintage found new owners for an average price of 19,031 euro.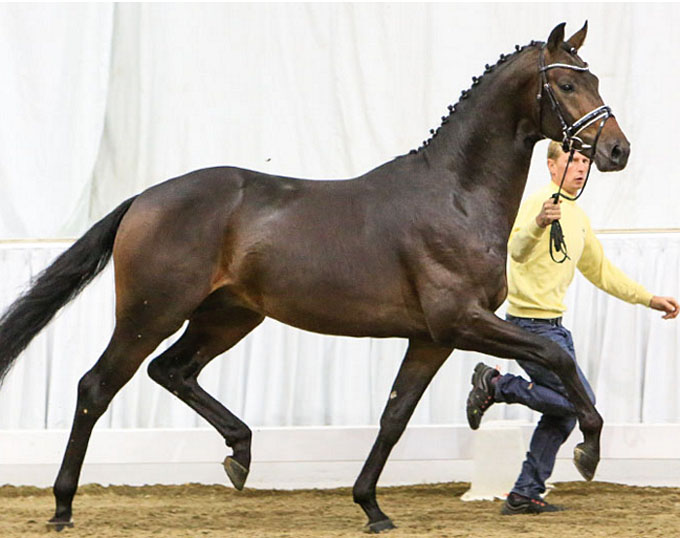 Fürst Lauries (by Fürstenball x Laurentio (breeder: Gesa Coordes, Aurich, exhibitor: Peter Dieckmann, Odenthal)  was auctioned off for 52,000 euro to a top-class dressage trainer from Luxembourg, who had often found what he was looking for in Verden.
Colt Don Henry (by Dancier x Hochadel) sold for 34,000 euro, while Imhotep (by Ibiza x His Highness) fetched 32,500 euro. 
The 40 foals offered were also very popular with the buyers. The dark bay colt Dixon (by Dante's Junior x Christ (breeder and exhibitor: Simone Walke, Wrestedt)) was the top seller, selling for 19,000 euro to a renowned stallion raiser from Lower Saxony.
The chestnut colt Bond 007 (by Bonds x Soluman de Hus) sold for 15,000 euro, 
A total of 35 sport horses will leave Germany. The buyers come from all over the world – from Australia via Japan and the US to Chile. The largest group of buyers came from the USA (five), followed by Canada and Switzerland with four horses each. 
The average price for a sport horse in this auction was 32,561 euro. A foal cost 7,100 euro on average.
More Hanoverian Auction News on Eurodressage
Photos © Tammo Ernst