2019 Portuguese Dressage Championships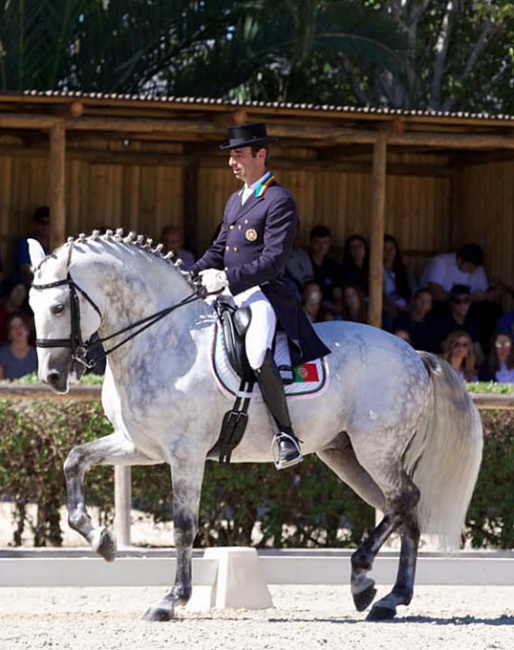 The children rider Rita Carrasqueira, junior rider Sebastiao Lopes, young rider Martim Meneres, Under 25 rider Francisco Vila Nova, and senior Grand Prix rider Rodrigo Torres became the winners of the 2019 Portuguese Dressage Championships, coinciding with the CDI Lisbon in Portugal's capital on 4 - 6 October 2019.
Lisbon International Dressage Show Stages CDI and National Championships
For the third year in a row, the Lisbon International Dressage Show was a major success with a high number of combinations competing, not just from Portugal but a large delegation traveling from Spain as well. The Sociedade Hípica Portuguesa was in charge of the organization and the team was led by Maria Pais do Amaral, Miguel Costa Dias and Luciana Inácio, assisted by Dressage First and Frederico Pinteus.
"I'm very happy that once again we had a successful show, where the best Portuguese combinations came to compete at the CDI and Portuguese Championships," said Amaral. "Most levels were very competitive, specially the Big Tour class, in which we had three riders that represented Portugal in Rotterdam competing and delighting the public with their performances."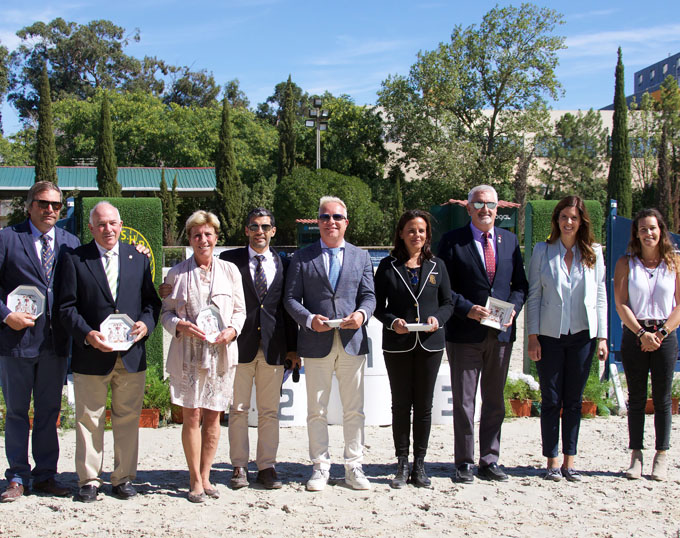 An international panel of judges officiated in Lisbon including 4 and 5-star judges MacDonald, Santos, Verbeek, Eisenhardt, Van der Heijden, and Campos, and three 3 Portuguese international home judges, Carlos Lopes, Claudia Matos, Frederico Pinteus.
"We had a great group of international judges at the scene, and the competition days were packed with two arenas and an enthusiastic public," Maria added. 
Carraqueira, Lopes and Meneres Reign
Eight pairs competed in the children division for 12 to 14 year olds and Rita Carrasqueira got the gold medal. Aboard the 14-year old Danish warmblood mare Romi (by Romanov x Michellino) she placed second in the preliminary test (69.546%) and won the team and individual test with 70.615% and 69.857%. Her total of 210.018 points put her at the top of the podium. Benedita Gonçalves and the Portuguese bred Handalusa earned silver by scoring 69,773%,  68,654% and 69,250% for a total of 207,677 points. Maria Veleso and the 12-year old Portuguese sport horse bred Canto (by S Lancelot) got bronze with 195.964 points.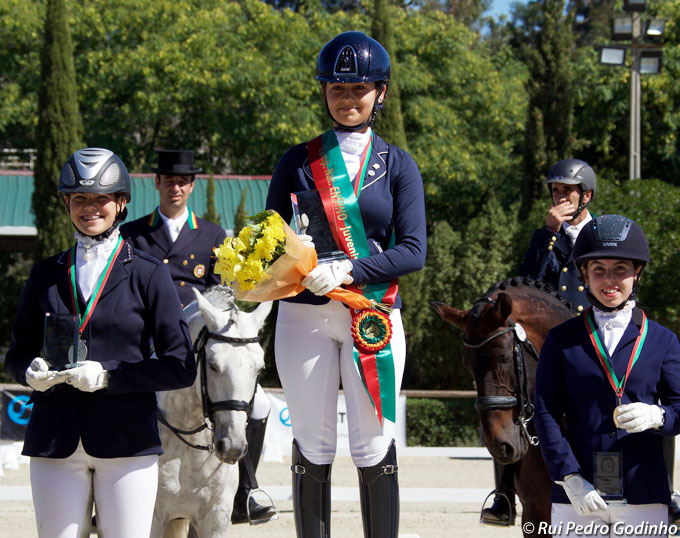 The biggest division was the junior riders category with 16 combinations gathering in Lisbon. Ten of them scored enough to move on to third and final round, the freestyle. Routinier Sebastiao Lopes and the 14-year old Lusitano bred Arrogante (by Rico) were a league of their own, convincingly winning all three rounds to total a golden 214.304 points. He scored 68.424% in the team test, 70.500% in the individual and 75.380% in the Kur to Music. Mafaldo Deitado and the 13-year old Lusitano Bandolim (by Sueste) scored silver with 205.039 points. Both represetedn Portugal at the European Junior Riders Championship. Non-team member Adriana Chaves made an impressive move onto the podium for bronze with 201.387 points. Aboard the 15-year old Lusitano Zefiro (by Rico) she improved day by day and her scores went from 64.364%to 67.618% and 69.405%.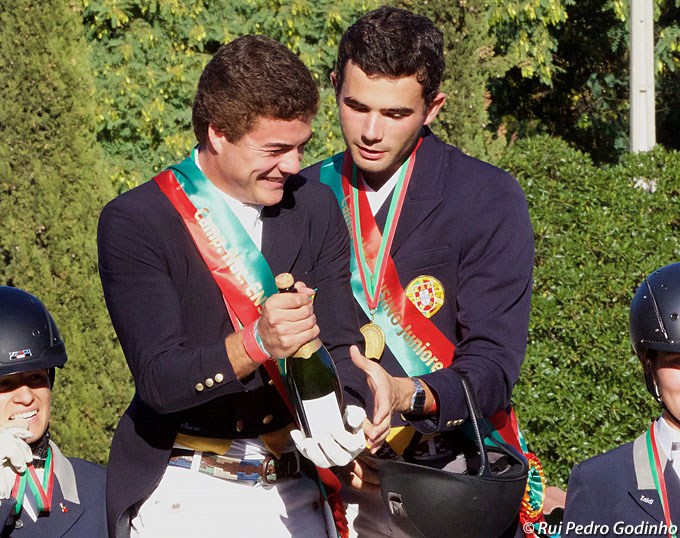 Nine Young Rider' pair battled it out for the podium places but it was Martim Meneres winning his fourth national title in a row. Aboard the 10-year old Lusitano Equador (by Peralta) he was undefeated and totaled 219.901 points for the gold. He won all three rounds, each time scoring above 70%. Meneres posted 72.176% in the team test, 70.500% in the individual and 77.225% in the Kur. Yoann Pinto and the 11-year old Lusitano Douro (by Rubi) got silver with 207.933 points after earning 66,823, 68,235%, and 72,875%. Catarina Lopes and the 9-year old Lusitano Ferrolho  (by ?) got bronze on 207.297 points. She received 68,412%,  67,735% and  71,150% from the judges. 
Grand Prix Action for Under 25 and Seniors
Four riders competed in the Under 25 division but only two scored the required minimum to complete in the third round, the Kur to Music on Sunday. Francisco Vila Nova and the 13-year old Westfalian Sir Saburo (by Sir Donnerhall) became the national Champion with 197.953 points. He earned 67.941% in the Intermediaire II, 67.462% in the Short Grand Prix and only 62.550% in the freestyle. Mariana Assis da Silva and the 18-year old KWPN gelding Upendo (by Jetset D x Ferro) landed silver with 192.592 points. She got 64,529%, 62,513% and  65,550% in the three rounds.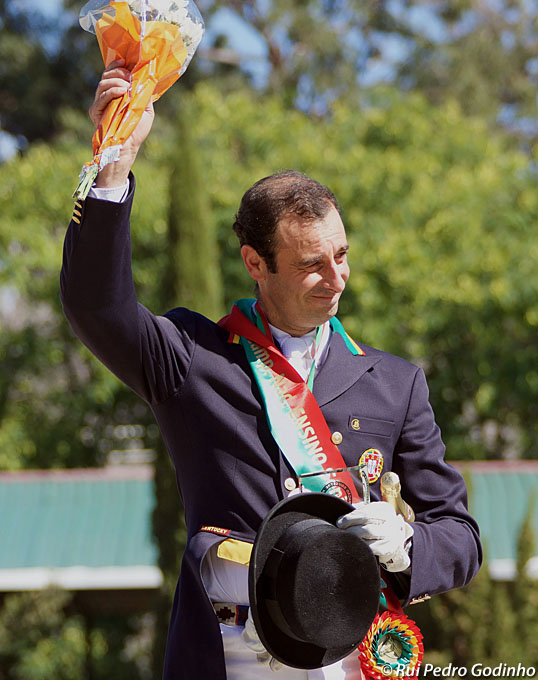 The senior Grand Prix podium was heavily contested by three of Portugal's team members at the 2019 European Championships in Rotterdam. Maria Caetano opted to stay at her German base in Krefeld, while the other three were back home in Portugal ready for national honour. Local hero Rodrigo Torrest reigned supreme and won all three rounds aboard his own 9-year old Lusitano Fogoso (by Rico x Raja). He won the Grand Prix with 72.065%, the Special with 73.404% and the Kur to Music with 77.475% to finish on a total of 222.944 points. Joao Torrao and the 10-year old Lusitano stallion Equador (by Quo Vadis) finished second with 220.284 points for silver. He was almost two percent behind after the Grand Prix (70.869%) and could no longer bridge the gap in the Special (73.340%) or Freestyle (76.075%). Duarte Nogueira and the 13-year old Lusitano stallion Beirao (by Rubi) placed third with 213.050%. He posted 69,565% in the Grand Prix, 71,085% in the Special and 72,400% in the kur for bronze.
"I couldn't be happier with Fogoso," said the champion Rodrigo Torres. "He gave his best during the whole show, and is getting more mature every show we compete at.  Although he is very young he has a fantastic character and willingness to work, which has been a great base for me to score consistently over 70% and ensure tests with no or little mistakes."
Torres continued: "Fogoso is in great shape, and we are going to give him a very deserved break. Our plan is to prepare him to compete during the next year to prepare to be ready for a team spot for the Olympics."
Celebration of the Lusitano Breed at Portuguese Chapionships
The Lisbon International Horse Show once again proved the upward mobility of the Lusitano breed in high performance dressage sport. The Portuguese team, made up of four Lusitanos, secured a team ticket for the 2020 Olympic Games in Tokio at the 2019 European Championships in Rotterdam. The breed is currently ranking 7th on the 2019 Dressage Ranking of the World Breeding Federation for Sport Horses.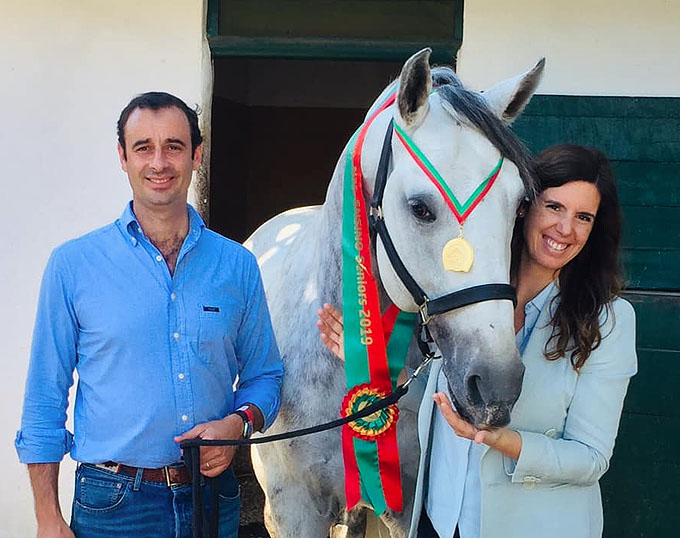 "Here in Lisbon we had several Lusitanos competing at the highest level and obtaining scores over 72% consistently. The special highlights were Fogoso with Rodrigo Torres and Equador with João Torrão. They were able to score over 76% in the Grand Prix Kur, and also Equador with Martim Meneres scored over 77% in the Young Riders Final," said Amaral.
Just like last year, Torres and Fogoso became the recipients of this year's Rubi Prize, offered to the highest scoring Lusitano at Grand Prix level at the CDI Lisbon. The 2,000 euro cash prize is generously donated by Christine Jacoberger, the owner of Rubi AR, the most successful Lusitano breeding stallion in dressage sport, so far. 
"Being the National Dressage Champion is certainly a dream come true," said Rodrigo. "Especially riding a horse bred by my family's stud and which I co-own with my wife." Maria added, "I was obviously delighted that Rodrigo and Fogoso won the Champion title. Fogoso is a horse I co-own with Rodrigo since he was 1 year old, and it was fantastic to see them confirm the results shown at the European Championships, by winning all three Big Tour classes with solid scores. It's a another important step towards the Olympics for which we are working on to be part of the team."
Photos © Rui Pedro Godinho
Results - 2019 Portuguese Dressage Championships - Lisbon
Children
1 Rita Carrasqueira - Romi Warm - 69,546 - 70,615 -  69,857 --- 210,018
2 Benedita Gonçalves - Handalusa Cruz -  69,773 - 68,654 - 69,250 --- 207,677
3 Maria Eduarda Veloso - Cantor - 65,500 - 63,000 - 67,464 --- 195,964
4 Guilherme Chaves - Maestoso Tiberia -  65,864 - 61,500 - 65,786 --- 193,150
5 Rita Braz - Bjirmen'S Jurjen - 63,727 - 63,423 - 64,643 --- 191,793
6 Gonçalo Castro Monteiro - Vadio - 63,773 - 61,192 - 64,964 --- 189,929
7 Raquel Ferro - Basofia - 60,864 - 60,769 - 64,000 --- 185,633
8 Lara Arruda - Violino V -  61,318-  62,039 - 61,429 --- 184,786 
Junior Riders
1. Sebastiao Lopes - Arrogante - 68,424 - 70,500 - 75,380 --- 214,304
2 Mafalda Deitado - Bandolim -  66,394-  67,265 -  71,380 --- 205,039
3 Adriana Chaves - Zefiro -  64,364 - 67,618 - 69,405 --- 201,387
4 Francisca Castro Monteiro - Weserprinz - 67,879 - 63,559 - 68,420 --- 199,858
5 Beatriz Gonçalinho - Fidelius -  67,061 - 62,765 -  66,550 --- 196,376
6 Mariana Martins Da Silva - Gabarito Cruz -  65,849 - 62,706 - 66,510 --- 195,065
7 Antonio Calheiros - Fausto Sernadinha - 61,712 - 63,677 - 66,175 --- 191,564
8 Graça Abecasis - Haiti - 64,060 -  61,235 - 65,025 --- 190,320
9 Ines Rosa - Aprumado - 63,970 -  63,706 -  59,875 --- 187,551
10 Beatriz Reto - De Plaisir -  65,121 - 64,441 -  0,000 --- 129,562 
Young Riders
1 Martim Meneres - Equador -  72,176 - 70,500 - 77,225 --- 219,901
2 Yoann Pinto - Douro - 66,823 - 68,235 - 72,875 --- 207,933
3 Catarina Lucas Lopes - Ferrolho - 68,412  - 67,735 - 71,150 --- 207,297
4 Mário Freire - Filosofo - 67,029 - 64,618 - 68,050 --- 199,697
5 Sofia Melo - Lilli - 65,412  63,794 - 65,075 --- 194,281
6 Maria Lascasas - Serano - 63,794 - 63,000 - 65,825 --- 192,619
7 Catarina Costa - Kut 'N' Move - 62,118 - 63,883-  66,350 --- 192,351
8 Mateus Abecasis - Cã -  63,912 -  63,353 - 63,425 --- 190,690
9 Renato Calixto Felício - Cupido das Arribas - 57,206  - 63,559 - 63,450 --- 184,215
Under 25
1. Francisco Vila Nova - Sir Saburo - 67,941 - 67,462  - 62,550 --- 197,953
 2 Mariana Assis Da Silva - Upendo -  64,529 - 62,513 - 65,550 --- 192,592 
Senior Grand Prix
1. Rodrigo Torres - Fogoso - 72,065  - 73,404 - 77,475 --- 222,944
2 Joao Torrao - Equador - 70,869 - 73,340 - 76,075 --- 220,284
3 Duarte Nogueira - Beirao - 69,565 -  71,085 - 72,400 --- 213,050
4 Miguel Ralao Duarte - Xenofonte d'Atela -  67,957  - 70,000 - 72,700 --- 210,657
5 Ricardo Moura Tavares - Baluarte Da Broa- 68,282-  65,851 - 68,075 --- 202,208
6 Roberto Brasil - Xiripiti -  67,109-  61,872 - 63,900 --- 192,881
7 Joao Faustino - D-Único -  63,652 - 61,745 - 66,025 --- 191,422
8 Daniel Pinto - E Zuzu - 63,935  - 62,760 - 64,150 --- 190,845
Related Links
2018 CDI Lisbon Draws Out the Crowds, Celebrates Dressage in Portugal
2017 Lisbon International Dressage Show Sets the Bar, First Step towards CDI Series
Previous Winners
Daniel Pinto Wins 2018 Portuguese Grand Prix Championship
Monteiro, Deitado, Meneres, Gouveia Win 2018 Portuguese Youth Riders Championships
Monteiro, Lopes, Meneres, Caetano Win 2017 Portuguese Dressage Championships
Bartz, Meneres, Castelo, Caetano, Godinho, Cancio, Carvalho Win 2016 Portuguese Championships
Goncalo Carvalho Wins 2015 Portuguese Grand Prix Championships
Maria Caetano Wins 2014 Portuguese Dressage Championships
Castelo and Ralao Duarte Win 2014 Portuguese Junior and Young Riders Championships
Maria Caetano Crowned 2013 Portuguese Grand Prix Champion
Goncalo Carvalho Wins 2012 Portuguese Dressage Championships
Maria Caetano, 2008 Portuguese Grand Prix Dressage Champion
Miguel Ralão Duarte, 2007 Portuguese Dressage Champion