FEI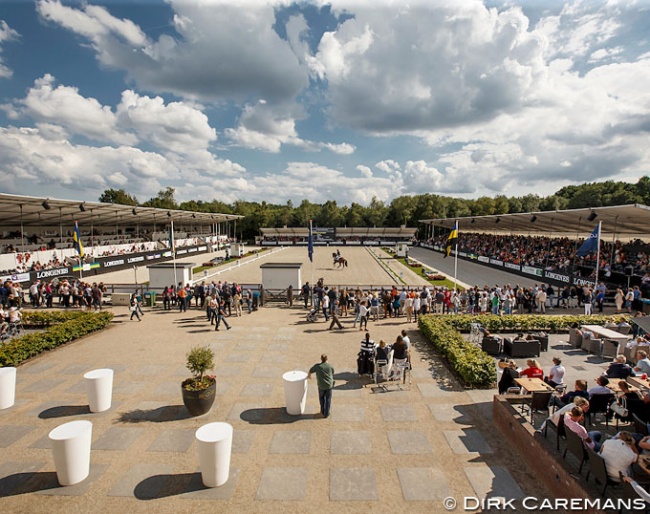 Ermelo has beaten Verden in the race for hosting the World Championships for Young Dressage Horses in 2021, 2022 and 2023.
The FEI board decided at an in-person meeting at the 2019  FEI General Assembly in Moscow that Ermelo and not Verden would get the organization of the WCYH.
Verden, the home of the Hanoverian breed society, has been the initiator and founding host city of the World Championships since 1997. It hosted the Championships again in 2001 through 2015. 
In 2016 Ermelo, the home of the Dutch warmblood society, snatched the bid and got the Championship allocated for four consecutive years. While in 2016 there were some infancy issues in the organisation, the event ran beautifully in the next three years.  In 2019 the floral decorations around the main stadium seemed on budget compared to the lush flower arrangements in previous years.
Verden with its lovely, natural surroundings and impeccable organisation, but less attractive competition arena, will be host again for the 2020 edition of the World Championships.
Both Ermelo and Verden applied for the 2021-2023 three-year editions and the FEI Board decided to hand the organisation to Ermelo, which is directed by Joris Kemperman, son of the FEI Dressage Commitee Chair Frank Kemperman.
Ermelo will take place the first weekend of August 2021, 2022, 2023.
Photo © Dirk Caremans
Related Links
Do the World Young Horse Championships Lead to Grand Prix Success? Yes!
Bishop Burton, Roosendaal, Ermelo, Verden Allocated Major Dressage Championships 2018-2020
Inaugural 7-year old Championship at 2016 World Young Horse Championships