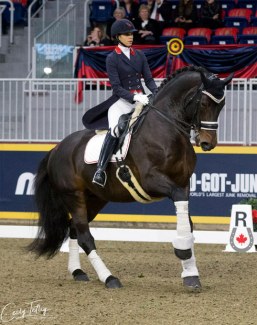 Dressage at the Royal Horse Show in Toronto, ON, has been losing its flair over the years, going from a World Cup qualifier, to a CDI, to a national dressage competition, to an exhibition show. This year dressage was just part of the entertainment programme on 5 November 2019 with a fun-filled Derby between Pan Am Team members, two dressage riders and two eventers. 
Canadian Equestrian Team's best athletes on an unfamiliar horse and challenged them to ride a dressage test with just four minutes of familiarization.
This year's edition featured a new and exciting twist: it pitted two different disciplines against each other, eventing and dressage. Furthermore, the contestants were all teammates from the Lima 2019 Pan American Games in Peru: dressage team gold medalists, Naima Moreira Laliberté of Outremont, QC, and Lindsay Kellock of Toronto, ON; and eventing team bronze medalists, Canadian Olympian Jessica Phoenix of Cannington, ON, and Dana Cooke of Merritt, BC.
It was a tight first round of competition for the dressage athletes, as Naima (67.940%) and Lindsay (69.314%) both executed mistake-free Prix St. Georges tests on Steeped in Luck (Mount Diamond Flag x Agherlow), a 17-year-old Irish Draught stallion owned by Keith Douglas, and trained and ridden at the CDI 3* level by Cecile Von Martels of Ridgetown, ON.
"This was my first time doing a derby, I never realized that four minutes goes by that quickly!" said Naima. "I had a great time going around today. You never know what to expect when you get on a horse you don't know, so you just get to know him and do your best. [During the familiarization] I wanted to assess his character, if he was feeling nervous or spooky to something I wanted to desensitize him to that. I checked his reactions, for example, does he react when I half halt? I really think that flying changes are so personal, so I tried them out in the warm-up. In the beginning, I wasn't getting the count properly, but then it got better and in the test we got clean lines. We played with collection, the limit of the balance and what we can do in just four minutes."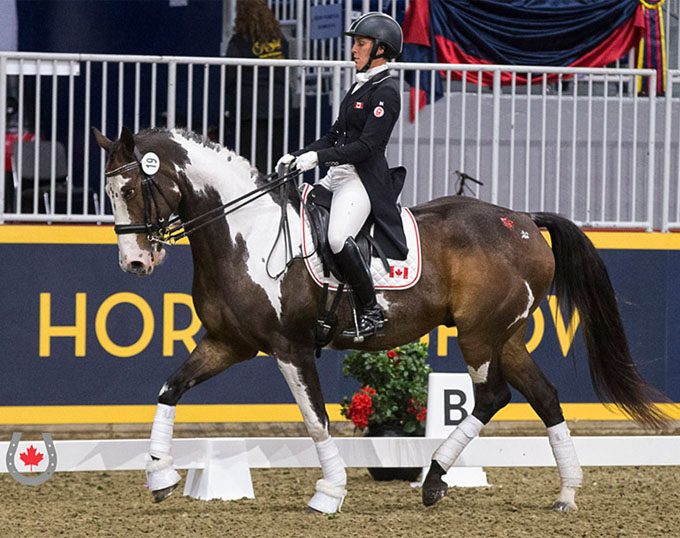 The ride was a little bumpier for Jessica and Dana, whose horse Nexus (Yellow Creek x Lancaster), an 11-year-old Thoroughbred-cross gelding owned by Pamela Isaak and ridden at the Fourth level with Meagan Maloney, found the grand atmosphere of the Coca-Cola Coliseum and the TV camera quite intimidating while working through the CCI 5* dressage test.
"I think the last time I got to switch horses was in Pony Club, so to actually do that here and ride a 5* was really cool," said Dana, who managed a respectable score of 57.244% on the spooky gelding. "I watched Jessica go around and knew the horse was a little bit spicy, so I made sure I had brakes, which for the most part I did. If you have brakes and steering you're usually good to go. He was a very different horse, physically I had to be a lot stronger on him than with my horses. I just laughed it off and tried to keep going, that's all you can really do!"
"As professionals, we all run businesses so it is our job to get on horses and figure them out in two seconds," commented Jessica, who scored 60.128%. "Always when you add a venue like this with cameras and crowds and judges, it adds another layer for sure and tests your ability to get on, do your job and get straight to work."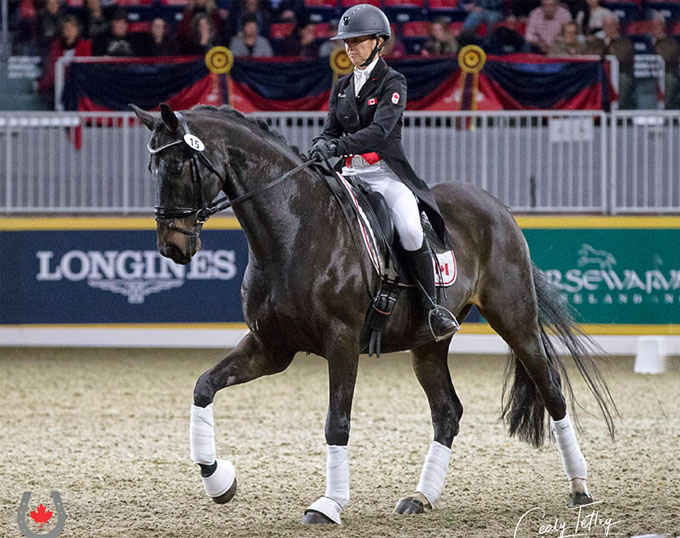 Lindsay and Jessica emerged as the first round champions and moved forward to the ultimate showdown of the disciplines. The chosen mount for the finale was Linosso (sired by Lauries Crusador xx), who is owned by Ruth Roy and ridden at the CDI 1* level by Esther Mortimer of Guatemala. Jessica rode at a slight disadvantage, as the 12-year-old Hanoverian gelding had never previously ridden the CCI 5* dressage test. Nonetheless, she posted a score of 69.551% – an impressive accomplishment, but not quite enough to catch Lindsay's score of 69.902%.
"It's an incredible feeling, it means so much," said Lindsay of her Dressage Derby win. "It's only four minutes so you can only do so much, but I had a really good feeling going in. I've been coming to the Royal since I could walk. There's so much tradition, so being able to win this event is special. I love the Royal."
Despite the fierce nature of the competition, the camaraderie shone through it all: the riders stood together ringside throughout the night, hugs and smiles were shared all around, and Naima and Jessica even both helped Lindsay adjust her stirrups.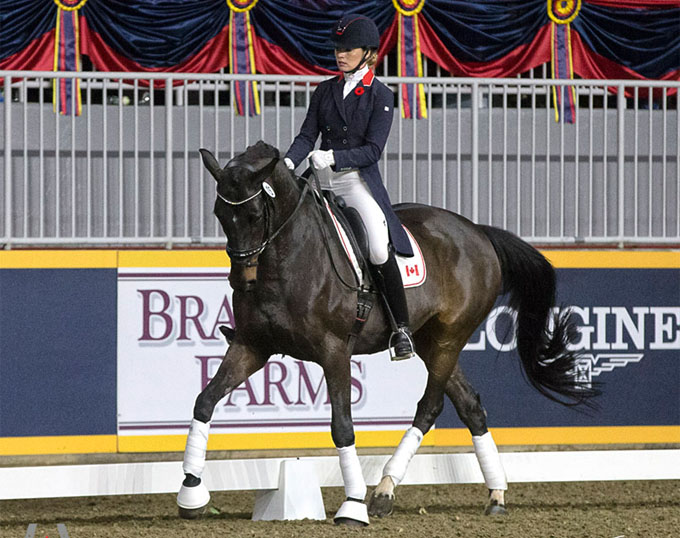 "It was so nice to see everyone on the team," said Naima. "We hadn't seen each other since the Pan Ams, so to see everyone again dressed in the same tailcoats with the medals, reminiscing over memories, we really had an amazing time together."
"To reconnect here and compete against each was a lot of fun," concluded Jessica. "They should do this more often! I think next year, we need to bring an eventing horse for Lindsay to ride, and the dressage riders should have to do the 5* test and the event riders should do the dressage test."
Lindsay added, "Maybe throw a jump in there, too!"
Text by Equestrian Canada, edited by Eurodressage
Photos © Cealy Tetley
Related Links
Lyle Wins Inaugural Canadian Dressage Derby at 2018 Toronto Royal Horse Show
Megan Lane Scores a Double at 2017 CDN Toronto Royal Invitational Dressage Cup
Lane Wins Royal Invitational Dressage Cup at 2016 Royal Agricultural Winter Fair
Belinda Trussell Tops $20,000 Invitational Dressage Cup at 2015 Toronto Royal Horse Show
Brooks Wins Kur, Pavicic Takes Royal Invitational Dressage Cup at 2014 CDN Toronto
Marcus and Creech Take Top Honours at 2013 Royal Winter Fair in Toronto
Pop Art Goes Out on a High Note at the 2012 CDN Toronto 
Holzer and Breaking Dawn Top Grand Prix at 2011 CDI Toronto
Holzer Makes it Three In a Row, Rocking Out Dressage Night at 2010 CDI Toronto
Ashley Holzer Takes Two in a Row at 2009 CDI Toronto
Jacqueline Brooks Wins Canadian League 2006 World Cup Finals
Gina Smith and Fledermaus win Canadian League World Cup Qualifier at 1999 Royal Horse Show