U.S.A.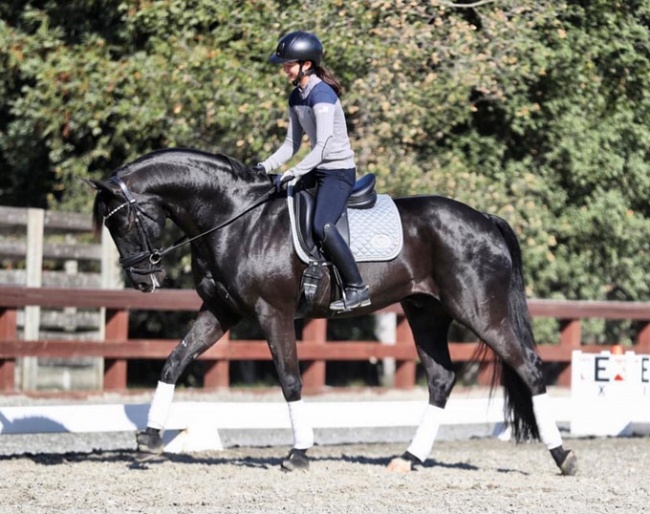 American FEI level pony dressage rider Miki Yang has a new ride for junior level in her stable: the 9-year old Portuguese Sport Horse-registered Ascot de Massa.
Ascot de Massa is by San Amour out of Querida de la Font (by Galopin de la Font). He is bred by Sylvain Massa in France. 
Owned as a youngster by Belgian Yannick Anaf, Ascot was trained up to schooling Grand Prix level by Belgian Nico Nijssen. 
Belgian based German horse dealer Jochen Arl successfully scouted Ascot de Massa as a new mount for Miki Yang, who is the daughter of Akiko Yamazaki, a long-time U.S. dressage sponsor and an accomplished Grand Prix rider herself.
When Miki was six years old she begged her mom for riding lessons. Akiko thought a foundation in vaulting would provide a safe entry into the horse world. At age 10 Miki went on to become the youngest member of the U.S. Team at the 2014 World Equestrian Games in Caen, France
The interest in dressage was always there and in 2017 Miki partnered with the chestnut New Forest Pony Garden's Sam, a present to the Yang family from Arl. They first competed at national training level in the U.S.A.
In 2018 Yang rode Garden's Sam to the U.S. Children Champion's title as the first ever American champion in that FEI division. This year Miki decided to go fully for dressage and she became the reserve champion in the 2019 U.S. FEI Pony Championship.
Making the transition to junior level in 2020, Miki has two irons in the fire: the Oldenburg bred Rapsodie Espagnol (by Ravel (by Contango) x Rubin-Royal)  and her newest acquisition Ascot de Massa. Garden's Sam has gone onto younger sister Emi Yang, who is an active vaulter. 
"What a feeling," said Miki about her new horse which she has amicably named Lukas. "Ascot is doing so great, we are getting to know each other and I am already learning so much. He's tons of fun and always such a joy to ride."
Miki is currently trained by her mother Akiko at Four Winds Farm, in Los Altos Hill near San Francisco, California and Heidi Gaian of Hollister, CA.
Mother and daughter will be heading to Wellington, Florida, in January 2020 as Miki has been selected for the 2020 Robert Dover Horsemastership Clinic Week. Akiko plans on riding Chopin and Gronskovlunds Romeeo at the Global Dressage Festival.
Photo © Joseph Newcombe
Related Links
Participants Announced for 2020 Robert Dover Horsemastership Clinic Week
Bacon, Kment, Dupell, Kadlubek, Manhard Win Youth Titles at 2019 U.S. Dressage Championships
Yang and Jorst Claim Titles on Final Day of 2018 U.S. Dressage Championships
Akiko Yamazaki Buys Herself a Christmas Present, Chopin
Gronskovlunds Romeeo Sold to Akiko Yamazaki
Jochen Arl Shifting Gears, Putting Henri Ruoste in Drivers' Seat of Horse Sale Business