Australia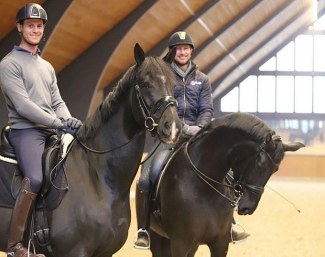 Patrik Kittel and Lyndal Oatley have hired Australian FEI rider David McKinnon to substitute for their assistant trainer Malin Wahlkamp-Nilsson, who will give birth to her first child in February 2020.
"David McKinnon has come over to fill in for Malin while she is becoming a Mum," Oatley explained. "When we started trying to think of a rider who could fill in I immediately thought of Dave. Dave is super driven, focused, capable and talented and we are looking forward to having him around! Patrik is super happy to have another bloke around."
Kittel and Oatley are based at their brand new refurbished Eulenhof in Dülmen, Germany, where they train their own competition horses as well as sales horses and coach clients. 
The 29-year old McKinnon began his international competition career in 2012 on DP Weltmieser, who later became Brett Parbery's 2018 Australian WEG team horse. In 2015 and 2016 McKinnon rode Johnny Depp and Her Highness at small and big tour level. In 2018 he steered PPH Zeppelin into the CDI ring and in 2019 he rode Woodside Lady Loxley at the CDI Sydney. 
David McKinnon runs Robali Equestrian with his wife Robbie (née Soster). Dave's career in horses began by working for Mark Dowling. In 2010 he was offered a position at Brett Parbery's yard, which he held until 2012 after which he had a break in 2013 and then began McKinnon Sport Horses with Robbie and her mother Ali Soster.
"We're very excited to let everyone know that Dave has recently headed to Germany to join the team at Outstanding Stables with Lyndal and Patrik for a stint of training," Soster communicated. "Whilst he is there, Robbie, with the the help of our wonderful team at home will keep things running as normal until Dave returns in the new year."
Photo © Lyndal Oatley
Related Links
Malin Nilsson Pregnant, Kosaka to Ride Eddieni with Olympic Fire Kindled
Sonic K, Willingapark Emotion, Bertone and Bluefield's Doris Day Win 2019 Australian Young Horse Championships
Wahlkamp-Nilsson and Eddieni Win 3* Grand Prix at 2019 CDIO Compiègne
Photo Report: Wahlkamp-Nilsson and Eddieni Win 2019 CDI Nieuw en St. Joosland Grand Prix