KWPN Online Auction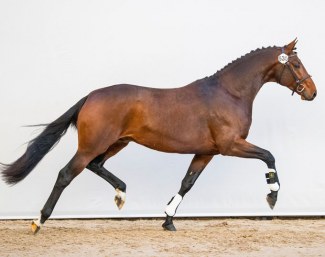 With stallions out of the dam line of the world champions Asterix and Jovian, the Grand Prix stallion Tango and many (inter)national Grand Prix dressage horses, the collection for the 2019 KWPN Online Stallion Auction is very interesting. Sport in the dam line is becoming more important and that is not lacking in this collection.
View the collection and bid on your favorites until Monday December 23.
Plenty of Grand Prix in the stallion Miracle. As a sire he has the promising Grand Prix stallion Expression and the Grand Prix stallion Johnson as grand sire. His grand dam Zamira performed on Small Tour level and is a half-sister to the Big Tour horse Wendel (s.Lancet). Further in the dam line we see a lot more sport. The Grand Prix stallion Tango of Hans Peter Minderhoud is closely related to him through his great grand dam O.Bertje (s.Contango), just like the Grand Prix horse Bonzanjo of Diederik van Silfhout. Also the KWPN approved Jheronimus (s.Dream Boy), the Oldenburg and DWB approved Happy Feet (s.Blue Hors Don Schufro) and several ZZ-Light/ZZ-Big/Small Tour horses descent form this dam line.
Kardieno
The KWPN approved stallion Kardieno was purchased by Andreas Helgstrand earlier this year and already impressed at multiple young horses competitions. The auction stallions Maxim (s.Spielberg) and Massimo (s.Glock's Toto Jr.) come out of his direct dam line. Last named has the Z2 horse Beste Dieni (s.Flemmingh) as dam, Maxim is a son of her daughter Iza Dieni (s.Bon Bravour).
Two world champions
Never before a five-year-old won the world title with as many 10's. Past summer Jovian (s.Apache) did this with Andreas Helgstrand. Besides Jovian, this dam line also gave the Grand Prix horse and world champion Asterix (s.Obelisk). Mickey (s.Obelisk) is closely related to these impressive dressage horses. His dam Fabulous Girl (s.Ampère) is a half-sister to the Big Tour horse Dashy Boy (s.Lord Leatherdal). We also see the Grand Prix horse Jasper (s.Ferro) and the Small Tour horse Exposition-Boy (s.Spielberg) further in the dam line.
International Grand Prix dressage horses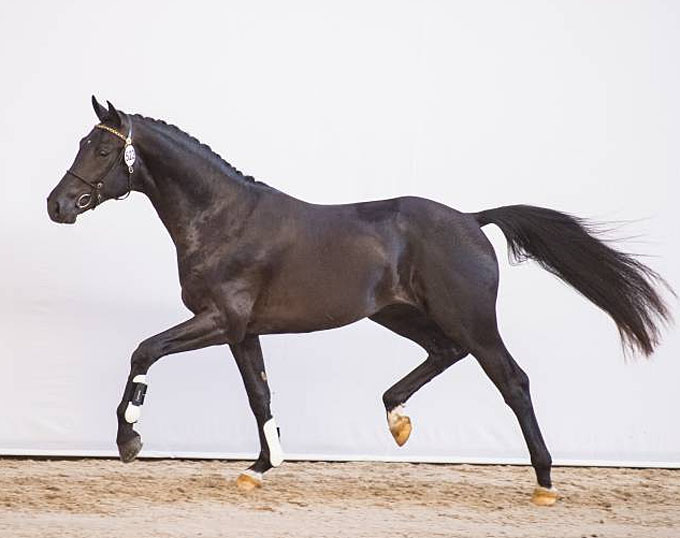 Mount Everest, a son of Hennessy, had the Ferro daughter Himalaya as a dam, whom is a full-sister to the international Grand Prix horses Vidol Point and Prestige. Besides this she is a half-sister to the Small Tour horses Domingo and Earth Wind and Fire, both by Lord Loxely. The dam of Macchiato Vita Nova (s.In Style) is a full sister to the Small Tour horse Pylottie W (s.Jazz). Besides this the international Grand Prix dressage horse of the Canadian Megan Lane, San D'Or (s.Sandro Hit), the Grand Prix horse Fideramber (s.Fidermark) and the Small Tour horses Formosa (s.Florestan I), Titaan W (s.Metall), Alottie (s.Silvano N) and Emporio MB RS2 (s.Armani) come from this dam line.
Gelder stallion
Besides the two dressage stallions whom come from the dam line of the Gelder approved Kardieno (s.Dante Weltino), this collection also contains one Gelder stallion. This palomino colored Myrakel is a son of Edmundo out of the Gelder keur mare Gervana (s.Wilson). This mare did the IBOP test as a three-year-old and scored 8's for her posture and willingness to work.
All stallions are inspected
The auction stallions all had a complete veterinary sport inspection, as well radiographically as clinically. During the first round viewing the stallions were also inspected by a KWPN-inspector. This inspector is available for more information on the stallions. For more questions or more information you can contact Wim Versteeg: +31 6 54201800 or by email salespromotion@kwpn.nl.