2020 CDI-W Wellington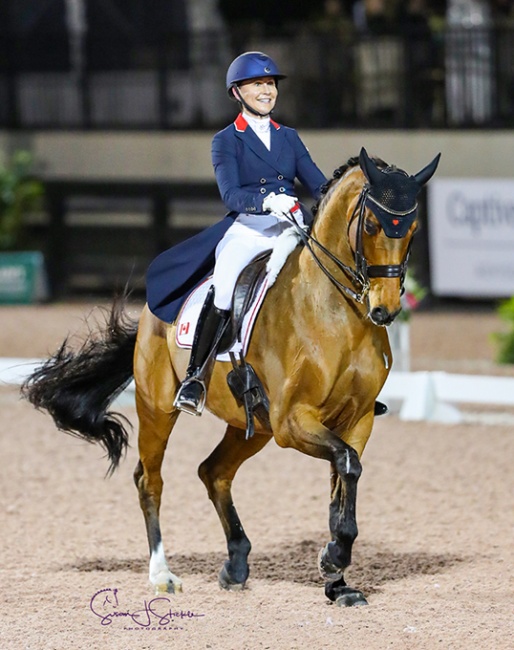 Day two of the opening week of the 2020  Global Dressage Festival (AGDF) heralded the first Friday night under lights of this competitive season at the Palm Beach International Equestrian Center (PBIEC) in Wellington, Florida and Canadian Jill Irving scored her second victory of the week.
Jill Irving Makes it Two
The result in the  Dressage World Cup™ Grand Prix Freestyle was an exact repeat of the previous day's results, with three Canadian ladies, all trained by Ashley Holzer, filling the podium. They were led by Jill Irving on her own long-time partner, the De Niro gelding Degas, who scored 76.06% — a personal best. Brittany Fraser-Beaulieu rode All In to second place (75.74%), while 23-year-old Naima Moreira Laliberte filled third with 75.645% on Statesman.
"Degas is 18 this year so I'm thrilled with his energy," said Irving, who rode to a Beatles compilation. "His piaffe and passage felt great. He's really flexible and, with age, he's become less nervous, which used to be an issue. I was super thrilled with him and it's really fun to be part of all this at Global. It takes a village to make this sport roll."
Fraser-Beaulieu, who is back riding after the birth of her first child in the summer of 2019, said: "This is my second competition back and he's the type of horse that needs to be in the ring a fair amount, so yesterday in the Grand Prix I felt he was a little sticky and unsure. Today he came out ready to rock. The beginning of my test felt incredible — the best feeling I've ever had on him. Then I had a mistake in my ones, which was a pity."
Laliberte was riding in her first Friday Night Stars class, a long-held dream of hers. She said: "I'm really happy to finally be competing here. I thought Statesman did a great job in there; it's a different atmosphere and apart from one rider mistake, the rest felt quite amazing. We're still newcomers; I'm happy to break the ice."
This is her third season with the 13-year-old Sandro Hit gelding, and only their seventh grand prix competition together. They were part of the gold medal winning Canadian team at the Pan American Games in July 2019 and this was their first show since then.
More Praise for Wellington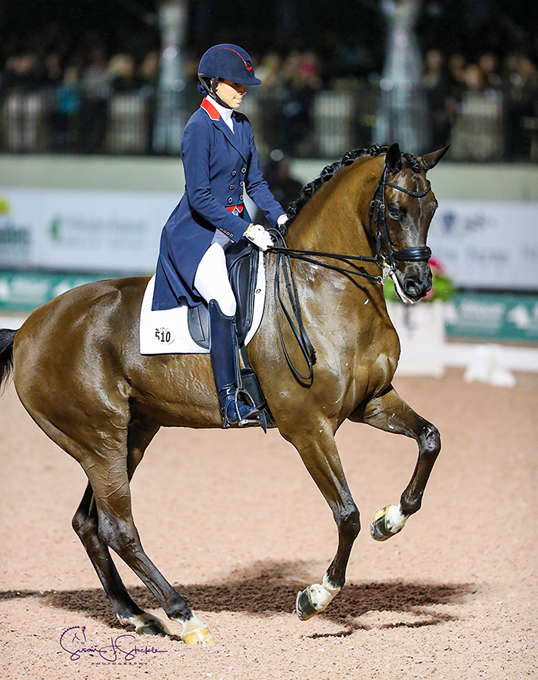 Judge Bill Warren was impressed with what he saw: "To sit at Global at C and see the quality of horses and riding was just thrilling. I've judged Jill and Brittany many times over the years and I've seen the relationships develop with their horses, and it's been really gratifying to see where they've come from and where they are now."
"In the early years there were very few entries and we didn't know whether dressage was going to take off in Wellington," said owner Antonia Ax:son Johnson. "It's been an amazing trip."
Tinne Vilhelmson Silfvén, a regular rider at GDF and affiliated with sponsor Lövsta for the past 20 years, added: "It's been an amazing journey, with all the developments here. This show gives riders the super opportunity to get your best horses out, your young horses and the newcomers. This place is just made for horses."
Lövsta have this year introduced a developing grand prix horse circuit at PBEC. The Lövsta Future Challenge offers a weekly Intermediate II level qualifying test for aspiring grand prix horses, and culminates in a showcase class in week 12 of AGDF (March 25-29).
"It's a big gap from small tour to big tour," added Vilhelmson Silfvén, "and this is a way to try to help everybody to take that step up into grand prix. So we thought it would be a great opportunity to try to do it here."
Ariana Chia Wins 3* Prix St Georges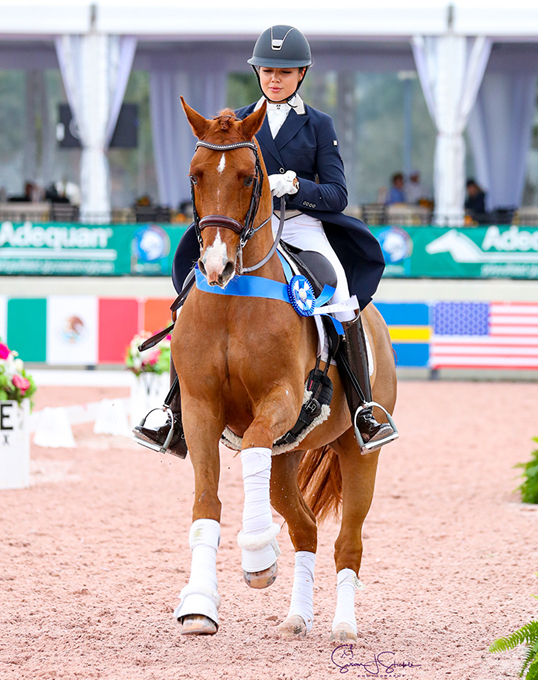 The 2020 season's first small tour class, the   Prix St Georges CDI3*  went the way of the Canadians, with Ariana Chia returning to Wellington with Fiderflame for the second year running and winning their first class of the show. The 10-year-old gelding by Fidertanz was the only one to break the 70% watermark, scoring 71.47%. This is Chia's fourth year in a row competing at AGDF.
In the Prix St Georges CDI1* class, all three top finishers of the nine starters scored over 71%, with the winner's sash going to Great Britain's Susan Pape and Harmony Sporthorses' Bourani. The nine-year-old gelding by Belissimo M had not competed internationally in a year, and this was his first ever plus-70% score.
Hot on his heels was Lövsta Stuteri's breeding stallion Bon Coeur. The eight-year-old by Benetton Dream FRH was ridden to 72.529% by Sweden's Caroline Darcourt. Katie Johnson (USA) and Paxton rounded out the top three.
Photos © Sue Stickle
Related Links
Scores: 2020 CDI-W Wellington
Irving and Peters Win Grand Prix Classes on First Day of 2020 Global Dressage Festival