The Netherlands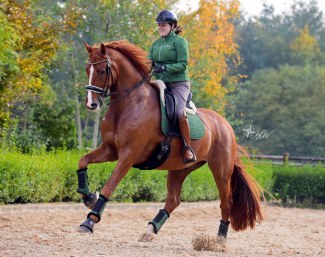 Dutch para rider Sanne Voets will be premiering a brand new freestyle, titled, in an exhibition show at the 2020 CDI-W 's Hertogenbosch on Thursday 12 March 2020.
Voets collaborated with kur composer Joost Peters for a new Kur which she herself calls "unconventional."
Voets is seeking Dutch team selection for the 2020 Tokyo Paralympics aboard the 12-year old Dutch warmblood Demantur (by Vivaldi x Elcaro), owned by Saskia and Jacques Lemmens of RS Dressage. 
"This freestyle tells our story," said Voets, who wants to celebrate her partnership with Demantur. 
"When I first tried Dem, four years ago, I immediately fell off his back," she said. "Even before I was properly in the saddle! Still, I wanted to give him another chance. I felt there was a connection between us. It took time and trust to build up such an intense bond, but now we know each other through and through and have experienced so much together. Our bond is very special. That is, what I believe, the part that makes equestrian sport so beautiful".
Voets' new freestyle is based on the music of the band HAEVN.
"They make cinematic music with a distinctive sound, in which piano, strings and also electronic sounds play an important role," she said. "The clear, warm voice of singer Marijn van der Meer  delivers the definitive unique sound of the band."
Sanne approached band leader Marijn van der Meer to explain him the concept of dressage freestyle to music. He had no clue. 
"We don't know anything about horses," Van der Meer admitted. "But Sanne told about her passion so enthusiastically that we became curious. What would it look like, our music guiding a dancing horse? We made an appointment, spoke about the possibilities and just felt there was a spark between us. The rest is history!"
Voets is currently the reigning Dutch, European, World and Paralympic champion.  She has scored ten international gold medals, competing in Grade III until 2016 and in Grade IV as of 2017. 
Voets was born with a condition which weakens her legs and affects her other joints, which was exacerbated by a riding accident in 2001. She got trapped under a horse and the accident caused further damage to her legs.
Related Links
Sanne Voets, Dutch Equestrian of the Year 2016
Rothenberger, De Boer, Voets, Jørgensen Dressage Nominees for 2019 FEI Awards