KWPN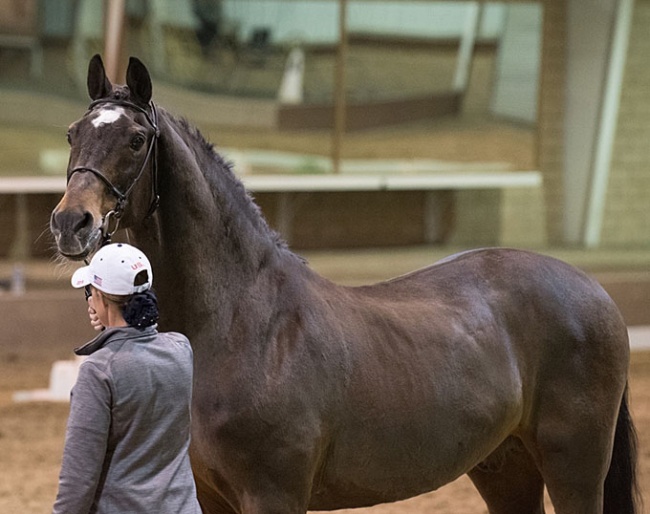 The KWPN licensed stallion and former Dutch Olympic team horse Idocus  has been honoured for his upcoming his 30th birthday at the 2020 KWPN-NA meeting held at DG Bar Ranch in California. 
Idocus is a KWPN stallion by Equador out of Eretha (by Zonneglans) and is bred and owned by American Christine McCarthy. He will turn 30 on 2 July 2020.
"The stallion will be 30 this year and is still super healthy," said KWPN inspector Henk Dirksen who attended the meeting. "He was shown in hand and was super fit. For his 30th birthday we handed out a special celebration certificate."
Career Start in the U.S.A.
He was reared at Royal Starr Farm in New York up until he was three years old. In 1993 Idocus went to the 100 day Stallion Performance Test. The testing site was in Keswick, Virginia, at November Hill Farm run by Gerd Zuther.  He went on to become the Grand Champion and held the highest jumping score of all the stallions.
Idocus was also he Grand Champion of show at the breed show held at Dressage at Devon in September 1994.
He was trained up to Grand Prix level by Lendon Gray and Courtney King. 
Olympic Team Horse with Marlies Van Baalen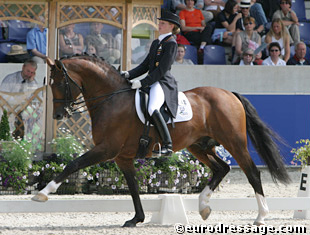 In 2001 Idocus was sent to Holland to be approved for the KWPN society as a breeding stallion. In order to boost his competition career, McCarthy decided to keep him in Holland and put him in training with Dutch Marlies van Baalen, who was then a young rider and making her transition to the senior division.
The pair competed at the 2003 World Cup Finals in Gothenburg and represented The Netherlands at the 2004 Olympic Games in Athens, where they were 43rd in the Grand Prix. 
"I"ve learnt so much from him," Marlies told Eurodressage. "I learnt to ride a stallion at Grand Prix level. He was super sensitive and I learnt how to handle that. We had great highs but also difficult times. I'm very appreciative for the lessons he taught me."
Return to the U.S.A.
In 2005, Idocus came back in training with Courtney King. After a three year break from international competition, Idocus returned to the arena in the U.S.A. in 2007.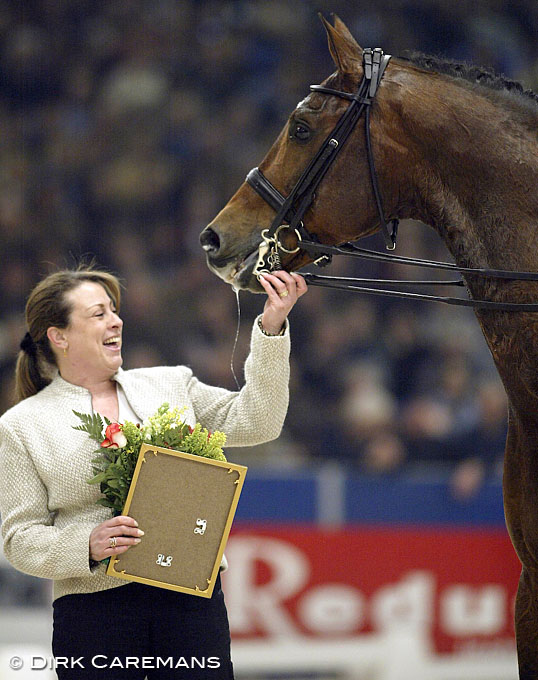 For two years King and Idocus showed at major internationals in the U.S.A. as well as at the 2007 and 2008 World Cup Finals. In the spring of 2008 they competed for a place on the U.S. Olympic team for Hong Kong, but King was eventually chosen with her other horse, Mythilus.
Idocus' last international, therefore, ended up being the 2008 World Cup Finals, which he contested at age 18.
"I learned Grand Prix on Idocus," Courtney stated. "You can set a metronome to his rhythm."
After his retirement, the horse was relocated to DG Bar Ranch in California, where he stood up for stud and served as a schoolmaster for Ashlyn de Groot for three years until 2011.
He stood up for stud until 2017 with his last offspring (3 foals) being born in 2018. Idocus has produced two licensed sons, Olivier, who competed at International Grand Prix level from 2007 till 2012 under Elizabeth Austin, and the ISR registered (Idocus x Admiraal Ferdinand).
Photos © Private - Astrid Appels - Dirk Caremans
Related Links
Eurodressage Photo Database: Idocus
Steffen Peters Shares His Secrets for Identifying Superstars at the 2011 KWPN-NA Annual Meeting
Idocus Retired from Competition
Courtney King and Idocus at the 2008 World Cup Finals
Idocus Back in Training with Courtney King
Marlies van Baalen and Idocus
Former Young Rider Finishing Eleventh at 2003 World Cup Finals
Intestinal Problems for Idocus in Denmark
Idocus In Training with Marlies van Baalen