Korea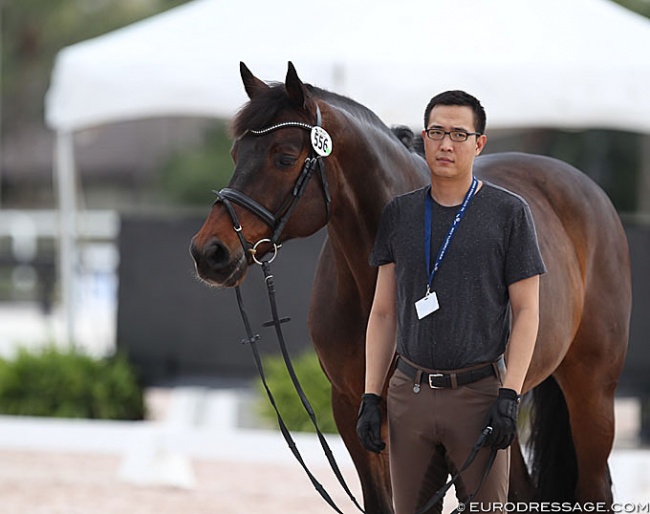 Korean Olympian Dong Seon Kim became the top earning dressage rider at the 2020 Global Dressage Festival in Wellington, collecting  $34,785 in prize money in six weeks of international competition. 
Journalist Ken Braddick of Dressage-News calculated which earnings the most successful riders got on the world's richest dressage circuit. Wellington offers a quarter million dollars in prize money.
The 30-year old Dong Seon Kim competed two horses in Florida: the 8-year old small tour horse Bordolino (by Bordeaux x Dormollo) and the 13-year old Hanoverian bred Grand Prix horse Belstaff (by  Brentano I I x De Niro). He rode the two horses in 19 classes in total. At the end of the show season, Kim announced that he was retiring from competition sport to start a new professional career as an investment banker. 
The second best earning rider at the 2020 GDF was American A-squad rider Katherine Bateson-Chandler with Jane Forbes Clark's 15-year old KWPN gelding Alcazar (by Contango x Ferro). She picked up $33,700. She rode in five Grand Prix classes.
Yvonne Losos De Muñiz, a Wellington based Olympian from the Dominican Republic, competed two horses, her Grand Prix mare Aquamarijn and medium tour mare Felicia and totalled $27,780 in prize money, which made her the third top earning rider.
Steffen Peters, who every single of the 11 Grand Prix classes he competed in aboard Akiko Yamazaki's 12-year old KWPN gelding Suppenkasper (by Spielberg x Krack C) was the fourth best earning rider with $26,400. 
See the complete top 10 on Dressage-News
Photo © Astrid Appels
Related Links
Dong Seon Kim Moves Back to Korea
Nevermann Torup Wins Small Tour on Borrowed Bordolino at 2020 CDI-W Wellington
Bonanza Day for Peters, Bateson, Lane, Harada, and Pavicic at 2020 CDI Wellington
Katherine Bateson-Chandler Does The Double in Five-Star at 2020 CDI Wellington