Hit & Run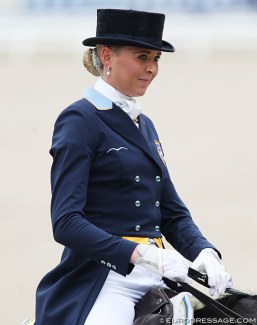 In corona times we are all ordered to stay at home, self quarantine, and do social distancing. With more time on your hands to spend online, Eurodressage launches a "Hit & Run" interview series so that you get to know the world's most famous dressage riders and personalities more closely. 
Swedish Grand Prix rider Antonia Ramel is the eldest of the two Ramel sisters (younger sister is Juliette). She began her international show career in the 2000s, first with Donkahn and Seigneur, and then as an Under 25 Grand Prix rider aboard Insterburg. She returned to the arena as a senior in 2017 aboard Brother de Jeu. After first representing her country in the Nations Cup shows in Compiegne, Falsterbo, Geesteren and Aachen, she was selected to represent Sweden at the 2019 European Dressage Championships in Rotterdam. 
Hit & Run - Antonia Ramel
What is your earliest memory? 
Terrorising my sister Juliette
Which person alive do you admire the most and why?
My partner for always supporting me and always being honest..  
When were you the happiest?
When I'm riding
What is your biggest fear?
That something would happen to my family, partner and friends
What was your first thought today?
That I'm very happy to wake up every morning loving to do what I do
What is your most annoying character trait?
I'm a cleaning freak
Which trait do you dislike the most in other people?
Dishonesty
What is your dearest possession?
All the memories I have from my horse Seigneur who passed away last year
If you look into the future, what do you see?
Hopefully a successful career as a rider.
What makes you unhappy?
When people I care for are not feeling well
What is the love of your life?
Seigneur and my partner
What was the best choice you ever took in life?
To go train with Patrik Kittel.
What's your guilty pleasure?
I always try the supplements of my horses by myself
What do you owe your parents?
A very big thank you for supporting me as a rider making it possible for me to do this! 
Who can sit next to you at your dream dinner table?
My grandmother who is not alive anymore
What was the worst job you ever did?
Painting fences
What was your biggest disappointment in life?
A horse I bought and the whole deal was a betrayal.
What would you change if you can go back into the past?
Going to Patrik Kittel earlier
Name one thing that would improve your quality of life?
A sushi chef at home
What is your biggest achievement?
The European Championships last year.
What is the most important life lesson you have learnt?
To treat people the way you want to be treated yourself and to never give up!
Where would you like to be right now? 
I would love to be in Stockholm meeting my best friend
What's your favourite scent?
Flowers
Which character would you dress up in for Halloween?
No idea
To whom would you like to say sorry?
Nobody
What does love feel like for you?
Just happiness
When are you most relaxed?
At home on the couch 
What super power would you like to have?
Flying
When did you last cry, and why?
When Seigneur passed away
When were you closest to death?
As a kid almost drowning
How do you want to be remembered?
As a good person 
Related Links
Schneider Sets in German Whitewash at 2019 European Dressage Championships
Quick Notes from the Grand Prix at the 2019 European Dressage Championships
Team GB Wins Nations Cup Leg at 2019 CDIO Compiègne
Kittel and Ramel Present New Kids at 2017 CDN Ankum
Ramel Sisters to Ride for Sweden in 2010 Aachen Under 25 Competition
Ramel Wins Insterburg Lawsuit on Basis of Fraud
On Riders Giving Up
Insterburg TSF Sold to Sweden