Westfalian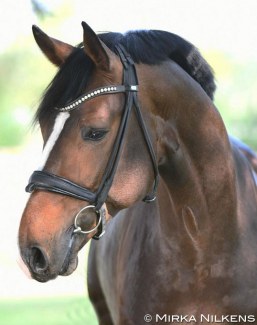 The Westfalian bred Ellis (by Escolar x Dimaggio) became the top scorer of the 14-day stallion suitability test which was held in Adelheidsdorf, Germany, from 7 - 20 May 2020. 
Bred and owned by Walter Dröge, the 4-year old Westfalian Ellis scored a total of 8.50 points with 9.09 for dressage and 7.73 for show jumping. The stallion also got 9 for character, 9 for walk, 8.5 for trot and 9.5 for canter, 9.5 for rideability and 9.25 from the test rider. Ellis is a full brother to the World Young Horse Championship finalist Espe.
The second best score was achieved by a jumper (by Diamant de Quidam x Acord II), who finished on 8.40 points. 
Two stallions got 8.30 in total: the 3-year old Hanoverian bred Lord Legend (by Libertad x Baroncelli) got 8.25 for dressage and 8.15 for show jumping; and jumper Chellci Orange L (by Cicero Z) also finished on 8.3 points. 
Vermeer (by Vitalis) finished on 8.15 points with 8.25 for dressage and 7.88 for show jumping. 
The lowest score was for the 4-year old Hanoverian bred nameless colt by Grand Galaxy Win T x Florencio. Hefinished on 6.73 points. He got just 7 for trot and canter, 5.0 for jumping in freedom and 7 from the test rider. Jessica Umansky's Hanoverian bred Influencer (by Ibiza x De Niro) underwhelmed with his jumping in freedom (5.50) and totaled just 7.20 points. 
Complete results here. 
Photo © Mirka Nilkens
Related Links
Quabrie, High Scorer of the 2019 Neustadt/Dosse Autumn Stallion Suitability Test
Donbass, High Scorer of the 2019 Adelheidsdorf Autumn Suitability Test
Belico Royal, Top Scorer at 2019 Adelheidsdorf Stallion Suitability Test
Damaschino, Top Scorer in 2019 Schlieckau Stallion Suitability Test
Viva Gold, High Scorer at the 2019 Schlieckau Stallion Suitability Test
Woodlander Wicked Game, Top Scorer of the 2019 Munich Stallion Suitability Test