Opinions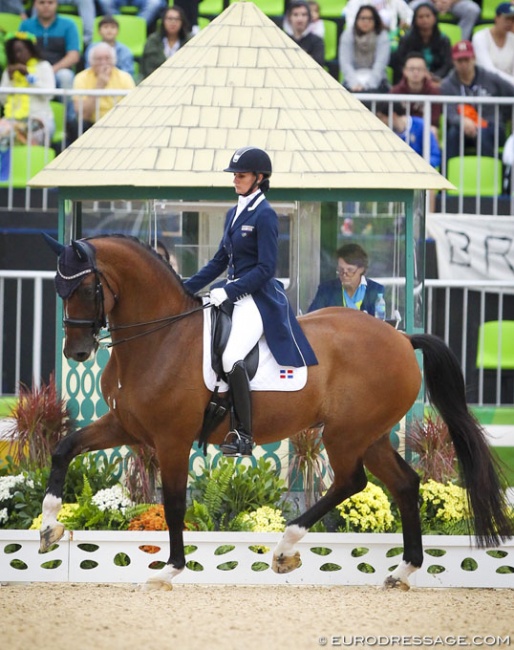 A few days ago, I had the pleasure of taking part in my friend and FEI judge Cesar Torrente's popular online discussion forum, Dressage Talks. I shared the panel with Cesar Hirsch from Venezuela, also a good friend, who is the current Chair of the Pan American Equestrian Confederation (PAEC). Our meeting was very well attended with over fifty participants from all over Latin America, and it was a delight to hear Spanish spoken with so many wonderful accents.
Our conversation centered around the decades-long debate regarding the level at which the discipline of dressage should be held at the Pan American Games, the second-largest sports event in the world after the Olympic Games. In my belief it should be exclusively Grand Prix.
At this moment, PAEC and the FEI, along with the regions' national federations, are evaluating what the level should be for the upcoming 2023 Pan Am Games and beyond. The Pan Ams serve as a continental qualifier for the Olympics, and over the years the level has gone from Grand Prix down to Small Tour and eventually to its current Grand Prix/Small Tour mixed format, where teams can have both Small Tour and Grand Prix riders, with the latter receiving bonus points towards team medals. For the individual medals, however, riders of both levels compete head-to-head in the Freestyle, with no bonus points added to their scores.
Mixed Team Format, Well Intentioned but It Inhibits Progress
This mixed team format has been in place for the last two Pan Am Games, 2015 and 2019, with the well-intentioned notion that riders from the hemisphere would gradually transition up to the Olympic level. If the numbers are analyzed, it becomes clear that the opposite has occurred. In 2015, there were nine combinations at Grand Prix, and in last year's Pan Ams there were only eight in a field of thirty-eight total combinations, an evident decrease rather than the expected and desired increase.
Additionally, in both 2015 and 2019, two nations that qualified teams for the Olympics at the Pan Ams - Colombia and Brazil - were unable to have three Grand Prix combinations meet the Minimum Eligibility Requirement scores before the end of the year, thus losing their Olympic team slots. Ultimately, the mixed-team format not only prevents a level playing field, inhibiting progress, but it is also difficult for the public to follow and is complicated for both judges and riders, considering they almost never participate in any other events that combine Small Tour and Grand Prix.
Interestingly, besides the United States and Canada, there are currently other riders from the Americas willing and able to step into the ring at Grand Prix level. Over the recent years, I have been joined in multiple CDIs by Latin American Grand Prix riders from Mexico, Argentina, Brazil, Ecuador, Costa Rica, Guatemala, Chile, Venezuela, Bermuda, and Colombia. It is clear Latin American riders can perform at the level, so why the need to continue with a mixed-level format for the Pan Ams?
A Multi-Level Challenge
As a region, we face a multi-level challenge in addressing this situation, which is composed of, in my opinion, three problems.
The first of these issues is that as long as national federations and riders have no obligation to compete in the Pan Ams at Grand Prix, there is little incentive for both groups to aim towards, and stay at, that level; it is much easier to train and maintain a horse at Small Tour, especially considering that most regional championships (South American Games, Central American, and Caribbean Games, etc.) take place at that level or below.
This leads to the second problem: due to the four-year Olympic cycle, if a Latin American combination is already competing at or close to Grand Prix, their national federation -always looking for medals - will probably ask them to come down a level or two to be part of a team at those regional games, since in most of our countries there is a limited pool of FEI combinations. This is obviously counterproductive for any combination trying to become proficient at Grand Prix level.
This vicious cycle continues onto the third and final problem, which encompasses the overall limited level of experience in the region to train and compete at the highest level. Since Latin American riders and horses are not consistently performing at Grand Prix level, it generally becomes a complex and unfamiliar step up from Small Tour. Yes, there are some of us already there, but there should be many more by now. We should also be able to train each other and our horses with less need for expensive non-regional trainers, which is yet another burden the Americas face.
Let's Move Ahead, It is Time!
So, what can be done to overcome this? In our Dressage Talks conversation, in which many riders, officials and trainers from Latin America took part, it became clear that many are ready to take on the challenge of moving the Pan American Games to Grand Prix. Regional championships can serve to develop younger horses and/or riders at less challenging levels, but our continental championship must be a Grand Prix Olympic qualifier, just as the European Championships and others are. Our region cannot be so unique in which an Olympic qualifier is held at two levels, after which qualified countries must rush off to obtain new horses and secure scores at Grand Prix level, within only a few months, in order to certify the Olympic team berth.
We need to have a plan and a goal, as well as give ourselves enough time for our region to be ready. While the next Pan Ams are in 2023, even at this moment in 2020 the Americas can probably have five or six nations ready to field teams at Grand Prix level, plus an additional six or seven individual riders. In three years, with our regions' riders and federations aware that the event will be at Grand Prix, the number could be even higher and provide better quality across the board.
Latin America has had tremendous success fielding teams in Grand Prix showjumping over the years, where the practice of showjumpers consistently competing at the Grand Prix level has not only fostered great international success, but also Olympic and World Championship medals. Therefore, why should it be any different for Latin American dressage riders? In my travels all over the Americas, I have seen many good dressage horses and riders, with definite Grand Prix potential. Perhaps it will take some time, given that success, quality, and quantity will not come overnight. We must also understand the top level of the sport better, improve our training methods, and be exposed to international competition, as several of us already do. The FEI and developed nations like the United States and Canada might be willing to provide support, resources, and guidance, but if, as a region, we realize the need to do better now and that we are no less than others, then our goal is at hand, and progress will certainly come.
Let Us Face the Challenge
We are tired of being looked down upon by more developed nations and hearing that we do not deserve our Olympic quotas. We have the competitive desire: we are willing to learn and grow, to support each other, and step up to the Grand Prix plate.
As a rider myself, I will continue doing my part by always giving my best in the international Grand Prix ring for both my country and Latin America and offering my support and advice to anyone that needs it. Raising Latin America's dressage to achieve its full potential and ultimately creating an international level playing field will not be easy and no one can do it alone, so come join me.
Let us face the challenge and move ahead together. It's time.
- by Yvonne Losos de Muniz
Yvonne Losos de Muniz is an Olympic athlete for the Dominican Republic. She is part of to the Dominican olympic program CRESO. She won double individual gold and a team bronze medal at the 2002 Central American Games, individual bronze at the 2003 and 2007 Pan American Games. In 2010 she won two individual silver medals at the Central American. She won double gold at the 2018 Bolivarian Games and 2018 Central American Games. She competed at the 2018 and 2019 World Cup Finals and 2016 Olympics.