Sweden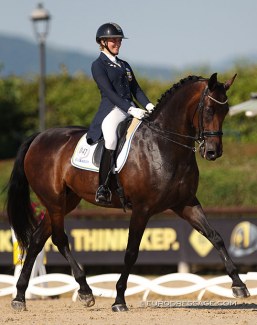 Swedish young rider Cecilia Bergakra has been hospitalized twice over the past week due to a severe viral infection. 
On Tuesday 2 June 2020, the 18-year old Bergakra was rushed to Bollnäs hospital with severe headaches, vomiting, and speech and movement difficulties.
She tested negative for Covid-19, but more tests were done on Wednesday. 
She stabilized in the hospital and after a four day stay was allowed to go home, Saturday 6 June. However after only four hours home, she was called to return to the clinic immediately.  
"Unfortunately I was urgently admitted to the hospital again for treatment," said Cecilia. "They suspect a virus in my spinal cord fluid, which can be compared to Herpes Zoster, but it could also be something similar to Lyme disease."
Multi-Division Rider
Cecilia Bergakra made her international debut in 2015 and unlike any other rider before, she competed in three age categories at the same time in her debut year. With the mare Primavera she rode at junior level, with I Do Kiss in the Children's division and aboard Inspi(red Justice RP in the pony division. Her first European Championships was that year in the Children's class on I Do Kiss. 
In 2017 she moved to Young Riders level as a 16-year old on Primavera, but she also tackled to Under 25 level aboard Duschesse, while at the same time riding ponies! Primavera has remained her anchor horse though and she returned on the Swedish team for the 2017 European Young Riders Championships in Roosendaal, where she finished 8th in the Finals. She became Swedish Champion that year as well. Cecilia returned on the team for European Young Riders Championships in 2019 and was 10th in the Kur. Two times she won team bronze at the Europeans.
Most recently Bergakra has also been getting her feet wet as an eventing rider, practicing cross country riding. 
Photo © Astrid Appels
Related Links
Cecilia Bergakra Berglund Nominated for 2017 Comet of the Year Award
Bergakra Berglund and Quatermain Fly the Dressage Banner at 2017 Swedish Riders Gala
Pettersson, Bergakra Berglund, Gyllensward, Mathisen Win 2017 Swedish Dressage Championships
Sandgren and Berglund Bergakra Win 2018 Swedish Pony and Children Championships
Four Time Gold for Germany at 2015 European Children, Junior, Young Riders Championships
I Do Kiss Sold to Canada