Trakehner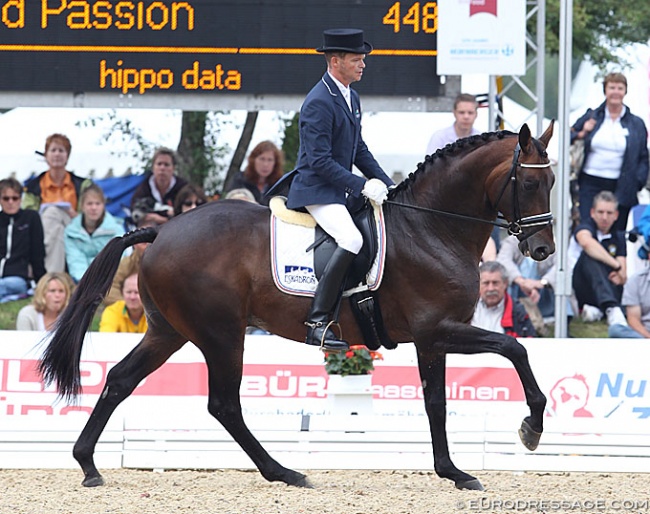 The licensed and internationally competed Grand Prix Trakehner stallion Grand Passion has passed away. He was euthanized on 6 February 2020 due to severe lameness.
Grand Passion was a 15-year old Trakehner stallion by Oliver Twist out of Gipsy Rose (by Polarion). He was bred by Lieselotte Heinen. 
Trakehner Licensing Champion
The bay became the champion of the 2007 Trakehner Stallion Licensing in Neumunster and sold through the auction for the record price of 300,000 euro to Tony Pidgley of Kilbees Stud Farm in Great Britain. The stallion did his 30-day stallion performance test in 2008 in Schlieckau and scored 8.79 for dressage and 8.56 for show jumping, finishing on a total of 8.61 points. 
Initially stationed at Paul Schockemöhle's yard, Grand Passion was first competed by Anja Engelbart in July 2008. A year later, Stefanie Kerner took over the ride and steered the horse to victory in the 4-year old class at the 2009 Trakehner Championship in Hanover.
Grand Passion and Bernadette Brune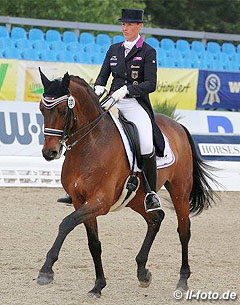 Grand Passion was part of the collection for the 2009 PSI Auction in December and sold to the French based German Bernadette Brune for 300,000 euro. 
Brune made her show debut on the stallion in the young horse classes at her own shows, the CDI Vidauban in 2010. Later that year Brune's assistant trainer Jef Coenegrachts took over the ride and won the 5-year old division at the 2010 French Young Horse Championships. In 2011 Brune's assistant trainer, French Serge Cantin, rode the horse to a 17th place in the consolation Finals at the 2011 World Young Horse Championships in Verden. He also won the 2011 French Young Horse Championships in Saumur.
Brune returned to the arena on Grand Passion in 2012 at M-level.  In the autumn of that same year, Grand Passion was gelded to be focused on sport. He was sent to Dorothee Schneider for training. 
Grand Passion and Ayache
In 2014 Brune competed Grand Passion at small  level in Nice and Hagen. In the summer of 2015 she acquired Alexandre Ayache's Grand Prix horse Lights of Londonderry and swapped Grand Passion as part of the deal.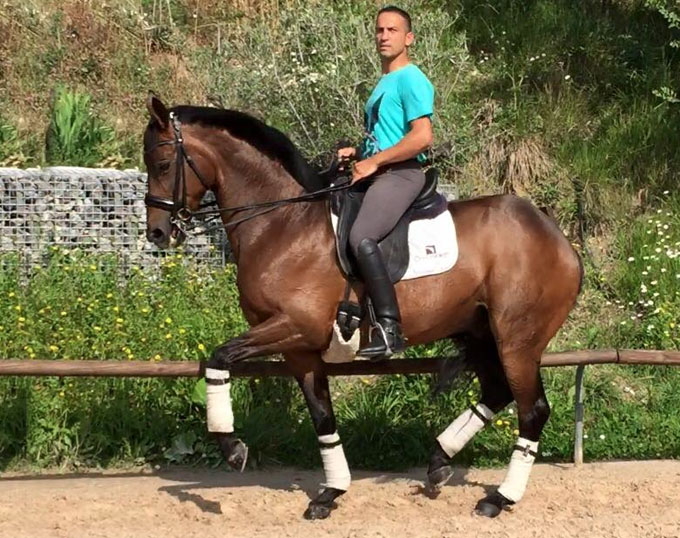 Grand Passion disappeared from the international scene for a couple of years to return in 2017 with Ayache at Grand Prix level. He showed the gelding in Nice, Saumur, Lipica, Brno and Deauville. His last show on the horse was a nice winter event in Nice in December 2017.
Grand Passion only bred to a small amount of mares and his most successful offspring include the Trakehner licensed stallion Private Passion from his first crop of foals born in 2009. He produced 3 state premium mares. Anna Lisa Schepper steered Great Gatsby BB, bred by Bernadette Brune, to a 10th place in the 2019 Bundeschampionate finals for 6-year olds. Kojak became the winner at the 2013 and 2014 French Young Horse Championships and competed at the 2014 World Championships for Young Dressage Horses.
To Denmark and back to Germany
In the spring of 2018 Danish horse dealer Andreas Helgstrand travelled to Ayache's barn in Nice, France, to buy a horse and received Grand Passion as part of a package deal.
The Grand Prix horse moved to Denmark, but did not sell there and was sent to Ingo Pape in Germany to be sold.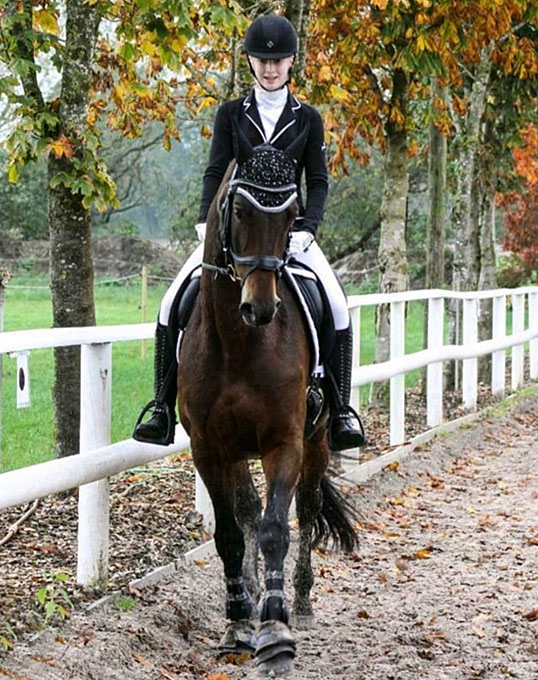 In September 2019 the young German jumping and dressage rider Jolin Marie Schreiner acquired the horse from horse dealer Steffen Brunkhorst, but she only had him until February 2020. 
"We bought him, and we knew he wasn't moving right, but we wanted him to have a good life," Schreiner told Eurodressage, "but it got worse every day and we tried everything. Veterinarians, physiotherapy, but no one could say exactly what (he had). At the end he couldn't get up and we decided to put him out of his misery."
Photos © Astrid Appels - LL-foto - private
Related Links
Eurodressage Photo Database: Grand Passion
Lights of Londonderry Sold to Bernadette Brune
Grand Passion in Training with Dorothee Schneider
French Grand Prix Rider Serge Cantin Passed Away
Blacktime, Grand Passion, Socrate de Hus Win 2010 French Young Horse Championships
Grand Passion and Donaugold Shine at 2009 Trakehner Stallion Gala
Grand Passion, Champion of the 2007 Trakehner Stallion Licensing