Germany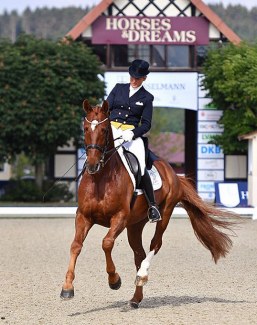 International competition will return to Germany at Hof Kasselmann on 16 - 19 July 2020. The Borgberg venue will be host to a CDI 1* and 3*, as well as invite juniors, young riders, Under 25 riders and young horse combinations to compete in an international atmosphere. 
After the corona lockdown ended in Germany, Hof Kasselmann immediately came to the fore as show host to bring normality back to the equestrian world. It hosted the first post-corona national dressage show in June. This weekend it is organizing a late entry national jumping tournament and the following weekend there will be a late entry dressage competition with qualifications for the 2020 Bundeschampionate in September and the LVM Youngster Championship
International Flair
In addition, Hof Kasselmann will bring back international flair by being the host of the first post corona CDI competition on 16 - 19 July 2020.
Scheduled as a CDI1* and CDI3*, the event offers additional classes for CDI-J, CDI-Y and CDI-U25 riders and CDI-YH tests for 5-, 6- and 7-year-old dressage horses.
The CDI-U25 division will be a German team selection trial for the 2020 European Youth Championships which take place in Budapest, Hungary, in August. 
Preliminary rounds for all age groups will be held on Thursday 16 July, finals the day after.
World Young Horse Championships Qualification Show
The international young dressage horse tests are particularly important with regard to the World Championship for Young Dressage Horses, which are scheduled for 9 - 13 December 2020 in Verden, Germany.
In May, the FEI amended the Minimum Eligibility Requirements (MER) for the 2020 World Young Horse Championships due to the Covid-19 pandemic. The revised MER require a score of minimum 75% for 5- and 6-year-old horses and minimum 70% for 7-year-old horses, which must be met at least once at a CDI-YH or at an appropriate national dressage event.
A CDI-YH in the great atmosphere at Hof Kasselmann offers ideal conditions for young dressage horses who, due to the long break in the event calendar, have not been able to gain the necessary level of competition experience and still need sufficient opportunity to recommend themselves to selectors for the World Championship.
"We want to provide the stars of the future with optimum conditions this year too, and even though spectators may not be able to attend due to Corona restrictions, they will still have the opportunity to see all horses via the live broadcast on Clipmyhorse.tv," says organiser Francois Kasselmann.
For more information, visit www.hof-kasselmann.de
Related Links
Hof Kasselmann to Host Two CDNs and One CDI 3*/1*/U25/YR/JR in July 2020
Personal Service Provided for Private Sales and the 2020 Hof Kasselmann Online Auction
German Team Selection System for 2020 European Youth Championships Announced
First German U25 Team Qualifier Moves from Warendorf to Kronberg