2020 European Pony Championships
German Lucie-Anouk Baumgürtel ended her career on ponies with a triple hattrick. Not only did she win triple gold at the 2020 European Pony Championships, but this is also her third European Champion's title in her career, having won in 2016, 2017 and now in 2020 again.
Triple Hattrick for Baumgürtel
Aboard her 9-year old Nasdaq (by Nemax x FS Don't Worry), she concluded her winner's campaign at Stable Unikornis in Pilisjazfalu, Hungary, with a third victory and gold medal, this time in the concluding class - the Kur to Music - on Sunday 30 August 2020.
Lucie-Anouk rode a world record score in the individual test and added another massive 85.735% for the freestyle victory, riding to the strain of Queen's "Its a kind of magic" and stayed just a tiny bit shy of Phoebe Peters' world record kur score of 85.825%, which Peters achieved on SL Lucci at the 2015 European Pony Championships in Malmo, Sweden.
"When we made it to the Europeans I didn't expect anything to be honest, I just wanted to enjoy a great pony time and I'm so thankful to have had the opportunity to ride here in this lovely place," Baumgurtel stated at the end of the day.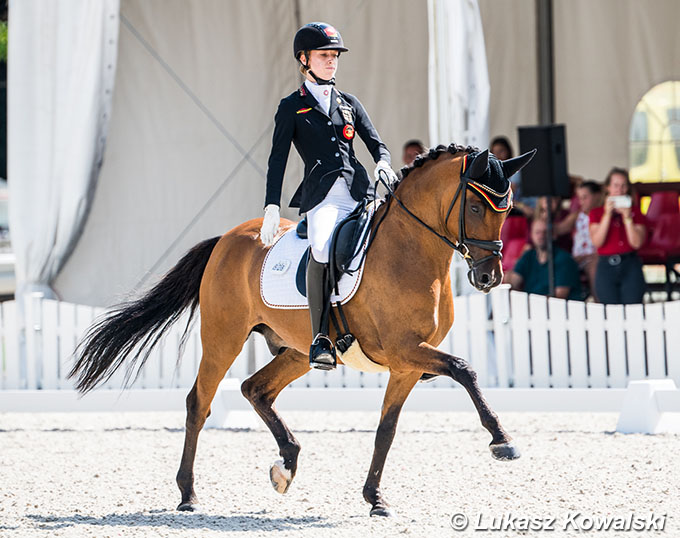 Lucie's younger sister, Lana-Pinou, has taken over the ride on Massimiliano, the pony that brought her all her previous successes, while Lucie-Anouk opted to ride junior level on horses in 2019. This year she dropped back to pony level in her final year of eligibility, because Nasdaq, which the family bought in 2015, developed beyond the expectations.
"I can't believe it, it's amazing because I have only been riding Nasdaq since September of last year and he has come so far," said the highly decorated gold medal winner. "Nasdaq is the pony of a lifetime, he gave me an amazing feeling and I'm so happy. We bought him as a four-year-old stallion so he's with us for five years and it has been lovely to see him develop."
Double Silver for Obel Jorgensen
Danish Sophia Obel Jørgensen  and her 14-year old Rhinelander bred Adriano B (by De Angelo x Flying Dream) scored team silver on Thursday and added an individual silver medal to her plate on Saturday noon.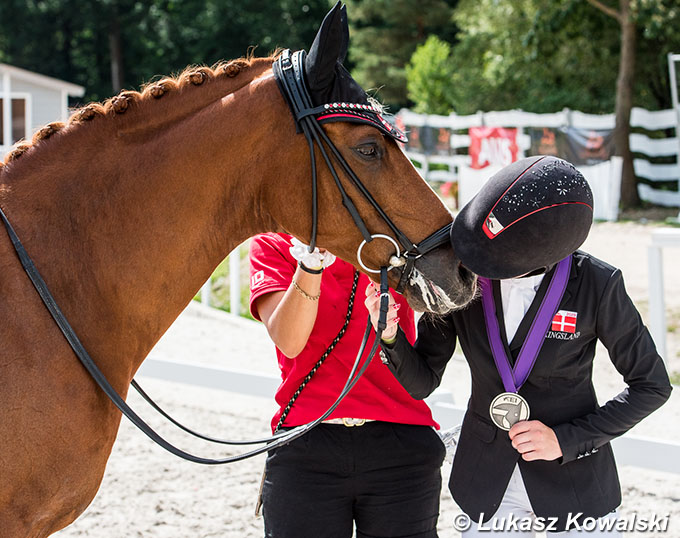 Obel and Adriano B are a brand new partnership with less than one year experience together. The chestnut Danish team routinier took Danish Alexander Yde Helgstrand to the 2019 European Pony Champion's title last year in Strzegom, Poland, after which the ride was allocated to Obel. 
In the freestyle, the Danish duo threw down a great challenge with a relaxed, harmonious test for 82.555% that moved them into silver medal spot.
Bronze for Oatley
After winning team gold on Thursday, the 13-year old benjamin on the German team, Rose Oatley, made it clear that her sights were also set on an individual medal.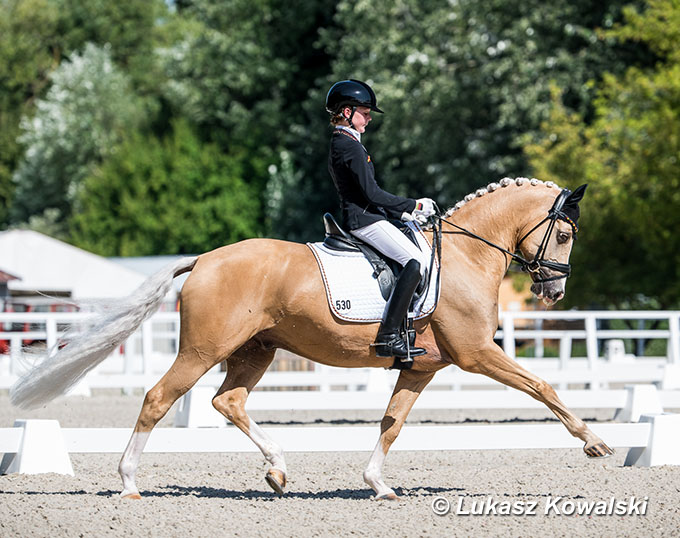 Rose sits on unlimited potential in the saddle of her 10-year old Rhinelander Daddy Moon (by Daddy Cool x Capri Moon), but two mistakes in the individual test pushed her to a "medalless" fourth place. Oatley gave it her all in the freestyle and set the target at 81.400% as first rider to crack the 80% barrier and with just four more to follow. She really piled on the pressure and her score stood for a third place and bronze medal in the end.
German Individual test bronze medal winner Antonia Roth, could have pushed Oatley off the podium once again, but a break in counter-canter proved costly with Roth's score of 79.710% leaving her and 9-year old Daily Pleasure (by HB Daylight x Dresman) in fourth place this time around.
In the kur Daddy Moon was elastic, responsive, expressive and on the button all the way, and his diminutive rider didn't hide her delight after riding into her final halt.
Ponies Back to Strzegom in 2021
With the Kur to Music the 2020 European Pony Championships came to a conclusion at Arie Yom Tov's Stable Unikornis.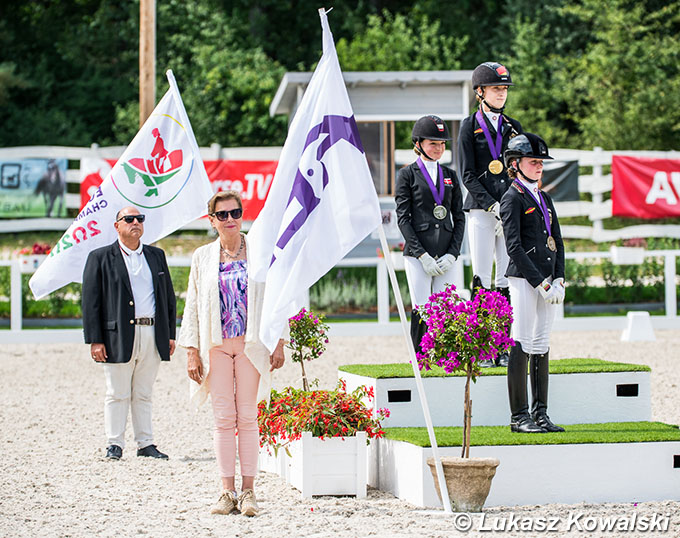 The Hungarian entrepreneur bravely came to the rescue to host no less than five European Youth Championships over a three-week time period at this yard, when the corona pandemic forced the show organizers of Strzegom (Ponies) and Hartpury (Junior/Young Riders) to cancel their events. 
For 2021 the Pony Europeans will return to Strzegom (POL), while the Under 25 Championships are scheduled to take place in Donaueschingen (GER). The FEI is currently talking with Yom Tov to restage the Children, Juniors and Young Riders in Pilisjaszfalu in 2021, but no decisions have been taken so far. 
In any case, Stable Unikornis more than lived up to the challenge to host a top class 2020 Euros, providing excellent footing and stabling, the two main essentials for a successful competition. 
Text © Astrid Appels, quotes from the FEI - No Reproduction Allowed
Photos in this kur report, kindly provided by @ Lukasz Kowalski
Eurodressage was on the scene in Budapest taking photos of all Pony Riders. If you are interested in prints and files for social media, send us a message. !! Please respect our copyright and do not use our photos without permission !! 
Related Links
Scores: 2020 European Pony Championships
Eurodressage Coverage of the 2020 European Youth Championships