KWPN Foal Auctions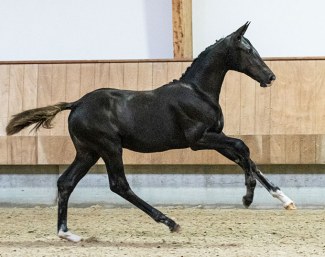 Make your dreams come true and invest in one of these talented dressage foals. As with all online auctions, these foals are assessed by a KWPN inspector and they would like to tell you more about these foals. All foals are clinically approved by a veterinarian. Nothing will keep these foals from a successful sport or breeding career!
The bidding of this collection will start today. Until Monday evening 14 September from 8PM, you will have the chance to get a grip on one or more of these talents.
Out of dam-lines of approved stallions
Most of the dressage foals are offspring's of promising young stallions, for example, Pacino's-Whisper. He is the offspring of the impressive stallion Jameson RS2 and he is the half-brother of the Medium Advanced horse Faithfull-Whisper (s.Uphill).
The other auction foals are sired by: For Ferrero, GLOCK's Taminiau, Hermès, Zenon, Ferdeaux, Franklin, Kaygo, Hennessy and Impression. Most of the auction foals are out of the direct dam-line of approved dressage stallions!
Ferguson offspring
Just like Phigaro WSJ! This son of Ferguson is from the direct dam-line of the KWPN approved stallion Indigro (s.Negro). Indigro is the half-brother of the granddam of this colt. Granddam Galina (s.Bordeaux) performed at Small Tour level herself. Put It In Writing SSS, the other son of Ferguson, is from the same dam-line as the approved stallion Blue Hors Denzel (s.Zizi Top). Besides that, his granddam is classified in Medium Advanced level dressage.
Grand Prix dam Line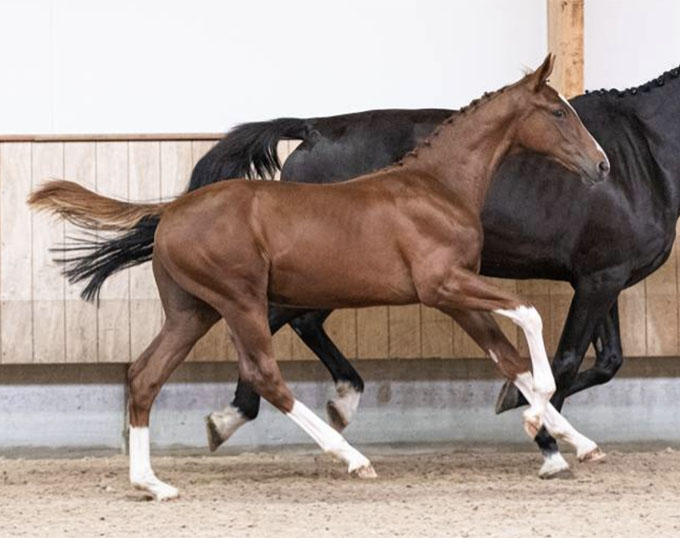 Kardieno-son Pagani Suthempe has as a great grand dam the international Grand Prix horse Edelfee (s.Vanitas). Besides that, this mare is the full-sister of KWPN approved stallion Facet, who also proved himself in dressage at the highest level. But also more closely related to Pagani Suthempe there are many talented sporthorses. His granddam Moraal (s.Appolonios xx) completed at Medium Advanced level and brought a Small Tour and Inter I horse of Cabochon. Also, the American Small Tour horse Nonesuch (s.Appolonios xx) and Tom Tom Go (s.Cabochon) are from this same dam-line. Do we need to say more?
Your future talent
Bidding starts today. Are you not registered as a bidder yet? This is easily done via www.kwpn.auction. Once registered, you will get updated on all KWPN auctions.
Are you looking for a potential sport horse? A talent for the future? Look for the collection and make your choice.
Feel free to ask questions to our KWPN inspectors about the foals. Next to that our sponsor Horses2Fly can support you with international transportation.
Any questions? Feel free to contact
Photo © Anniek de Wit