2020 CDI-W Vilhelmsborg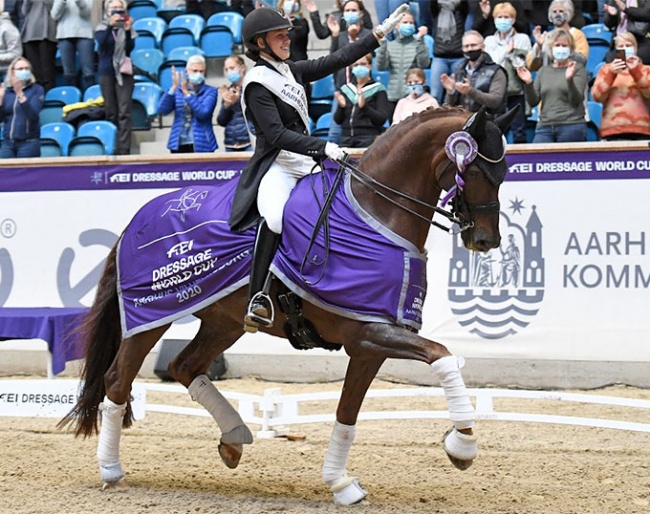 There's nothing like a home victory to please the crowd, and although numbers were limited as pandemic protocols were strictly in place, Cathrine Dufour's winning ride with Bohemian at the first leg of the FEI Dressage World Cup™ 2020/2021 Western European League in Aarhus (DEN) brought spectators to their feet today, 18 October 2020.
Last season, when the opening round of the series was staged at the Boxen arena in Herning, the Danish pair claimed top honours in both the Grand Prix and Freestyle. And this weekend they did it all over again in the considerably more modest confines of the Danish National Equestrian Centre in Vilhelmsborg, but with even more confidence and flair. 
Fifth-last to go in the field of 15 starters they posted a big score of 88.200% to take the lead. And although defending five-time series champion Isabell Werth came dangerously close when last to go with Emilio, her score of 87.845% wasn't enough to prevent another Dufour double. 
Werth filled runner-up spot ahead of German compatriot Jessica von Bredow-Werndl and Zaire-E in third, and the Danes had even more to cheer about when Carina Cassøe Krüth and Heiline's Danciera put in a brilliant performance to line up in fourth.
Denmark's Darling Bests the Field
It was the same top-three in yesterday's Grand Prix in which Dufour's winning margin was much wider, her mark of 83.435% leaving her more than five percentage points ahead of the two Germans who both posted 77 percent scores. 
"Bohemian was really good in the Grand Prix, he was just playing with all the moves. Today I had to push him a bit more, but he's getting more and more brave and he loves being in the ring," said Dufour. 
Dufour had the leading score of 82.105, set by Germany's Helen Langehanenberg and Louise Leatherdale's 18-year-old Damsey FRH (by Dressage Royal x Ritual), in her sights as she set sail this afternoon. Bohemian by Bordeaux x Samarant) seemed to be listening as she spoke quietly and patted him before their music began, and the harmony between the partnership oozed through every movement, with crisp, clean piaffe and passage a particular highlight throughout a lovely test. 
When they came to a halt, the horse dropped his head in complete relaxation knowing that was a job well done. And when over 88 percent went up on the board it was obvious it was not going to be an easy score to beat.
Bohemian Following in Cassidy's Footsteps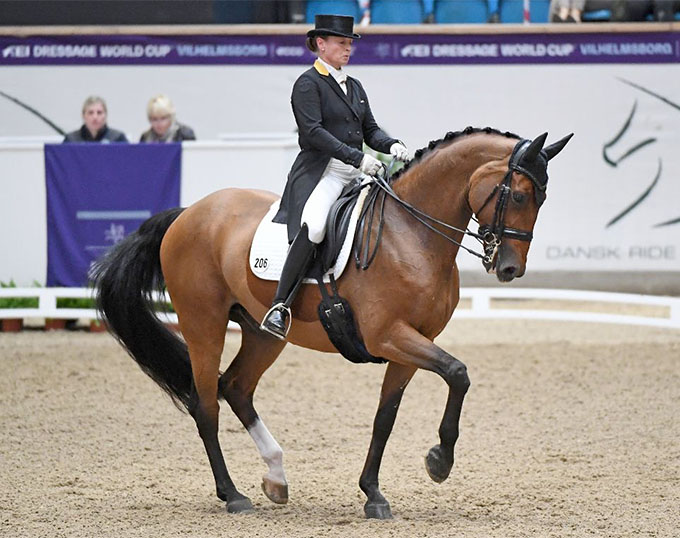 The 28-year-old Danish athlete achieved so much with her little chestnut gelding Atterupgaards Cassidy who took her all the way from Junior level to the Rio 2016 Olympic Games, and on to three bronze medals at the FEI European Championships in Gothenburg (SWE) in 2017 and Grand Prix Special bronze at last year's Europeans in Rotterdam (NED).
Louise Zinglersen's 10-year old Westfalian Bohemian is now stepping into the spotlight, and Dufour believes he has a lot more to show.
"He hasn't reached anything like his limits, he's still developing mentally and there's definitely more room for improvement from him - I'm delighted with him!", she said happily.
In Her Wake
Von Bredow-Werndl's mare, 16-year old KWPN bred Zaire-E (by Son de Niro x Jazz), produced a lovely test for 85.335% while Sweden's Patrik Kittel and Delaunay Old, who presented no less than 18 one-tempi changes with consummate ease, earned a score of 82.575. 
Second-last into the ring, Cassøe Krüth whose 9-year-old mare Heiline's Danciera gave notice of her great promise when finishing fourth at the FEI WBFSH Young Horse Championships at Ermelo (NED) two years ago, provided another Danish treat for a mark of 84.455% to slot temporarily into third place. In the warm-up Grand Prix, Kurth and Poul Thøgersen's Danciera (by Furstenball x De Niro) had placed fifth with 74.304%.
However Werth was still to come, and although Madeleine Winter-Schule's 14-year old Westfalian Emilio (by Ehrenpreis x Cacir AA) had not given his rider his full cooperation in yesterday's Grand Prix, few doubted the German legend's capacity for pulling off a big result this time out. But it didn't happen and it was Dufour who was the one waving at the masked crowd during this evening's prize giving ceremony.
Corona Affects World Cup Circuit
The 2020-2021 Western European World Cup League kicked off this weekend in Vilhelmsborg, Denmark, but corona has been throwing a serious spanner in the works, forcing numerous CDI-W's to have already been cancelled.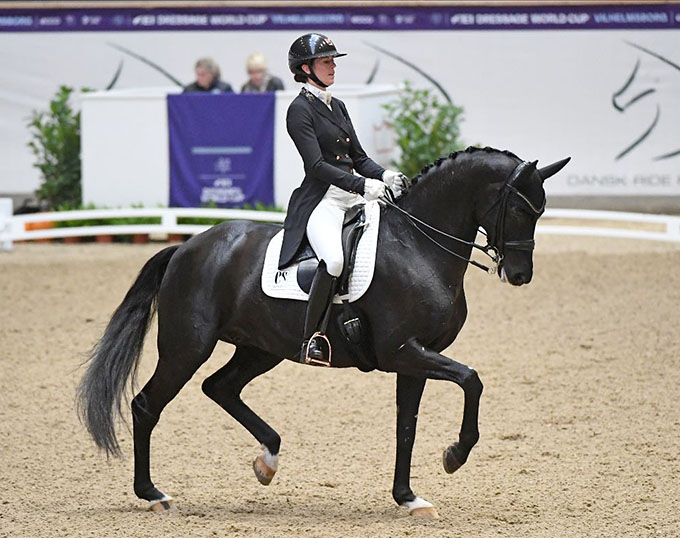 Next week's CDI-W Lyon was forced to cancel only this week and the November world cup qualifier in Stuttgart already pulled out several months ago. For December London has been annulled and for January Amsterdam will not take place either.
This means that thee second leg of the FEI Dressage World Cup™ 2020/2021 Western European League is scheduled in Salzburg (AUT) from 3 to 6 December 2020.
"I have never been to Vilhelmsborg before, but I think it is a great solution now that the shows must be held with fewer spectators because of Covid-19," said German Helen Langehanenberg in a comment on the Danish venue changing from Herning to Vilhelmsborg due to COVID-19. "The facilities and footing give us the perfect conditions for a show of the kind that we can have now, without the audience. Knowing the atmosphere in Herning and Jyske Bank Boxen, I have a small tear in the corner of my eye, but we must get the best out of the situation. The most important thing is the continuing of the sport."
"My first memory from Vilhelmsborg was in 2005, when I saw Kyra Kyrklund riding. I was 11-12 years old," Cathrine Dufour commented on the show venue. "It is amazing the organizers have made this happen. I think it will mean a lot for the coming World Cup season, and many top riders has chosen to ride here."
-- FEI press release, edited by Eurodressage - Photos © Ridehesten
Related Links
Scores: 2020 CDI-W Vilhelmsborg
Eurodressage Coverage of the 2020-2021 World Cup Circuit