2020 PSI Auction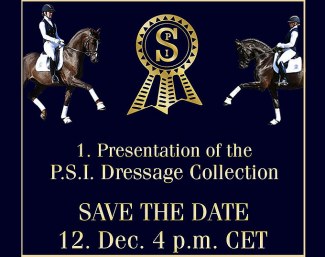 PSI press release -- We are proud to present you this year's P.S.I. Dressage collection live on December 12th 2020. From 4 p.m. (CET) the outstanding young horses will be shown under the saddle.
Unfortunately, due to the corona pandemic, no spectators are allowed on site for the presentation, but you can experience it live on our website: www.psi-auktion.de.
Live Commentary by Christoph Koschel
Christoph Koschel will do a live commentary for all our English-speaking viewers and will give you more background info and an insight into the progress of the auction candidates.
Nevertheless, as usual, we would like to assist you personally in the selection of your ideal sports partner. Feel free to contact our sales team by phone, WhatsApp, FaceTime or Skype and let us introduce you to your ideal candidate.
Still Time to Try Out the Horses
We would be happy to give you an insight into everyday situations, when tacking up, in the stables or during a live training session. For enquiries on each individual horse or to obtain further information, please contact us via the details below:
Dressage Collection: