Belgium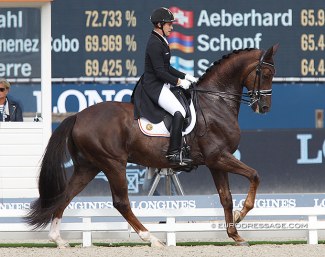 The Belgian Equestrian Federation (KBRSF) has updated the dressage squads coming into the new show year, 2021. 
The new squads were posted on 2 February 2021 following a first national dressage competition in Oud-Turnhout, Belgium. The youth squads were updated on 25 January. 
Olympic Slot
Belgium has one individual slot for the 2021 Olympic Games in Tokyo. Senior Grand Prix riders will have to prove themselves this show season to clinch that highly coveted one spot. 
Just three Grand prix combinations are A-squad listed at the moment. To be A-squad listed riders have to score twice 71% or more in a Grand Prix test at a national observation trial or CDI in the past six months. 
2021 Squads
Grand Prix - A-squad
Missiaen Simon  -  Charlie   ( KWPN  by  Florencio  x  Osmium)
Pauluis Larissa  -  Flambeau    (KWPN   by Ampere  x  zeoliet    )
Roos Laurence  -  Fil Rouge    (BWP  by    Stedinger x   Argentinus)
Grand Prix - B-squad
Defalque Charlotte  -  Botticelli    (KWPN   by   Vivaldi  x  Koss)
Devroe Jeroen   - Dante DL    (SBS   by   Upgrade   x Argentinus)
Fairchild Alexa   - Dabanos D'04    (BWP   by   Abanos  x  Donnerschlag)
Michiels Domien -   Intermezzo vh Meerdaalhof    (BWP   by  Gribaldi  x  Balzflug)
Pauluis Larissa  -  Valentin    (WESTF   by  Vitalis x   Fidermark)
Vandenberghe Thibault  -  Santiago Song    (RHEIN   by   Sir Donnerhall   x Larome )  
Vanommeslaghe Laurence   - Edison    (KWPN   by   Johnson  x  Balzflug)
Verwimp Jorinde  -  Cape Town    (RHEIN    Conteur x   Calambo)
High Potentials
Bosman Kara  -  Fiderprincess    (HANN   by  Fidertanz  x  Wolkenstein II)
Cool Isabel  -  Cheatodon    (KWPN   by   Vic x   Gouverneur)
Engelen David   - Royal Rubinstein    (HANN   by  Rubin Royal   x Sao Paulo)
Livens Loranne  -  Aragon L    (RHEIN   by   Aaron  x  Lord Loxley I)
Spahn Marc-Peter  -  Elias 494    (FRIES  by   Jorn 430  x  Anke R)
Vanommeslaghe Laurence  -  Havalon    (HANN   by   Hotline  x  Wolkentanz II)
Verheyden Sam  -  Kryptonite van de Performing Stables    (BWP  by    Detroit  x  Charming )
Verliefden Fanny  -  Indoctro vd Steenblok    (BWP  by   Rubin Royal  x  Gribaldi)
Verwimp Jorinde  -  Charmer    (HOLST   by   Charmeur  x  Quatro B)
Under 25 
Nyssen Nico-    Da Vinci    (KWPN   by   Vivaldo x   Houston)
Vandeborne Lore -   Ikke-Pia v/d Berghoeve    (BWP  by    San Amour  x  Donnerhall)
Youth Squads
Pony Riders - A-squad
Blommaert Ine  -  Wise Guy    (KWPN   by  Bodo x   Orchard D'Avranches)
Colling Maïté   - Donaldson (by   Dream Boy C  x  Corado)
Everars Liezel  -  FS Capelli de Niro    (Rhein  by    FS Champion de Luxe  x  FS Don't Worry)
Herweyers Emilie  -  Don't Dream WE  (OLD by Don't Worry x  Dressman)
Leduc Elisabeth  -  Baldato   (NWPSC    by   Orchard Boginov  x  Verona's Borgi)
Waverijn Lisa  -  Dornier    (Westf   by   D'Artagnon  x  Landois AS)
Pony Riders - B-squad
Fancello Iliana   - Abloom Dew Drop    (SBS  by    Don't Worry  x  Nabor)
Hermans Angelina -   Djamilla    (RHEIN  by    Dinarion  x  Bon Jovi)
Pony Riders - C-squad
Rosiers Lien   - Beekzicht's Robbe    (NFP by Kantje's Appart x Major)
Children - A-squad
De Rover Xyliana   - G-star    (KWPN   by   Blickpunkt)
Scheys Thieu  -  Ziedaan    (KWPN   by  Krack C  x  Moreno)
Van Durme Max  -  Dijon    (BWP   by  Lord Sinclair I  x  Lanciano)
Children - B-squad
Hennes Amber  -  Allegro v/h Trichelhof    (NRPS   by   Apache v/h Trichelhof  x  Utharin van het Wolfharthof)
Junior Riders - A-squad
Collard Clara  -  Escape    (KWPN   by   Tuschinski  x  Kaiserstern)
De Jong Jette -   Heavenly Charming    (KWPN   by   Charmeur  x  United)
Nevelsteen Michiel   - Lars vh Kristoffelhof    (BWP   by  Florencio   x Gribaldi)
Junior Riders - B-squad
Brauwers Louise   - Esprit    (KWPN   by   Johnson  x  Gribaldi)
Lowyck Emma  -  Dior    (KWPN   by   Spielberg  x  Florestan I)
Junior Riders - C-squad
De Jong Jette -   Indini    (KWPN   by   Chippendale x   Romeo)
Jorissen Lilly  -  Secret Agent Amour    (OLDB   by   San Amour x   Polidiktus v.d.Helle)
Young Riders - A-squad
Van Den Steen Amber  -  Fame    (KWPN   by   Ampere  x  Sultano)
Young Riders - B-squad
Goethals Ann-Sophie -  Eldorado A    (KWPN   by   Vivaldi  x  Sandreo)
Lammens Lauranne   - Hilcara van het Vijverbos (BWP by Don Renoir  x  Feinschnitt i vd Richter)
Richmond Charlotte -   Goliath vd Kempenhoeve    (BWP   by   Jazz  x  London Swing)
Van De Ven Yinthe   - No-Limit Cv    (BWP   by  Don Tango B  x  Rousseau)
Related Links
Larissa Pauluis: Flambeau and Valentin, Bright Lights after 2020 Annus Horribilis
KBRSF Requires Due Diligence from Riders Entering Team Selection Process
Jeroen van Lent Appointed Belgian Team Manager, Succeeding Sjef Janssen