Ekestrian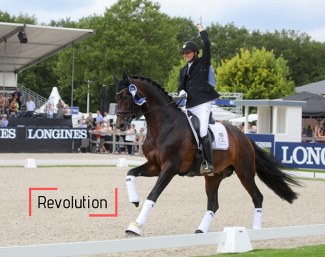 The Ekestrian Dressage Elite Auction on 20 and 21 April 2021 is open for bidding! Don't miss the best dressage dam lines !
Foals to be born in 2021, broodmares and 2 & 3-years-old horses are waiting for you, discover them here. 
The auction takes place 100% online and will end lot by lot, minute by minute tomorrow, on Wednesday 21st April at 9pm (French time).
Foal out of Revolution's Dam
Bid on lot 4 : Implanted embryo - Rare ! Foal out of the dam of Andreas Helgstrand's world champion, Revolution!
 The dam of this unborn foal is none other than Rochelle, the dam of the famous Revolution, World Champion at 5 and Reserve World Champion at 6. Unfortunately the epidemic of COVID did not allow the 7-year-old World Championships to be held, yet he did score over 77% in Saint Georges.
The embryo's sire, Belvedere DB, is a chestnut stallion with a lot of class. He was the most successful stallion of the 2019 approval in Westphalia. In 2021, he came second in the Munster stallion test with a total score of 9.20, 8.8 for walk, 9 for trot, 9.3 for canter, 9.5 for submission and 9.3 for general impression. Bellissimo, the sire of Belvedere, is an iconic stallion of German dressage breeding. Bella Rose, the mare under the saddle of Isabell Werth, is probably Bellissimo's most famous offspring.
Destacado x Fidermark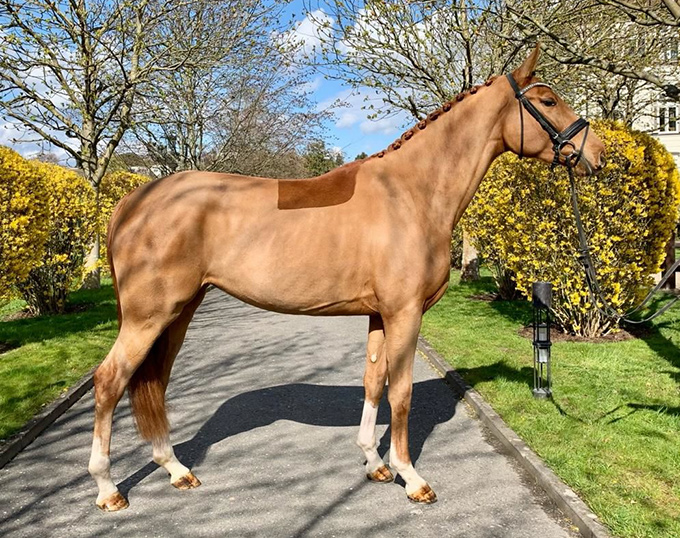 Bid on lot 7: 3-year old mare - Born to win! Destacado x Fidermark, a rich line of performers and approved stallions.
This mare by Destacado and Fidermark, is out of a dam, sister of the stallions Decameron and Desario, but also of several horses competing at Saint Georges level.
The sire Destacado was a successful young horse competitor, winning a silver medal at the World Championships for 5 year old horses. At the age of 7 he won an Inter I event with 72% under the saddle of Matthias Rath. True to her ancestry, this mare has 3 good gaits which make her a mare of the future.
Ellis x Zack x Don Schufro
Bid on lot 5: Direct damline of World's best mare, Weihegold! The dam of For Gold (by Zack x Don Schufro), 9th of the 5 years old World Championships, paired to the licensing winner, Ellis, with more than 9 in dressage test!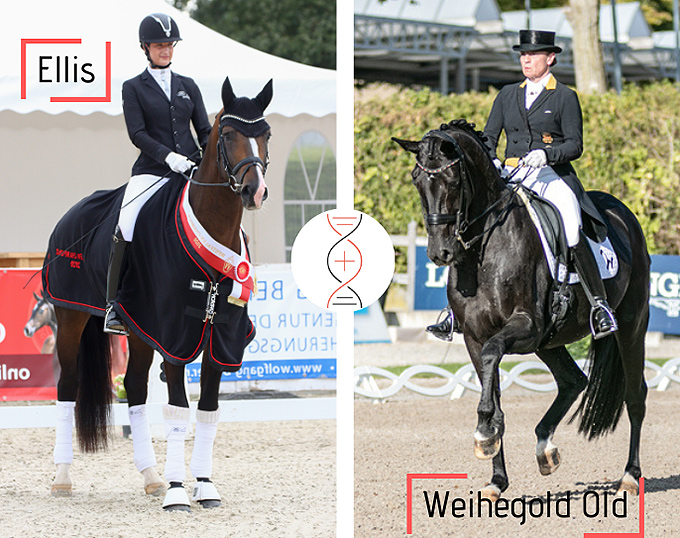 The unique opportunity to offer you a foal from the damline of the best mare in the world Weihegold! The dam of this foal to be born is none other than Weihcera, daughter of Weihegold and already dam of an approved stallion, 9th at the World Championships for 5 year old horses: For Gold OLD. The sire is the very promising Ellis, son of Escolar, only 5 years old, winner of his approval and Westphalian Champion in 2020.
Other unique offers in the catalogue can be viewed here.
Register to Bid
Don't forget to create your account on the Ekestrian website to be able to access the catalogue and bid on the evening of the auction.
If you have any questions, please contact the Ekestrian team by phone at +33 6 86 88 42 97 or by e-mail at charlotte.ekestrian@gmail.com or contact@ekestrian.com.