2021 Bundeschampionate Qualifier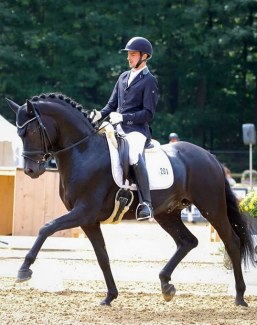 The 5-year old Robert Downey Junior and the 6-year old Furst Kennedy became the winners of the Bundeschampionate qualification classes at the regional show at the Kattenhorst equestrian centre in Hamminkeln-Töven on 11 June 2021. 
5-YO: Robert Downey Junior
No less than 17 combinations competed in the L-level dressage horse test for 5-year olds, which was judged by Bodo Maiwurm, Andrea Schmittert and Peter Mannheims. 
Professional Wibke Hartmann-Stommel piloted Frederik Vekens' German bred stallion Robert Downey Junior (by Real Grandios x Santano) to victory with 8.4 points. 
Lisa Marie Koch and Mireille Segatz-Bunte's Oldenburg gelding Tomorrowland (by Tomahawk x Florencio) was the runner-up with 8.3 points, while Stefanie Wold and Sonnenbrink's Westfalian stallion Belvedere DB (by Belissimo M x Danone I) tied in third place on 8.2 points together with Sabrina Gessmann on Helen Langehanenberg's Dreikäsehoch (by Dimaggio x Louis Le Bon).
6-YO: Furst Kennedy
The M-level dressage horse test for 6-year olds was contested by 10 pairs with Portuguese Joao Moreira and his own and  Roberto Pedrosa's Oldenburg stallion Furst Kennedy (by Fursten-Look x Don Kennedy) topping the board with the BuCha high score of the day, 8.5 points. 
Christina Konings and Börbel Kuck's Hanoverian gelding Frederik (by Furst Fohlenhof x Danone) moved into second place with 8.1. points. 
Two pairs tied in third place with 8.0, just enough to secure a ticket to Warendorf. Spaniard Manuel Dominguez Bernal achieved this score on Taiwanese Connie Kang's Oldenburg gelding Fa Chai (by Furstenball x Sandro Hit), as well as Stefanie Friess on Irmgard Peterek's Rhinelander mare Sugar (by Stanford x Furst Heinrich).
Results - 2021 Bundeschampionate Qualifier - Hamminkeln-Töven
5-year olds
1.  Wibke Hartmann-Stommel - Robert Downey junior (by Real Grandios / Santano) - 8.40
2.  Lisa Marie Koch  -  Tomorrowland (by Tomahawk / Florencio) - 8.30
3.  Stefanie Wolf  - Belvedere DB (by Belissimo M / Danone) - 8.20 
3.  Sabrina Geßmann  - Dreikäsehoch (by Dimaggio / Louis le Bon) - 8.20
5.  Annabel Frenzen  - Vabali (by Veneno / Lord Loxley) - 8.10  
6.  Stefanie Wittmann  - Diafys (by DeLorean / D-Day ) - 8.00
7.  Patricia Gehre  - Valdividan (by Veneno / Fidertanz) - 7.70
8.  Judith Knoch -  Symphonie (by Sezuan / De Niro) - 7.60
8.  Maik Schemmann  - Francesca Rose (by Follow Me / St. Moritz) - 7.60
10.  Laura Blackert - Dark Sugar (by Dante Weltino / Sandro Hit ) - 7.50
10.  David Blasco Gonzalez-Munoz  -  Daylight (by Damon Hill / Gribaldi) - 7.50
12.  Leonie Krull  -  Dragon George (by Dragon Hill / Fidermark) - 7.30
12.  Insa Ettwig  - Fiorella (by Fürsten-Look / Fidermark) - 7.30
14.  Aleksandar Dansin - Quest of Diamonds (by Quaterback / Aljano) - 7.00
15.  Thomas Walker  -  Venano (by Veneno / Don Romantic ) - 6.30
Monika Hüppe - Brunello (by Bordeaux   / Don Romantic) - RET
Pawel Dabrowski - Dantiamo (by Dante Weltino / Londonderry) - RET
6-year olds
1. Joao Moreira  -  Fürst Kennedy (by Fürsten-Look / Don Kennedy) - 8.50
2.  Christina Konings  - Frederik (by Fürst Fohlenhof / Danone) - 8.10
3.  Manuel Dominguez Bernal  - Fa Chai (by Fürstenball / Sandro Hit) - 8.00
3.  Stefanie Frieß  - Sugar (by Stanford / Fürst Heinrich) - 8.00
5.  Eva Julia Haubert  - Emilia Galotti (by Escolar / Fidertanz ) - 7.70
5.  Claudia Rüscher  - Sheona (by Sir Heinrich / De Niro) - 7.70
5.  Lena Backes  - Sir Q (by Scuderia / Quaterback) - 7.70
8.  Andreas Voß  -  R-Design (by Rock for Me / Hochadel) - 7.60
9.  Judith Knoch  - Gretah (by Grey Flanell / Sir Donnerhall ) - 7.50
10.  Lena Backes - Millenniums Little Lady (by Millennium / Rubinstein) - 7.10
Related Link
Eurodressage Coverage of the 2021 Bundeschampionate and qualifiers