Great Britain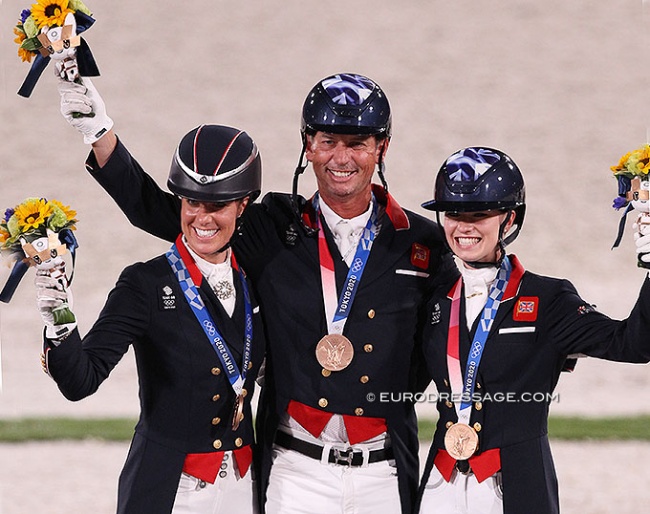 British Equestrian and the British Dressage Selectors can confirm the athlete and horse combinations that will form the teams tor the 2021 Europea Dressage Championships for Senior and U25 riders, set to take place at Hagen, Germany, on 7–12 September.
For both squads, selection decisions are subject to the athletes and horses maintaining fitness and performance, and this list may be amended at any stage.
Dressage Performance Manager Caroline Griffith commented; "I'm very much looking forward to working with both teams in Hagen.  The venue and organising committee are renowned for the ability for putting on championships at this level and I know the environment will encourage some great competition.
"The senior riders are all fresh from the medal inspiration of Tokyo and our U25s have worked hard this year despite the challenges of COVID and are ready to perform to their best in Hagen. I'm grateful to our reserves and their owners who play an important role in our bid for success.
"It is testament to the preparation and welfare management of our Tokyo horses by both the riders' home team and our World Class practitioners that they are ready to compete in Hagen. All of them have bounced back exceptionally well and are ready to take on Europe's best."
The senior team includes
Charlotte Dujardin with Renai Hart, Carl Hester and her own Gio (chestnut, gelding, 10yrs, 16hh, Apache x Tango, Breeders: H J de Jong, A Valk NED, Groom: Alan Davies)
Charlotte Fry with Van Olst Horses and her own Everdale (black stallion, 17.2hh, 12yrs, Lord Leatherdale x Negro, Breeder: P Kluytmans NED, Groom: Steven Caley) and as a direct reserve Van Olst Horses and her own Dark Legend (dark bay gelding, 17hh, 13yrs, Zucchero x Tango, Breeder: Fam. Nobus-De Potter NED)
Carl Hester with Sandra Biddlecombe, Charlotte Dujardin, Lady Anne Evans and his own En Vogue (dark bay, gelding, 12yrs, 17hh, Jazz x Contango, Breeder: A Van der Goor NED, Groom: Lucy Scudamore)
Gareth Hughes (50) based in Southam, Warwickshire with Judy Firmston-Williams and his own Sintano Van Hof Olympia (bay, gelding, 16.3hh, 11yrs, Sandro Hit x Silvano, Breeder: Hof Olympia NED, Groom: Steph Sharples)
Two reserve combinations (non-travelling) have also been named, listed in order:
1. Laura Tomlinson (36) with Ursula Bechtolsheimer and her own DSP Rose of Bavaria (black mare, 11yrs, Bordeaux 28 x Florestan I, Breeder: Dr Heuschmann GER, Groom: Bea Snudden-Burnham)
2. Emile Faurie (57) with Theodora Livanos and his own Dono di Maggio OLD (chestnut, gelding, 14yrs, 17hh, Dimaggio x Santander H, Breeder: Gabriele Heinisch GER, Groom: Victoria Richards
The Under 25 team includes:
Lucy Amy (23) based in Marshton, Wiltshire (from Jersey, Channel Islands), with Richard Amy's Rudy (bay, gelding, 12yrs, 16.2hh, Breeder: Dr Bartjen Konrad GER. Groom: Herself)
Lewis Carrier (24), based in Downham, Norfolk, with his own Diego V (bay, gelding, 13yrs, 16.2hh, s. Spielberg, Breeder: Janssen NED, Groom: Grace Carrier)
Alex Harrison (24), based in Chew Magna, Somerset, with his own Diamond Hill (chestnut, gelding, 15.2hh, 10yrs, s. Don Diamond, GBR, Groom: Teghan Jones)
Ellie McCarthy (24), based in Sway, Hampshire, with Spencer McCarthy's GB Londero V Worrenberg (dark bay, gelding, 16.1hh, 12yrs, Londontime x Calypso II, Breeder: Ferdi Hodel SUI, Groom: Ida Ohman)
The Non-travelling is Dylan Deutrom (23) with Matt Hicks and Sarah Warry's Sunlit Uplands (chestnut, gelding, 13yrs, 16hh, Don Henrico x Hitchcock, Breeder: Hinrich Lohden GER, Groom: Matthew Metcalf)
Photo © Astrid Appels
Related Link
Eurodressage Coverage of the European Dressage Championships - U25/Seniors