Hanoverian Auction News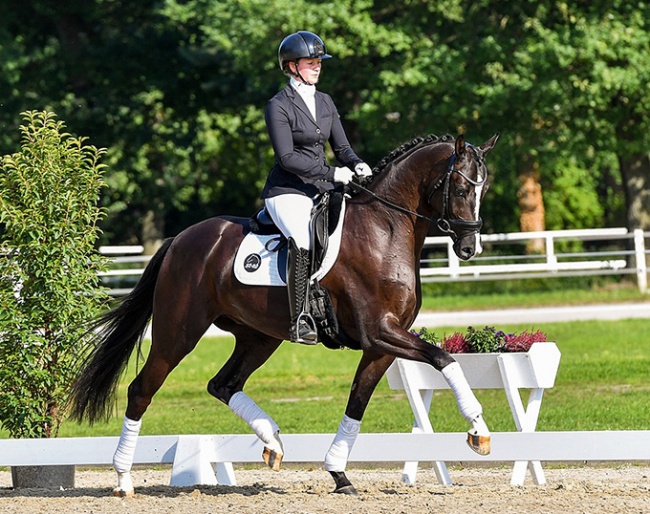 The countdown has started and 86 elite sport horses are ready for clients from all over the word at this year's 138th Verden Elite-Auction Online on October 23 and 24 over two days.
On Saturday, the spotlight will be on the top-class riding horse collection, consisting of 50 dressage horses and 38 jumping horses. The riding horses can be inspected and ridden on site from Tuesday, October 12 to Saturday, October 23. The auction of the riding horses will take place in two parts. Part 1 contains the catalogue numbers 1 to 44, in the second part the catalogue numbers 45 to 86 will be auctioned.
On Sunday, October 24, an additional 25 elite foals with the best dressage and jumping pedigrees, as well as a collection of highly interesting two-year-old stallions will be available for auction online. Bidding will start on Sunday, October 17.
Sedamo K, Catalogue Number One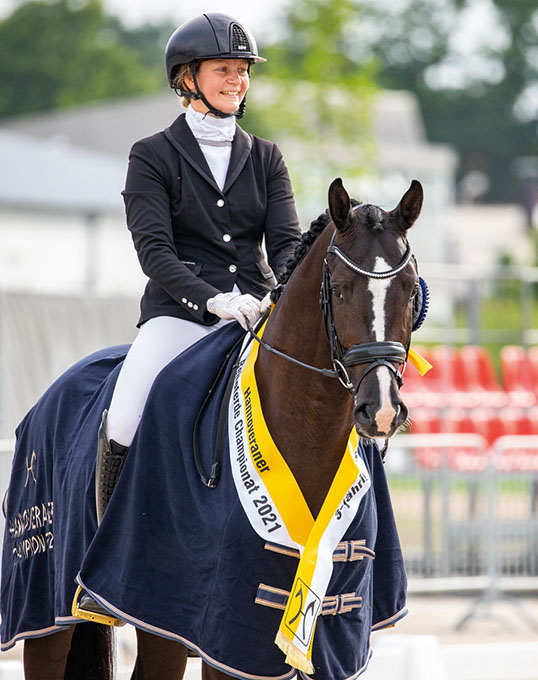 The number one at the 138th Verden Elite Auction is this year's Hanoverian Champion of three-year-old mares and geldings: Sedamo K. Under Anne Maria Kleemann, the Secret/Dancier son bred by Hof Kleemeyer GbR in Weyhe, Germany, placed fourth at the Bundeschampionat and received a 9.0 three times: for trot, canter and education. Del Noir, who was successful in the advanced level under Julie Spronck, is a full brother to Sedamo's dam, D'amour, who was bred by Rainer Knabbe from Loxstedt and changed hands at the Verden foal auction in 2007. His granddam Weltana produced Silvester Stallone, who was victorious up to Grand Prix level, under Thomas Wagner.
Number 2, Cox Orange (breeder: Frederik Garrn, Guderhandviertel), presents himself as an expressive offer from successful breeding and has already placed in dressage tests for young horses under Katalin and Ulrike Garrn. With his splendid approaches, he emulates his highly successful full siblings: Hanoverian premium candidate Christkind and Chancellor are successful under Maren Hofer and with the US-American Mandy Atkins in the advanced class.
Flashdance BD, the catalogue number 3, is the oldest of four Franklin offspring out of state premium mare Hilary - all four found new owners in Germany or abroad as Verden auction foals. As a picture-perfect grey, he now also shows his quality under saddle and is a rarity not only in terms of looks. Flashdance has qualified for the French Championships for five-year-old dressage horses in 2021 under the French rider Jessica Michel-Botton. 
Youngsters Familiar with the Spotlight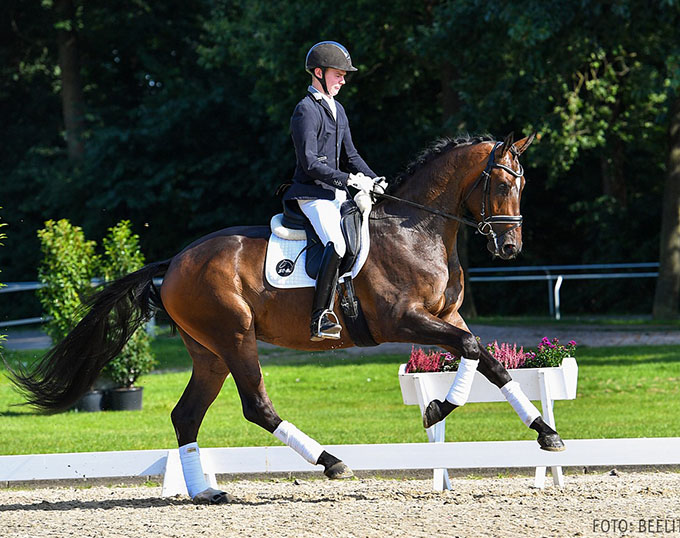 Victorious and highly decorated in tests for young riding horses, Francesco (breeder: Thomas Heuer, Bienenbüttel) enters the Verden auction stage as number six. Under the saddle of Jacob Schenk, the spirited son of Flanell earned a ribbon at every show start and qualified for the Bundeschampionat for three-year-old mares and geldings. His dam, the Lauries Crusador xx daughter state premium mare Lousiana, is a half-sister to the licensed stallion Cadeau Noir, who is currently enjoying Grand Prix success under Lena Waldmann.
No less than two auction candidates, equipped in terms of conformation and movement with the qualities of a "once" in the Niedersachsenhalle licensed stallion, are now returning to the Verden as elite riding horses: Number seven, Deichtanz, bred by Jochen Meyer from Freiburg, and number ten, Director's Cut, bred by Wilfried Immoor from Wagenfeld. The former is another successful product of a mating of state premium mare Luci to Diamond Hit. This mating has already produced the advanced level successful horses Danzador under Sandra Kötter and Charlott-Maria Schürmann as well as Dwayn with Ferdinand Csaki. Second is a special dressage offering from the second crop of the 2018 Vice World Champion of five-year-old dressage horses and 2020 Burg-Pokal winner, Destacado FRH.
Auction Highlights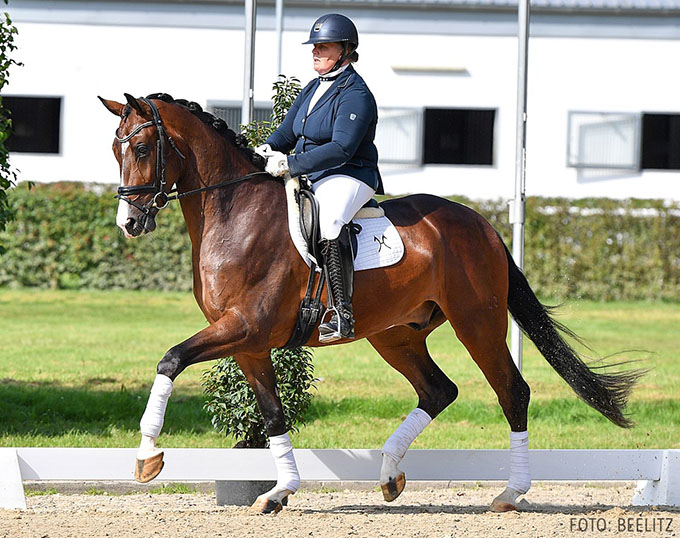 Another strong type dressage favorite is number eleven, the Asgard's Ibiza son Ibiza's Boy (breeder: Herhard Dustmann, Melle). Under the saddle of Sandra Frieling, the long-legged Beau has already secured two placings in tests for young riding horses. His dam, state premium mare Shanghai by St. Moritz/ Ramiro's Son II, is a half-sister to Sanceo, who won the team silver medal at the Olympic Games in Tokyo 2020/21 under the U.S. rider Sabine Schut-Kery and also finished fifth in the individual classification.
Quinn von Nymphenburg (breeder: Eibe von Holten, Geestland), owned by Helmut Freiherr von Fircks, is a very talented youngster with the head number 39. Under Jan-Niklas Mürmann, the Quantensprung/De Niro son has already placed several times in tests for young riding and dressage horses. His willingness to work and his always active hindquarters make him a dressage offspring with first-class movement cadence. His dam Daisy is a half-sister to the S* successful Damsey daughter Dark Lady under Philipp Paradiso.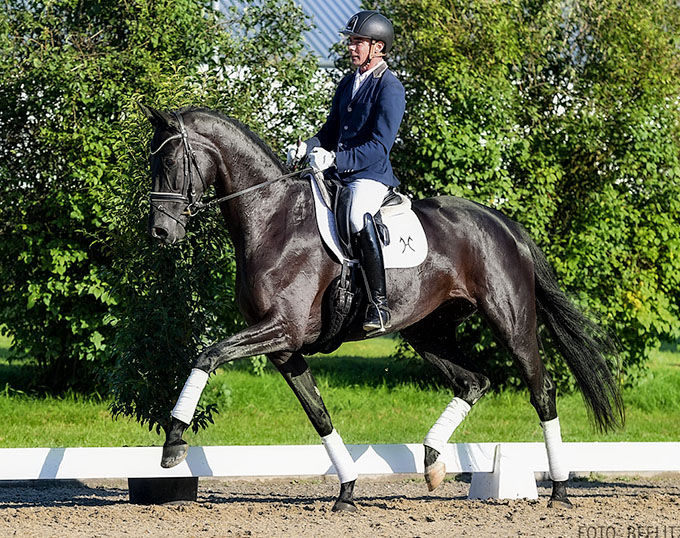 Already victorious in tests for young riding and dressage horses, Die Tänzerin (breeder: Martin Hanschen, Ehrenburg) with the head number 45 lives up to her name. Light-footed and with a lot of elegance, this long-legged black mare is a spitting image of her sire Don Monet. An easy-to-promote dressage horse with all training prospects, who already caught everyone's eye at the Verden foal auction in July 2017. From her dam line comes the Rosandro daughter Chocolat who collected successes up to S** level under Dorothee Schneider.
In classic and concise type, the Zack/Soliman de Hus offspring Zurrino (breeder: Günter Röhrich, Neustadt) dresses head number 47 and presents himself as a dressage hopeful with all the basics for the big sport. He is a full brother to Zouzo Majishan, who became the top priced horse at the Verden Auction in April 2019 under Heiko Klausing with a hammer price of 165,000 euros and secured the title of French Vice Champion of five-year-old dressage horses in 2020 under French rider Jessica Michel-Botton.
Livestream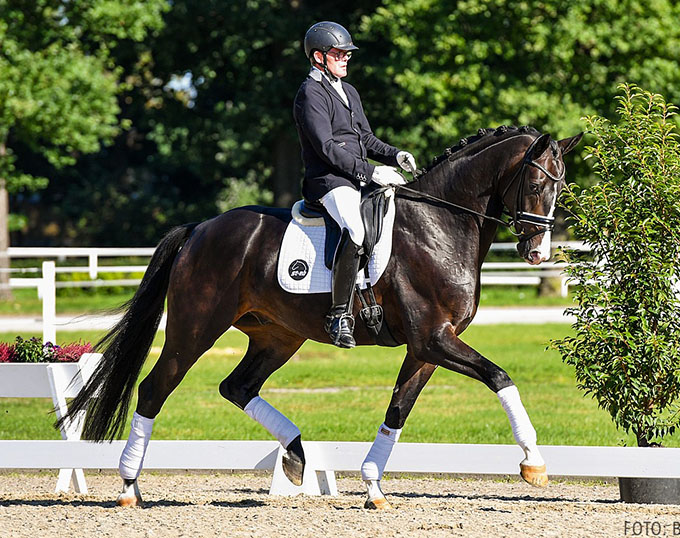 The first presentation on Saturday, October 16, will be completely recorded. We will put the clips online as of Monday evening, October 18. Besides the preliminary video this will be an additional help to watch your favourite horses during training.
Furthermore we offer a livestream on our homepage for the presentations of the riding horses on Saturday, October 16, at 10.00 am (jumping horses) and 2.00 pm (dressage horses), on Wednesday, October 20, at 1.00 pm (jumping horses), 4.00 pm (young stallions) and 4.30 pm (dressage horses) as well as for the free jumping of selected riding horses on Friday, October 22, at 9.00 am.
The presentations of the young stallions will be broadcast live on Wednesday, October 20, at 4.00 pm and Friday, October 22, at approximately 10.00 am.
Customer Service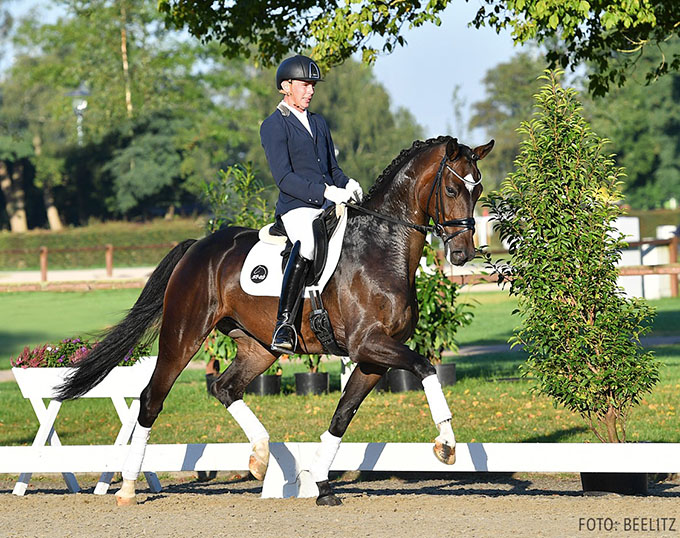 With advice and support, our customer advisors will help you find the right horse for your joint equestrian career. During the period from October 12 to 23, the riding horses can be examined daily in training and tried out by appointment. Our customer advisors will be happy to make an appointment with you to try out the horses.
Anna Baden: +49 (0) 171 723 68 36 / ABaden@hannoveraner.com
Iris Borchers: +49 (0) 171 553 50 50 / IBorchers@hannoveraner.com
Lisa von Aspern: +49 (0) 160 751 38 00 / LAspern@hannoveraner.com
Cover Hero Superb
Special former Verden auction horses adorn the catalogues of the Verden Auction as "cover heroes."
In October 2015, the then three-year-old Superb bred and owned by Marion Gabel, Kreuzebra, opened the 132nd Elite Auction and made the hearts of many visitors beat faster and the phones in Verden run hot. Interested parties from Denmark and Australia caused the price to skyrocket within a very short time. In the end, however, the black youngster was to remain in Germany: For 250,000 euros, equestrian patron Madeleine Winter-Schulze won the bid and Superb thus moved to the stable of multiple Olympic and World Champion Isabell Werth.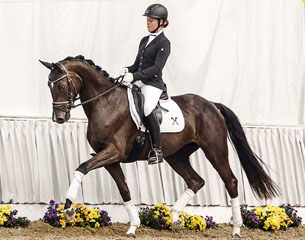 Six years later, Dr. Dietrich Plewa commented on the ride of Isabell Werth and the nine-year-old Surprice daughter Superb in the Louisdor qualifier in Munich, "That was just super!" He spoke with future perspective of "another Championship horse" under the saddle of Isabell Werth. "There are so many highlights that line up: The carried passage, the piaffe with incredibly accentuated movement, the significant changes...". With 75.535 percent, Superb and Isabell Werth secured the win and a final ticket to the Louisdor Prize. An FN series for eight- to ten-year-old horses that are to be introduced gently to the most difficult test class. Previous winners include El Santo, Dablino, Weihegold, Emilio, Samy Davis jr. and Dalera BB, all of whom were used in German Championship teams a short time later.
Photos © Kiki Beelitz - Hannoveraner Verband - Tammo Ernst