2021 CDI Stockholm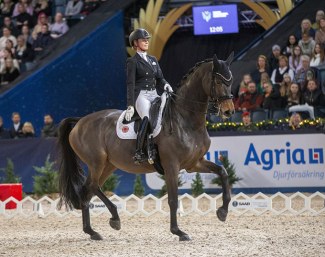 There is no stopping Jessica von Bredow-Werndl and her top mare Dalera BB. After a very busy summer claiming the Olympic title in Tokyo in July, she went straight to winning triple gold at the European Championships in Hagen in September. Now in November, she booked a double victory at the 2021 CDI 5* Stockholm. 
Invitation Only
Set in the Friends arena in the capital of Sweden, the CDI 5* Stockholm is an invitation-only competition of which a field of just 10 competitors is assembled by Swedish Grand Prix rider Patrik Kittel, who aside his job as a rider and trainer of numerous Swedish students, also  serves as FEI Dressage Committee member as the show organizers' representative thanks to his involvement in this show.
Some of the highest ranked riders on the FEI world ranking are invited to compete in Stockholm, alongside a Swedish home delegation of three combinations.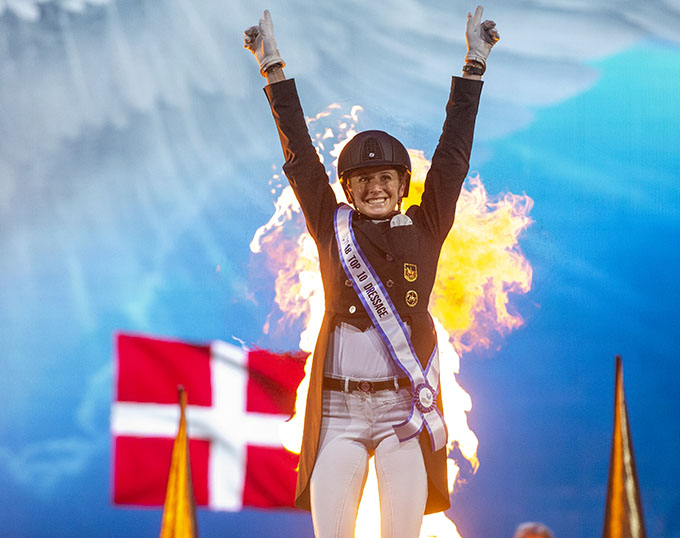 The inaugural edition of this event, sponsored by Saab, was hosted in 2017. The indoor arena boasts a massive LED screen which is uniquely used there for equestrian sport promotion. 
Von Bredow-Werndl Wins
German Jessica von Bredow-Werndl won the Grand Prix and freestyle. The enthusiastic sell-out crowd  of more than 7,300 people made everyone forget that the Omicron variant of Covid-19 is currently beginning to re-freeze movement in Europe.
Von Bredow-Werndl (GER) and the 14-year old Trakehner mare Dalera BB (by Easy Game x Handryk) scored 83.435 % in the Grand Prix and 90,430% for their LaLa Land freestyle 
"I am so grateful and overwhelmed with the fantastic support from the audience," said the winner. "It feels like a saga. I have to pinch my arm sometimes."
Dufour in Pursuit
Danish Cathrine Dufour, who won silver and bronze at the 2021 European Championships in Hagen after placing fourth at the Olympics, was in pursuit of that top place but it not yet able to really breathe down Jessica's neck. 
Aboard the Westfalian gelding Bohemian (by Bordeaux x Samarant), she was second in the Grand Prix (79.196%) and second in the Kur (88.005%), riding to the tunes of Les Miserables. In 2019 Dufour and her second GP ride Atterupgaard Cassidy (by Caprimond x Donnerhall) beat Isabell Werth on Weihegold for the victory in Stockholm. In 2020 the event did not take place. 
"I'm really proud of Bohemian, he felt really good yesterday and even better today," said Dufour, who had coach Nathalie zu Sayn-Wittgenstein by her side. "I think this is the best show in the world. The atmosphere is just fantastic, it almost feels like my home arena," she added.
Kruth Moving Up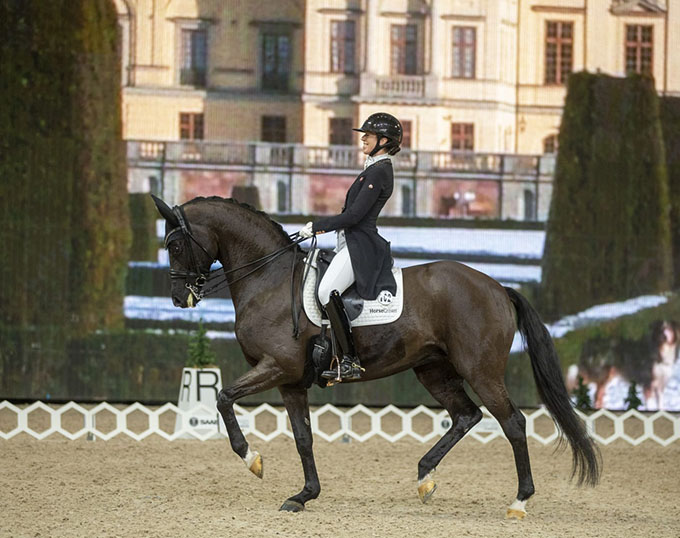 Von Bredow-Werndl was sandwiched in the top three by two Danes. The third place-getter was Carina Cassøe Krüth aboard the Danish warmblood mare Heiline's Danciera (by Furstenball x De Niro). They were sixth in the Grand Prix with 76.282% and moved up to a third place in the freestyle with 85.730%. 
"She was a little bit tense in the arena yesterday. Today she was much more relaxed," said Carina, who is coached by Andreas Helgstrand. "It was actually the best feeling I've ever had in a freestyle."
Photos © Ronald Thunholm
Related Links
Scores: 2021 CDI Stockholm
Dufour and Cassidy Beat Werth on Weihegold in 2019 CDI Stockholm Kur to Music
2020 CDI Stockholm Postponed to February 2021
Werth and Weihegold Bag the Money at the 2018 CDI Stockholm
Isabell Werth First Champion of Saab Top 10 Dressage at 2017 CDI Stockholm
Inaugural Edition of "Saab Top 10 Dressage" Major Success with Riders and Audience
Saab Top 10 Dressage, New Exclusive Competition for Best Riders in the World at 2017 CDI-W Stockholm