2022 CDI-W Wellington - Global Dressage Festival / Week 1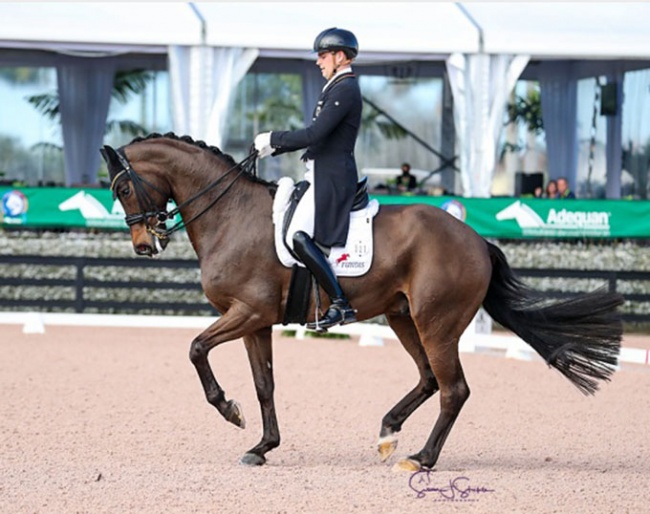 The 2022  Global Dressage Festival (GDF) opened the winter season in Wellington, Florida, on Thursday 13 January 2022 with the sole German rider in the class, Frederic Wandres, topping the FEI World Cup Short Grand Prix class.
The 12-strong class featured five combinations who scored over 70%, but it was Wandres on the 12-year-old Bluetooth OLD, by Bordeaux, who were untouchable and recorded a personal best of 74.158%. Female American athletes filled the four spots behind Wandres, with Anna Buffini riding her own FRH Davinia La Douce into second, closely followed by Ashley Holzer on Diane Fellows's Havanna.
The class was a qualifier for the World Cup Grand Prix Freestyle, which takes place under the lights on Friday night during the first of the "Friday Night Stars" series. 
On Winning Form
Wandres's winning ride, Bluetooth, has been with him for a year, having been previously ridden by German Olympic team gold medalist in eventing, Ingrid Klimke. Owners Elena Knyaginicheva and Sergey Knyaginichev bought the powerful and elegant Oldenburg gelding at the PSI Auction for €1million as a three-year-old. This is the horse's first trip to Florida.
"Last season I figured out that all the horses who came here and did the season took a lot of experience home with them, which was a big plus for all of them," said Wandres. "I'm looking forward to the same with Bluetooth.
"He has a super elastic trot and the piaffe and passage have developed really well," added Wandres, who rued a mistake in the two-time changes. "But he's a young horse and he's developed a lot in the important exercises like piaffe and passage since his last show, so I'm happy about that. I am also really happy to be in Wellington; we have spectators back which I really enjoy, and it's good for the sport."
Wandres is planning to contest at least one more World Cup show at AGDF this season: "The plan is to do one or two more shows with Bluetooth," he added. "He's for sale, so maybe we'll find a match for him here, but if not, I'd be very happy to keep him as a second horse to my top horse Duke Of Britain."
19-Year old Evergreen
Jennifer Williams and Millione, who is 19, post a personal best score of 72.956% to head the leaderboard in the CDI4* FEI Grand Prix.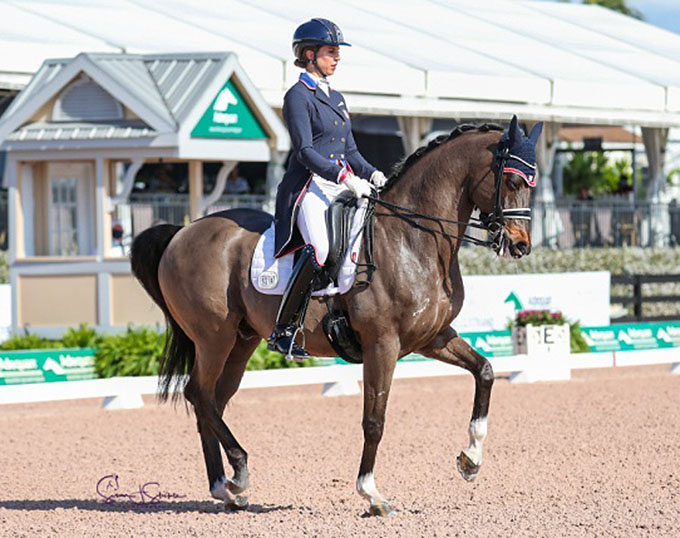 The oldest horse in the field — by quite some margin — smashed out a new personal best at 19 years old to lead the Grand Prix CDI4*, sponsored by CabanaCoast. Jennifer Williams (USA) and Millione Partners' Danish Warmblood gelding Millione, by Milan, scored 72.956%.
"He was the most relaxed I've ever felt him in the ring today," said a delighted Williams of her long-time partner. "I am thrilled with the score; all of 2021 he had pretty much all mistake-free tests, but I didn't quite capture the harmony and relaxation I was looking for, and today that's what we captured. I'm so grateful for what 'Mickey' has done for me; he's a heart horse, and I always want him to feel the pride I have in him."
Williams is not ruling out a start at the World Championships in Denmark in August but is taking things as they come due to the horse's age.
"This is definitely his last international season," added Williams, who will contest the CDI4* freestyle during the day on Friday. "It's important to me that he ends [his career] on a high note feeling wonderful in his body and his mind, so I don't want to go past that. But he's still happy having a good time in his work, and he's not a horse that's going to enjoy being left behind."
Vilhelmson and Devanto Clock First Win
Seven-time Olympian Tinne Vilhelmson-Silfvén, who is no stranger to Wellington, scooped the day's final Grand Prix class, the CDI4*, which was a qualifier for the Grand Prix Special and featured just two riders.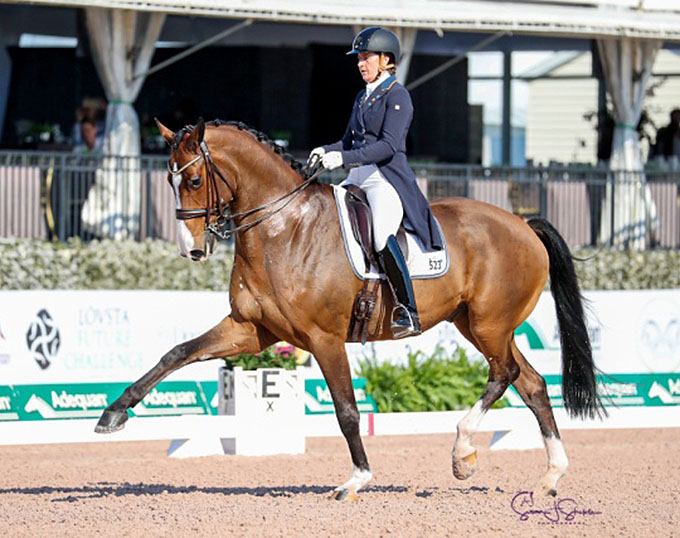 It was a day brimming with personal bests, as Vilhelmson-Silfvén piloted Lovsta Stuteri's 13-year-old Holsteiner gelding Devanto to 71.457%, their best yet in this test.
"Last year when we came here I had only just got him, and it was maybe a little bit too early," said Vilhelmson-Silfvén, who also recorded her first international win with the horse. "Now it all feels so much better and he's trusting me, so I have much more fun competing now. It's not only about the results, but about the feeling that he was confident and that he understands me. This was the first time with a little atmosphere that he felt that we were together in the ring."
The son of De Chirico is a big, strong horse who was already going Grand Prix when Vilhelmson-Silfvén took over the reins from Juliane Brunkhorst, so she has taken her time to build the partnership.
"I like his energy but it's a matter of making sure he uses it to be with me on the same side," she explained. "When he does that, it's a great feeling. He's super sensitive and quite hot and before we knew each other I didn't have such a good cooperation as we do now. It feels good to both be speaking the same language.
"It's great to be back in Wellington. For me, with a horse like this, it's a perfect opportunity to get a routine and to ride with the future in mind giving him good experiences with me," concluded Vilhelmson-Silfvén.
Potasky and Pape Win Prix St Georges Tests
In the day's two Prix St Georges classes, Ali Potasky (USA) made an emphatic start to the 2022 CDI season, topping the two-star class on Kathy Priest's nine-year-old Everdale daughter, Irintha. They led with 69.882%, with three of the judges awarding over 70%. Potasky landed third place in the one-star class at the level riding her own nine-year-old gelding Inxs, another by Everdale.
The one-star division was led by Great Britain's Susan Pape on Giulilanta, Harmony Sporthorses' nine-year-old KWPN mare by Jazz. The pair posted 70.971% in only their second ever CDI test together.
-- GDF press releases, edited by Eurodressage. Photos © Sue Stickle
Related Links
Scores: 2022 CDI-W Wellington