Italy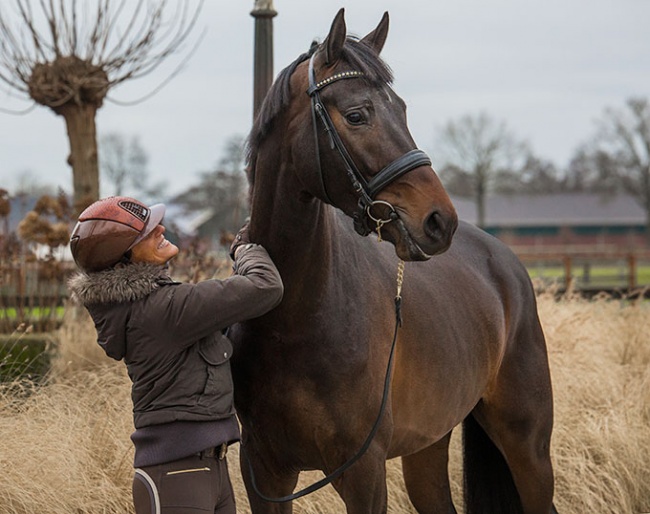 Italian Grand Prix rider Silvia Rizzo and business partners have secured the rising 3-year old Dutch warmblood stallion Orfeo Sollenburg as a new project for the future. 
Orfeo Sollenburg
The 2019 born KWPN colt Orfeo Sollenburg is by Fürst Toto out of Fortuna Sollenburg (by Vivaldi x Havidoff x Nabuur), bred by Adri Zekveld. 
The 173 cm standing colt comes from the renowned KWPN breeding farm Sollenburg, which has bred licensed stallions and highly successful international sport horses. 
Sire Furst Toto (by Furstenball x Totilas x Londonderry) is one of the rising young breeder stallions in Germany, while the young dam Fortuna Sollenburg is already a KWPN elite mare and IBOP tested. Orfeo's grand dam is a ster preferent mare which has produced offspring proven in dressage sport. The great grand dam is a keur preferent mare, whose line produced the GP horse Dark Knight Texel and small tour horse Black Painted.
Orfeo was owned by Dutch stallion keeper Joop van Uytert ,who sold him to Rizzo and partners.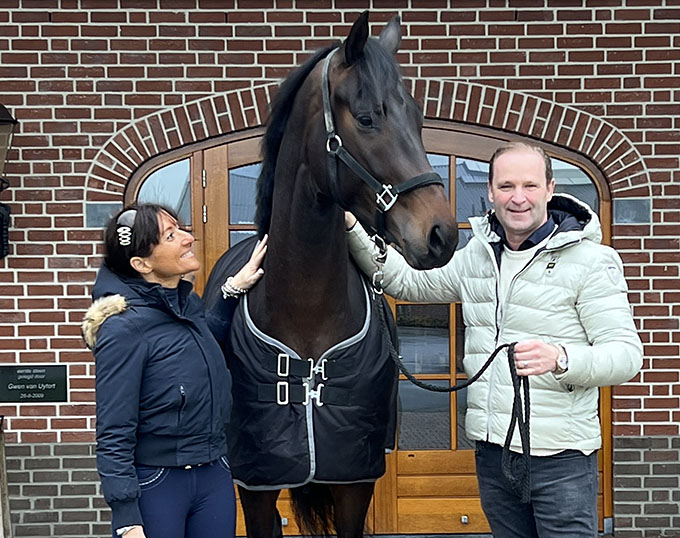 "I'm thrilled to welcome Orfeo to my barn," said Rizzo, who acquired the colt together with her life partner Michele Betti and a close friend. "I'm so grateful to our friend who believes and trusts in this project. She's an experienced horse woman and jumped in with enthusiasm. We are stoked that she will stand next to us in Orfeo's development."
Silvia continued, "I am also highly appreciative of Joop's professional support and expertise in presenting me his young colts. It was a great experience working with him to find the right star for the future."
Investing in the Future
This is not Rizzo's first time acquiring a young dressage horse in which she sees a great future.  
One of Silvia's most prominent horses whose talent and potential she spotted was Blickpunkt (by Belissimo M x Weltmeyer), a 3-year old she bought at the PSI auction and which went on to become double Bundeschampion and double bronze medalist at the World Young Horse Championships in 2009 and 2010. She successfully resold the horse to Russia. Silvia was also the owner of the Danish warmblood mare Donna Silver, who went on to compete at international Grand Prix level with a young Daniel Bachmann Andersen as well as with Hans Peter Minderhoud. When the time was right, she resold the horse to Denmark.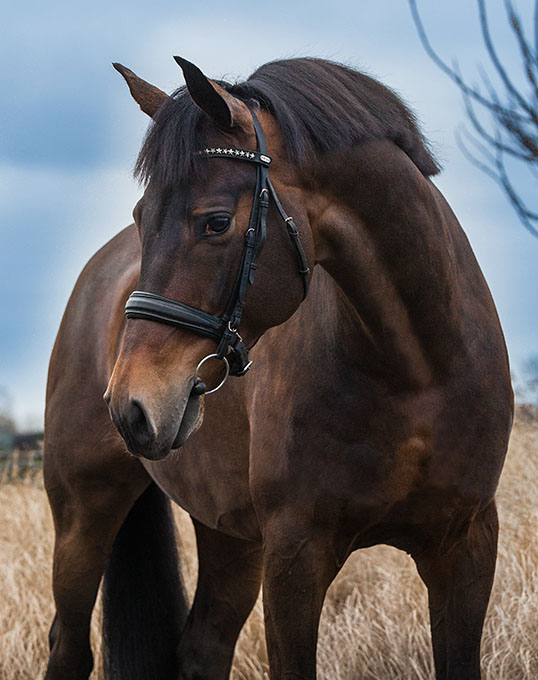 Silvia deliberately keeps her string of horses small and manageable so that she can enjoy the career of each individual one. Furthermore she always lets her heart speak and follows her gut instinct, when securing a new horse. Her love for her first international Grand Prix horse Donnerbube led to a fun breeding project that has given her much joy and satisfaction. She bred Donnerbube (by Donnerhall x Pik Bube) to the French mare Izola de La Condre (by Fremir AA), owned by international judge Bernard Maurel. The foal, Donnerbaldo, is now Silvia's small tour horse.
"We have always liked to invest in young horses, as we did with Blickpunkt," Silvia explained. "We follow this vision of looking long and carefully for horses that touch our heart, have top bloodlines, and in which we believe that they could have a great future in sport."
Time to Grow
Based at Resim Dressage in Harskamp, The Netherlands, Rizzo commutes daily from her home in Lingen, Germany, to train her horses and fine-tune her riding skills. 
She has taken a break from international competition during the two corona years as her Milan based family was struck hard by Covid-19 and it made her apprehensive of going to big shows. She has used the time valuably, solidifying her partnership with the number one Grand Prix horse in her barn, Ducati (by Don Crusador x Rotspon), and forming a union with Donnerbaldo, who is now schooling at small tour level.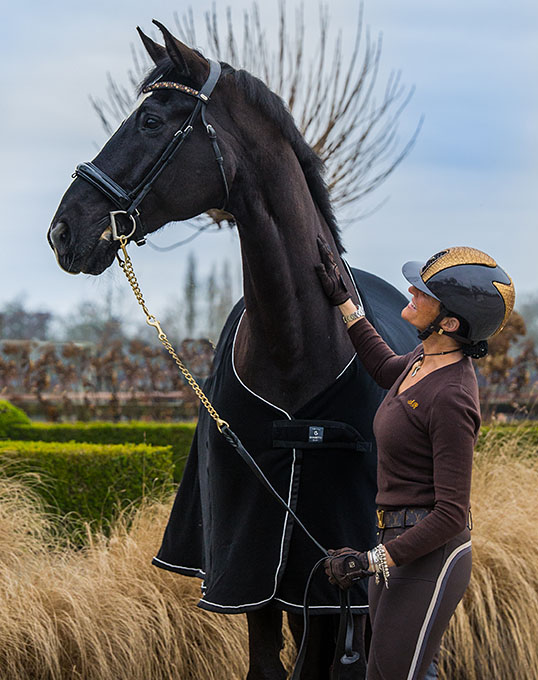 "Orfeo Sollenburg has now joined our horses in Harskamp, where we will train him slowly and carefully, appropriate to his age," Rizzo explained. "We are always respectful of their young age and their need for time to still grow in their body and mind. We only focus on the long-term and he'll tell us when he's ready to come out."
Rizzo has been working closely with a professional team in The Netherlands, who are helping her improve her riding and connect with her horses on the ground and in the saddle. 
"I am so thrilled and grateful for the help I've got these past few years," Silvia explained. "My eyes have been opened to new ways of training, riding, and the Grand Prix movements. I'm focused on getting Ducati and Donnerbaldo ready for this year's competition season."
Photos © Jessica Pijlman
Related Links
Silvia Rizzo Shifts to the Next Gear with Ducati Horse Power
FISE Disappoints Its Riders, Sends No-One to 2019 European Dressage Championships
Fashionista Silvia Rizzo Trail Blazes FEI's Path for the Future of Dressage
Silvia Rizzo Acquires Full Ownership of Lusitano Grand Prix Horse Sal
Sarm Hippique Signs Silvia Rizzo as Brand Ambassador
Italian Grand Prix Rider Silvia Rizzo Recipient of 2015 Chi E' Chi Sports Award at Milan Fashion Week
Silvia Rizzo Gets Nod of Appreciation from Fashion King Valentino at 2015 CDI Doha
Florida Snowbird Silvia Rizzo Sets New Goals and Partnerships for 2015
Silvia Rizzo Achieves Her Goal for 2014, Silver at 2014 European Lusitano Championships