The Netherlands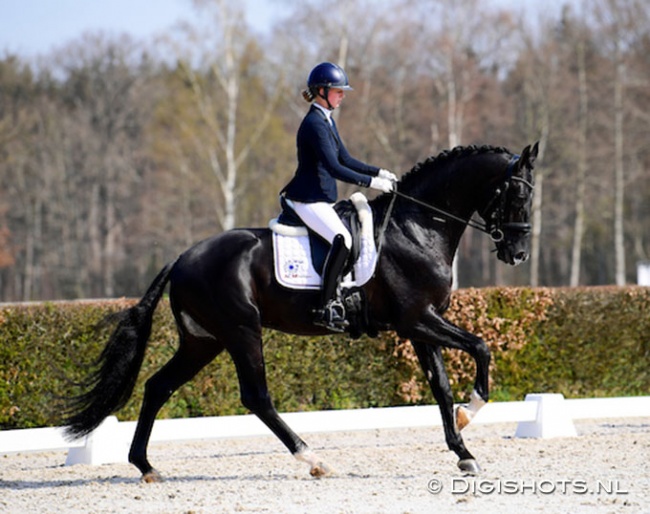 After two selection trials in Ermelo, a long list of horses has been drafted that will move on to the next round of Dutch team selection for the 2022 World Championships for Young Dressage Horses in Ermelo. 
The second training session and observation trial took place on 4 May 2022 on the show grounds of the Dutch Dressage Championships. The youngsters were already presented in a "show atmosphere" in the main stadium for the Nationals. 
The selection committee decided to long list eleven 5-year olds, eleven 6-year olds and ten 7-year olds.  The next selection trial is on 30 June. 
The long listed pairs are:
5-year olds:
Mister Maserati (by Toto JR) - Diederik van Silfhout
My Precious (by Ferguson) -  Kirsten Brouwer
My 7th Sunday by In Style)  - Renate van Uytert- van Vliet
Montrachet (by Toto JR.) g - Saskia van Es
Mauro Turfhorst (by Zonik) - Dinja van Liere
Mr Magnum BTH (by Expression) - Annemijn Boogaard
Maxson (by Johnson)  - Charlotte Fry (GBR)
Mission (by Eye Catcher) -  Femke de Laat
Hexagon's Gorgeous Black Art (by Toto JR.) - Benedek Pachl (HUN)
Maddox Mart (by Hennessy) - Jessica Lynn Thomas (SWE)
Mercurius ACM (by Dream Boy) - Amber Hage
6-year olds:
Linskymorijke (by Negro)  - Mariëlle Spierings
First Lewis (by Ferguson) - Aitor Escamilla Bravo (ESP)
Labarron (by For Romance)  - Dinja van Liere
Lightning Star (by Ferguson)  - Kirsten Brouwer
Lennoxwaard (by El Capone) -  Kirsten Brouwer
Lord Platinum (by Ferguson) - Curro Benitez Sanchez (ESP)
Las Vegas (by Ferdeaux)  -  Emmelie Scholtens
Leonidas (by Trafalgar) -  Dinja van Liere
Luqiedo (by Aqiedo) - Adelinde Cornelissen
Hexagon's Luxuriouzz (by Johnson) - Benedek Pachl (HUN)
Lennox U.S. (by Grand Galaxy Win) - Jill Bogers
7-year olds:
Kyando (by Arlando K) - Diana van de Bovenkamp
Kind Pleasure (by Governor) - Femke de Laat
Kenzo (by Glamourdale) - Diederik van Silfhout
Killer (by George Clooney) - Marten Luiten
Kyton (by Ferguson) - Bert Veeze
Kunz (by Ferguson) - Najami Voogd
Koko JR de la Fazenda (by Toto JR.) - Thalia Rockx
Keano (by Governor) - Marieke van der Putten
Kuvasz (by Glamourdale) - Marieke van der Putten
Kjento (by Negro)  - Charlotte Fry (GBR)
Photo © Digishots
Related Link
Eurodressage Coverage of the 2022 World Championships Young Dressage Horses