Great Britain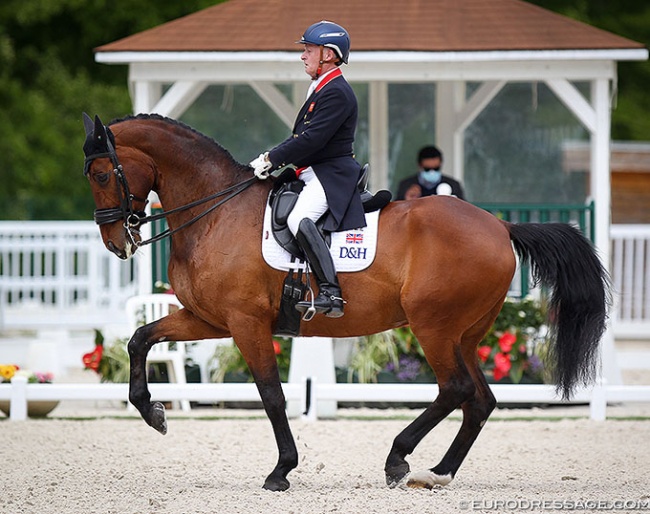 British Dressage has announced their short listed riders for team selection for the 2022 World Championships Dressage in Herning on 6 - 11 August 2022. 
Instead of already naming a team like the majority of nations do, Britain is keeping its options open and not yet showing its cards. 
Selection decisions are subject to the athlete and horse maintaining fitness and performance. The selected squad of four combinations to travel to Herning, plus non-travelling reserves, will be announced on or around 20 July 2022.
Six team potential riders have been named, in alphabetical order
Richard Davison (66) from Uttoxeter, Staffordshire, with his own and Gwendolyn Sontheim's Bubblingh (bay, gelding, 16.3hh, 16yrs, Lingh x Picandt, Breeder: Richard Davison GBR)

Charlotte Dujardin (36) from Newent, Gloucestershire, with Carl Hester and Coral Ingham's Imhotep (chestnut, gelding, 16.2hh, 9yrs, Everdale x Vivaldi, Breeder: T Huizing NED)

Charlotte Fry (26) based in Den Hout, the Netherlands and originally from Scarborough, North Yorkshire, with Van Olst Horses' Everdale (black stallion, 17.2hh, 13yrs, Lord Leatherdale x Negro, Breeder: P Kluytmans NED ) and Van Olst Horses' Glamourdale (black stallion, 16.3hh, 11yrs, Lord Leatherdale x Negro, Breeder: Rodenburg NED)

Gareth Hughes (51) from Southam, Warwickshire with Julia Hornig, Rebecca Hughes, Ruby Hughes and his own Briolinca (bay, mare, 16.2hh, 16yrs, Trento B x Royal Dance, Breeder: Febr van der Steen NED) and his own and Judy Firmston-Williams' Sintano Van Hof Olympia (bay, gelding, 16.3hh, 12yrs, Sandro Hit x Silvano, Breeder: Iris & Henk Poettgens NED)

Susan Pape (59) based in Hemmoor, Germany, with her own and Harmony Amateur Sports Foundation's Eclectisch (black stallion, 16.3hh, 13yrs, Zenon x Olivi, Breeder: Fam Andeweg NED)

Laura Tomlinson (37) from Cirencester, Gloucestershire, with her own and Ursula Bechtolsheimer's Fallatijn (chestnut, gelding, 17.1hh, 12yrs, Vivaldi x Cabochon, Breeder: J. G. Damen NED)
Two reserve combinations have also been named, listed below in alphabetical order by athlete surname:
Lara Butler (33) from Cirencester, Gloucestershire with Laura Tomlinson and Ursula Bechtolsheimer's Kristjan (dark bay gelding, 17yrs, Polarion x Napoleon Quatre, Breeder: Ursula Bechtolsheimer GBR)
Charlotte Fry (26) based in Den Hout, the Netherlands and originally from Scarborough, North Yorkshire, with Van Olst Horses and her own Dark Legend (dark bay gelding, 14yrs, Zucchero x Tango, Breeder: Fam Nobus de Potter NED)
Photo © Astrid Appels
Related Links
Eurodressage Coverage of the 2022 World Championships Dressage
Carl Hester Withdraws from British Team Contention for 2022 World Championships