U.S.A.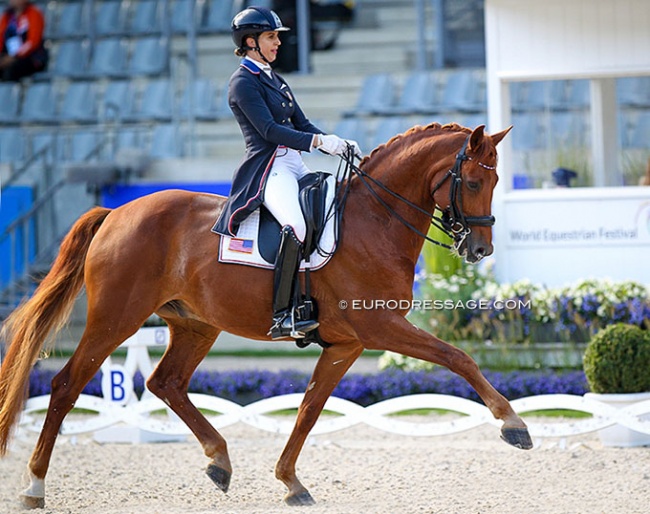 The Dressage Foundation (TDF) announced two recipients of its $25,000 Carol Lavell Advanced Dressage Prize. Congratulations to Emily Miles with Daily Show of Paola, KS, and Jennifer Williams with Joppe K of Olympia, WA.
Emily and Daily Show, an eight-year-old Hanoverian stallion owned by Leslie Waterman, plan to train with Debbie McDonald. Emily's goal for 2023 is to move to Intermediate II and compete in the Medium Tour in the CDIs.
Jennifer and Joppe K, an eight-year-old Dutch Warmblood gelding owned by Joppe Partnerships, LLC, will use the grant funding to spend the winter season in Wellington to train with Oded Shimoni and Christophe Theallet.
The Carol Lavell Advanced Dressage Prize Fund was established in 2009 to provide financial assistance for coaching and training to talented, committed, qualified riders with plans to reach and excel at the elite, international standards of high-performance dressage. At that time, Carol shared, "The road to the top is very difficult: some ways are bumpier than others, some are more crooked, and some are dead ends. My Olympic dream came true only because my road was paved with many generous supporters who gave not only dollars, but also tack, equipment, and even discounted transportation. I hope this Prize will smooth the bumps for those deserving riders and horses on the road to their dreams."
Since 2009, the Carol Lavell Advanced Dressage Prize Fund has awarded 21 grants totaling $525,000 in support of U.S. High-Performance teams. Applications are due August 31.
Photo © Astrid Appels
Related Links
Darnell and Newcomb, Recipients of 2021 Carol Lavell Advanced Dressage Prize
Coyne and Harrison-Antell, Recipients of 2020 Carol Lavell Advanced Dressage Prize
Lehua Custer Awarded 2019 Carol Lavell Advanced Dressage Prize
Pitts and Schut-Kery Receive 2018 Carol Lavell Advanced Dressage Training Grant
Sabine Schut-Kery Awarded 2017 Carol Lavell Advanced Prize
Laura Graves, Recipient of the 2016 Carol Lavell Advanced Dressage Prize Fund
Olivia Lagoy-Weltz Awarded $25,000 Carol Lavell Advanced Dressage Prize
Heather Mason Awarded $25,000 Carol Lavell Advanced Dressage Prize
Shawna Harding Awarded $25,000 "Carol Lavell Advanced Dressage Prize'" Training Grant
Courtney King-Dye Awarded the $25,000 Carol Lavell Advanced Dressage Prize
Brian Hafner and Kathleen Raine, Recipients of Carol Lavell Advanced Dressage Prize
Lyle and McCusker Awarded $25,000 Carol Lavell Advanced Dressage Prize