Italy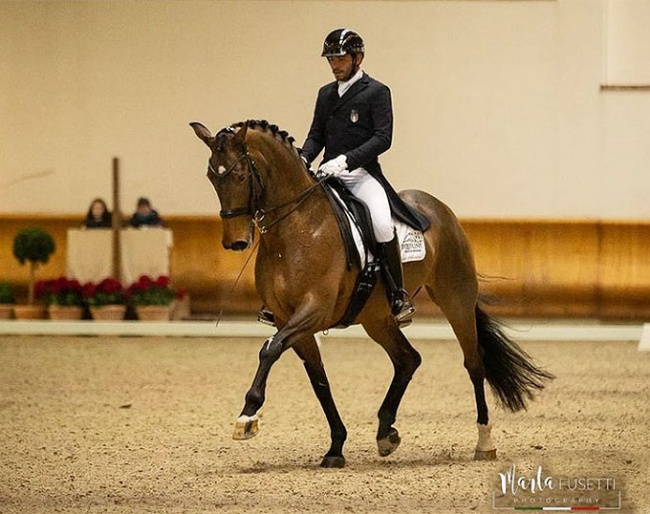 Italian Olympian Francesco Zaza  did not have the best start of 2023. Chiara Olper, the sponsor of his Grand Prix hopefuls, has moved her horses in training with Tatiana Miloserdova.
Tutto Dressage first reported the news of the rider switch.
Francesco Zaza
In the autumn of 2022, Tokyo Olympian Francesco Zaza welcomed Chiara Olper's top stars Vanotti and Louane into his barn. Both horses came from Jasmin Schaudt's stable in Germany and were seen as the successors for Zaza's 20-year old number one, Wispering Romance.
Vanotti is a 10-year old Westfalian gelding by Vitalis x Florestan x Donnersberg and Louane is an 8-year old German Sport Horse mare by Lemony's Nicket x Laurentio x Gribaldi. Both were trained to Grand Prix level by Jasmin Schaudt before selling to Olper. 
Zaza made his show debut on Vanotti at the national Christmas show in Ornago, where he won the Inter II with 67.549% and placed second in the Grand Prix with 67.717% behind Valentina Remold on Fraulein Auguste (69.746%). Louane is yet to  debut in Italy.
Tatiana Miloserdova
At the start of the week Tutto Dressage reported that Olper decided to move her horses to Russian born Tatiana Miloserdova, who declared for Italy in 2018 as she has been living in the country since 1991.
"I moved my horses to Milserdova," the German born Italian Chiara Olper confirmed to Eurodressage. When asked what the plans with the horses are, she replied, "the same project that I had with Francesco. The goal is Versailles with Tatiana. Now I sponsor her"
For Zaza this is a great loss for his path towards the 2024 Paris Olympic Games, which will be held in the gardens of Versailles.
"I respect the decision of Vanotti and Louane's owner. They are great horses, and I hope they will show their dressage talent," he told Eurodressage.
Zaza will continue his Grand Prix path with 11-year KWPN bred Grand Prix horse High Hopes (by Wynton x Day Dream). 
Photo © Marta Fusetti
Related Links
Francesco Zaza Welcomes Vanotti and Louane in His Barn
Francesco Zaza Out, Roberto Brenna Joins Italian Team for 2021 Europeans
Francesco Zaza Nominated as Italian Individual Rider for 2021 Olympic Games
Tatiana Miloserdova Declares for Italy