Child Stars - Where are they Now?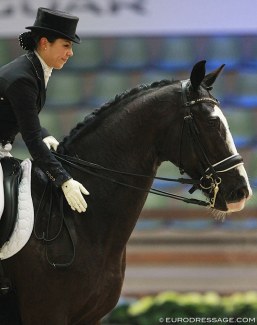 Switzerland based Anne Rita Bertschy had an illustrious career as a young rider and in 2016 she made a brave attempt at qualifying for the 2016 Olympic Games for the Philippines. Unfortunately the reality of life has caught up with her and with no longer having the financial support to train with an Olympian and compete internationally, Bertschy has disappeared from the show scene, yet not lost her passion and love for horses.
Bright Youth Career, Working Towards Olympic Dream
As a youth rider Anna Rita Bertschy began her international show career as a young rider aboard the Danish warmblood Der Tempelstar (by Temple Win xx) in 2008. The pair had their CDI show debut in Stadl Paura, Austria in April 2008 and they also competed at CDI's in Turin and Weikersdorf. They finished fourth at the 2008 Swiss Young Riders Championships
However, it was her second horse Tenson, a now 18-year old Dutch warmblood gelding by Krack C x Zeoliet, that first took her into the big time. Trained by Anky van Grunsven, the combination made its debut in 2009 but 2010 was their year of glory.
Representing Switzerland at the 2010 European Young Riders Championships in Kronberg, Germany, they finished in a respectable 10th place in the Kur to Music finals. They won the 2010 Swiss Young Riders Championships and were also chosen to compete at the 2010 Young Riders World Cup Final held in Frankfurt, but had to withdraw a few days before the show because Tenson was not fit.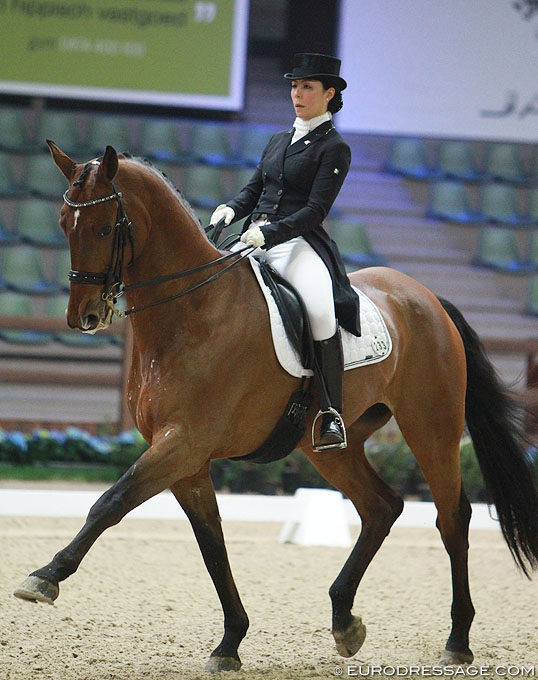 From 2011 till 2013 Bertschy did not compete at all, as Tension took almost two full years to recover from injury. During this time she devoted herself to her university studies in Lausanne: a Bachelor in Psychology and Sport and a Masters in Clinical Psychology. With much patience and dedication to Tenson's path towards recovery, she nurtured the horse back to fitness and the duo made its come back in 2014 at Under 25 Grand Prix level. They did one CDI that year in Zandhoven and landed 9th place at the 2014 Swiss Nationals. 
In 2015 the family acquired a second iron in the fire, Angelique Vroom's Dutch warmblood Ventoux (by Ferro x Farmer), at the 2015 Excellent Dressage Sales. At the same time Anne Rita switched to her mother's nationality of the Philippines to increase her chances for Olympic nomination next year.
In 2015 she actively showed in Perl, Tallinn, Siaulliai, Maastricht, Lier and Roosendaal. The 2016 CDI Lier was her final attempt to collect enough points for Rio nomination, but it was not meant to be. One month later Anne Rita competed Tenson at the 2016 CDI Nieuw en St. Joosland and it was her final show in her career.... so far.
Where is She Now?
Unfortunately Bertschy has been forced to give her international dressage career due to a set back, which has put her out of the position of training at a top notch stable and traveling Europe for shows. 
"I'm doing good, at least better," Bertschy told Eurodressage frankly. "It has been quite rough times for my family. My family had some personal issues and therefore my parents, who have supported me all the way until now, were not able to do so anymore. Financially I couldn't not do it by myself so I had to sell the horses. I wish I had found some support or sponsors to be able to keep them."
In May 2017 the now 16-year old Ventoux sold to the Japanese Kazuo Maezawa. It was a big change in Bertschy's equestrian dream for the future.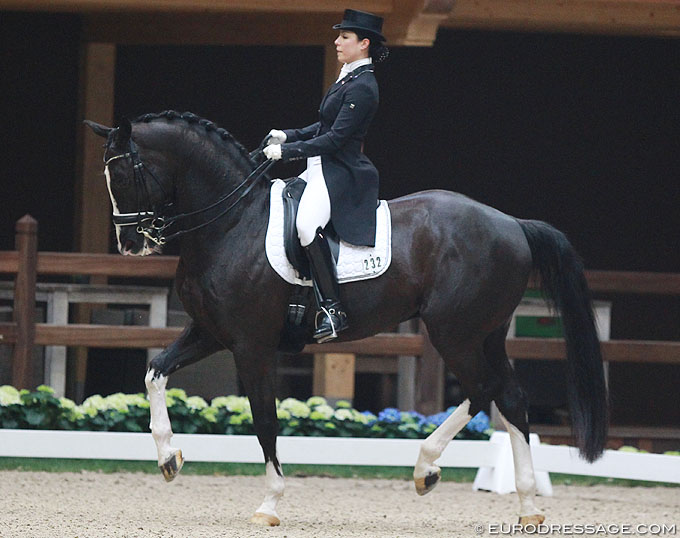 "It was even more frustrating since I had been combining university with training for five years and when I was finally finished with my masters I was ready to dedicate completely to my horses and the sport," she said. "Everything was ready, competing for the Philippines, living in holland at Anky's, the horses were there and both were starting to improve so much in the Grand Prix and then I had to stop. But that's life and I m working a lot on myself to accept this situation."
For Anne Rita quitting horses was a drastic change in her life, one she was not ready for. However, the 28-year old has now regrouped herself and picked up the pieces, dedicating her energy to new professional job that gives her much satisfaction.
"It's hard to find something as fulfilling. I still teach though which I like a lot, and sometimes ride my students' horses," Bertschy explained. "I focused as much as I could on the courses I started to follow in coaching and personal development. It helped me a lot. I am now a certified coach for personal or professional coaching and trainer-coach for teams. I now work in the social field, in a society called Ingeus, where we coach unemployed people find a new job. I would then like to specialize in sport coaching and working with athletes. And then we'll see what the future will bring us."
Horses are still in the back of her mind and who knows what the future brings...
"Even though I miss everything so much, training at Anky's where I had the time of my life,  and my heart still hurts a lot when I think of my horses, I believe I have gained a lot of strength from this experience and believe everything happens for a reason, even if I don't know which one yet," said the brave Bertschy. "At the back of my mind I have hope that I will get back to top sport one day; it's in my blood and I love this sport so much! Who knows, it doesn't kill to try and to dream."
Text and Photos © Astrid Appels
Related Links
Anne Rita Bertschy Back in the Big Time with the Philippine Flag on the Saddle Pad
Winnewisser, Wettstein, Neuhauser, Aerne-Caliezi Win 2014 Swiss Dressage Championships
European Representatives for the 2010 Young Riders World Cup Final
Bertschy to Represent Switzerland at 2010 Young Riders World Cup Final
Scores: 2010 European Junior and Young Riders Championships
Swiss Riders Selected for 2010 European Junior/Young Riders Championships
Corinth Did It Again at the 2010 Swiss Dressage Championships
Scores: 2008 Swiss Dressage Championships