Opinions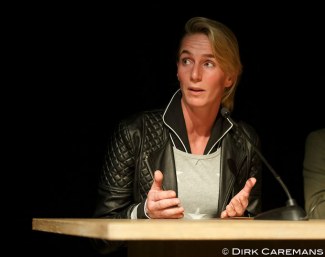 The International Dressage Riders Club has started a series of articles in which different renowned Grand Prix riders and trainers are backing up the 19-recommendation plan of the Dressage Judging Working Group. The IDRC has asked riders to endorse certain recommendations and put their name behind the suggested change.
Dutch Olympian Imke Schellekens was chosen to endorse Recommendation 5. Here is her post on the IDRC Facebook page, to which Danish 5* judge Leif Tornblad issued a reply straight away.
Imke wrote: 
I want to talk a little about the 5th recommendation made by the FEI's Dressage Judging Working Group. I have to say that it seems pretty simple:
RECOMMENDATION 5: The DJWG recommends to the FEI that the way results and marks are presented be amended to simplify comparison of results for judges officiating from similar viewing positions.
So, when judge's scores are posted, E and B would be next to each other and M and H would be next to each other I imagine. 
I can see how that would make it easier to determine whether judges' perspectives influenced the outcome of a class.
I think this would be very useful if each individual score was posted. I am not sure it is as educational as it relates to overall scores, but I think it will help a bit.
Judge Leif Tornblad replied:
It is with astonishment that I now see that the equestrian community ( some riders, experts and trainers) now realize that judges sit at different positions because they are supposed to see the horses from different angles. This has been known since the 1950. The new idea to compare the judges B and E with each other and the judges on the short side H,C and M is hopeless. Most movements look a little different from every position, think of diagonals that are very different from H and M even some movements look different from E and B it could be a halt where the horse is not resting on one hindleg but it is not seen from the opposite side or the canter strikeoff in Grand Prix Special. What all judges see is the whole horse if it is supple, elastic moving in the correct form and with correct paces and there we may now need more consistent and decisive guidlines and agreement since we do see a lot of different variations today. The idea of starting with a 10 and then deduct 4-5 mistake factor is even worse a trained eye takes many more factors into account before marking a movement. There are a lot of other suggestions in the pipeline that also seem strange to a trained judge. That has to be another discussion.
Photo © Dirk Caremans
Related Links
Kyra Kyrklund: "Create a More Fair and Consistent Method for Dressage Judging"
Dressage Judging Working Group Presents 19 Recommendations to Improve System