2019 CDIO Compiègne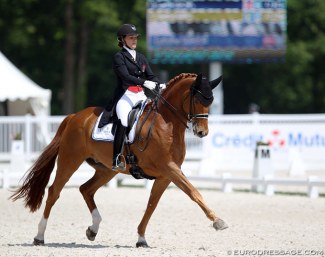 Olympic and World Championship medal winning riders are on their way to the 2019 CDIO Compiègne, which celebrates its ninth edition on 17 - 19 May 2019. For years the world elite of dressage has marked their calendar and checked this French CDI-CDIO as a must-attend event for its wonderful conditions and joie-de-vivre atmosphere. 
More than 200 riders and 250 horses will be travelling to the Grand Parc equestrian stadium set in a big natural park near the race track on the outskirts of the historic city of Compiègne, just an hour north of Paris. 
The CDIO Compiègne hosts the second leg of the 2019 FEI Nations Cup Dressage for the fourth, consecutive year. Teams from eight nations will aim to score Nations Cup points. Furthermore the CDI event has classes from young horse and pony level to 3* and 5* Grand Prix.
The Big Stars On Their Way
Compiègne boasts a stellar line up of riders for their 2019 FEI Nations Cup leg.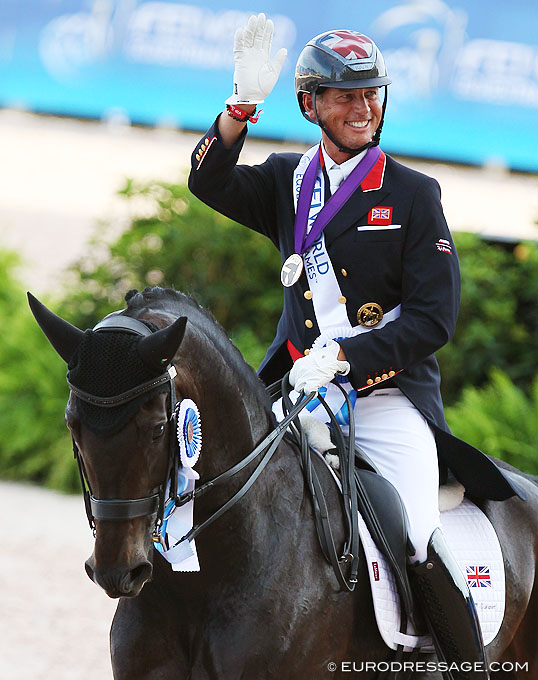 Highly celebrated crowd favourite Carl Hester (GBR), team gold medallist at the London Olympic Games and team silver medallist at the Rio Olympic Games, will spearhead the British team on his 2018 WEG team bronze medal winning Hawtins Delicato, alongside his compatriots Gareth Hughes (Briolinca), Richard Davison (Bubblingh) and 2018 European Under 25 Champions Charlotte Fry (Dark Legend). 
The first nation to declare their team was the Netherlands, who is sending routiniers Patrick van der Meer (Zippo), Danielle Heijkoop (Badari), Emmelie Scholtens (Desperado), alongside Tommie Visser (Chuppy Checker CL).
Both Switzerland and Sweden are sending their best Grand Prix riders of the moment ! Sweden has WEG team riders Patrik Kittel (Well Done de la Roche) and Juliette Ramel (Buriel KH) entered, alongside Antonia Ramel (Brother de Jeu) and Rio Olympic team rider Mads Hendeliowitz (Jimmie Choo).  Switzerland is full force with Antonella Joannou (Dandy de la Roche), Caroline Häcki (Rigoletto Royal), Birgit Wientzek Pläge (Robinvale), and Carla Aeberhard (Delioh von Buchmatt).
The Americans begin their spring Euro-Tour in France by sending a full team to the Nations Cup. Their riders are Shelly Francis (Danilo), Katherine Bateson Chandler (Alcazar), Heather Blitz (Semper Fidelis) and Nick Wagman (Don John).
Germany will be represented by individual Helen Langehanenberg, who was third at the 2019 World Cup Finals in Gothenburg and winner of an individual silver and a team gold medal at the 2014 Caen World Equestrian Games.
Star Studded Panel of Judges at Compiègne
A panel of no less than 22 judges will make up the ground jury this year. Half of them will be officiating at the European Championships to be held in Rotterdam this August and/or at the 2020 Olympic Games in Tokyo.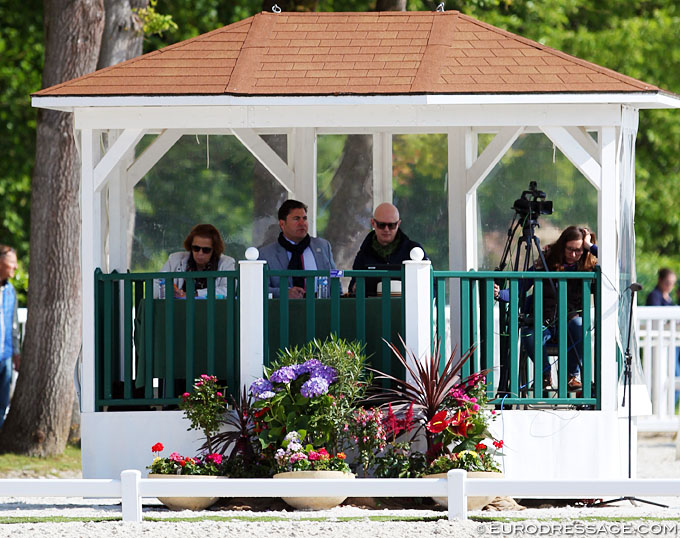 Headed by French 5* judge Raphaël Saleh as president of the ground jury, Compiègne is pleased to welcome 5* judges Maria Colliander, Susanne Baarup, Andrew Gardner, Francisco Guerra Diaz, Clive Halsall, Susan Hoevenaars, Isabelle Judet, Henning Lehrmann, Irina Maknami, Hans-Christian Matthiesen, Maribel Alonso De Quinzanos, Yuri Romanov, Mariette Sanders van Gansewinkel, and Magnus Ringmark.
They are joined by 3* and 4* judges Lionel Du Tranoy, Francisco Guerra Diaz, Frederico Pinteus, Michael Osinski, Sandrine Trimborn, and Hans Voser.
Not only do riders select shows based on the panel of judges that is officiating, but also the conditions for the horses need to be optimal. Compiègne has excellent facilities in the stabling area as well as top footing in the training rings and competition arenas. 
Monique Marini, show organizer and the pumping heart behind the event, is well aware that the riders are demanding and Compiègne delivers year after year. 
"The entire footing in the equestrian park has been redone and new fiber added. We know that the riders appreciate quality footing for their horses," said Marini. "We also have permanent boxes which allows us to welcome the horses in the best conditions. The city of Compiègne has helped us much in the development of the equestrian park and show. They built an additional 102 permanent boxes in 2016 and redid the entire footing for us in 2017."
Joie de Vivre Lifestyle
The CDIO Compiègne is not only a favourite show of the riders, it also delivers for the spectators with a joie de vivre lifestyle celebrated there.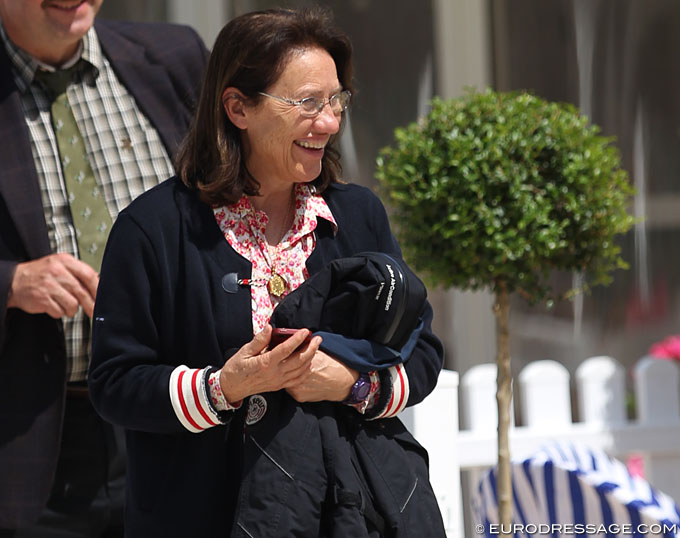 The trade fair has wonderful tack and clothing shops for everyone's wishes as well as provides high quality, local food, which is the pleasure and joy of the bon vivant attending the event. A foie gras stand, local cheeses and sausages, champagne by the bottle or rosé wine to feast springtime; all this right near the main competition ring. And for the sweet tooth there are freshly baked pancakes. 
"We have always wanted to instill the show with a familiar and friendly atmosphere and I think the riders appreciate that," said Marini. "We are professional in our organisation, but that does not prevent us to be convivial as well. The CDIO Compiègne is the work of a dedicated team and an excellent technical director (Dominique Carton). We aren't many for the organisation, but can rely on numerous volunteers each year."
Compiègne thrives on the generous support of their main sponsor, Crédit Mutuel Nord Europe, assisted by sponsors Acary, Barriquand, Brezillion, Cagna, Eiffage, Engie, Indigo, Eurovia, Paprec, le groupe Suez, Loiseleur Paysage, jeweler Mauboussin, and hotels Campanile, Kyriad, Mercure and T'Aim Hotel.
For more information, visit compiegne-equestre.com or on Facebook.
Related Links
Sweden Wins Nations' Cup, Dufour and Cassidy on Top at 2018 CDIO Compiègne
Minderhoud and Dream Boy Top 2018 CDIO Compiègne 3* Grand Prix
The Countdown is On for the 2018 CDIO Compiègne
CDIO Compiegne, Europe's Best Spring Show, to Return in 2017 Even Bigger and Better
2016 CDIO Compiegne, a 5* Dressage Extravaganza with Classes Across the Levels
Photo Report: Boblet and Noble Dream Win on Home Turf at 2015 CDI Compiegne
Patrik Kittel and Deja Ace 2015 CDI Compiegne 4* Big Tour
Photo Report: Hughes and Sherriff Make 2014 CDI Compiegne Big Tour British Affair
Carl Hester and Roland Tong Sweep Grand Prix Classes at 2013 CDI Compiegne
On the Road: "Magnifique Alors" at the 2012 CDI Compiegne