2019 CDI-W Sydney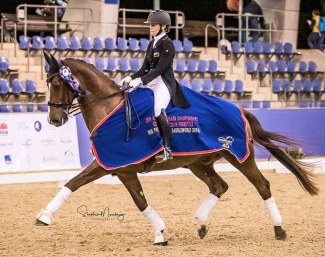 New Zealand's Wendi Williamson has seen out her latest international campaign on a high, setting an Australian Grand Prix Freestyle record at the Sydney CDI-W on Saturday 19 October 2019.
The Kumeu dressage rider and the 13-year-old New Zealand bred Hanoverian Don Amour MH placed second in the Grand Prix CDI-W with a score of 69.03%, backing that up with a  76.18% freestyle to win the FEI World Cup qualifier, the Australian Grand Prix Championship and the Equestrian New South Wales title.
"It is the highest freestyle score by any horse in Australia," says Wendi, "that's funny."
She had eased Donny into the Grand Prix, after he had been "disappointing" at Boneo a few weeks back and subsequently was quite sick. "He was so flat and it was just terrible," said Wendi.  Donny headed back to Brett Parbery's where he was nursed back to full strength just in the nick of time. "We only got the final bloods on the morning of the trot up, so it was right down to the wire. Brett was so positive we would get there but I wasn't so sure. When you have a bad run at a show you lose a bit of confidence."
But her host was right on the money. "I have worked Donny hard over the winter to improve his shape and other things but I didn't fire him up too much in the grand Prix because I wasn't sure what I was going to get. In the freestyle I felt more confident to give him a boost. I'm not sure I expected 77s from the judges – that was just amazing."
She's looked back at the test though and says he was very consistent with good shape and energy. "I think he deserved what he got." The 76.18% score was a personal best for them both.
She is over the moon with the result. "I have been the bridesmaid so many times and at the Sydney CDI in May we had some unlucky judging, but this was just awesome." The combination received "extremely" positive feedback from the judges too. "When they said I had very good connection and energy to the bridle and that his shape and harmony was very nice, I was really proud. It is hard to achieve that on that horse and it was such a highlight to have that feedback."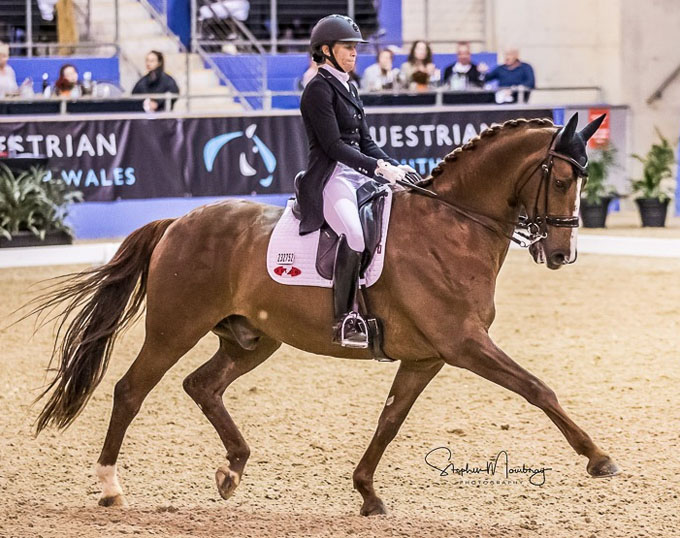 However, Wendi is quick to shy away from focusing all her sights on the 2020 Tokyo Olympic Games. "I don't want to beat myself up around whether we can qualify for Tokyo or not," she says. "That would be a dream but I am just going to keep riding the horse and do the best I can and make it to the scores that would get me there. We will just keep chipping away." 
New Zealand will know soon after December 31 whether the nation has earned an individual place for Tokyo 2020 through the FEI Olympic world rankings. New Zealand must be first or second on the rankings, and then riders must meet the NZOC qualification.
Williamson represented New Zealand at the 2017 World Cup Finals in Omaha, Nebraska, with Dejavu MH.  Unfortunately, the horse bit his lip at the World Cup Finals and was eliminated from the Grand Prix. Williamson and Dejavu MH returned to Europe and redeemed themselves with a successful campaign at the CDI's in Hagen, Windsor, Bolesworth and Hartpury. In April 2018, Williamson tragically lost Dejavu to colic.
Photos © Stephen Mowbray
Related Links
Scores: 2019 CDI-W Sydney
Wendi Williamson's Dejavu MH Passed Away
Wendi Williamson Earns Ticket to Omaha after 2017 Pacific League World Cup Final Victory