2023 British Dressage Championships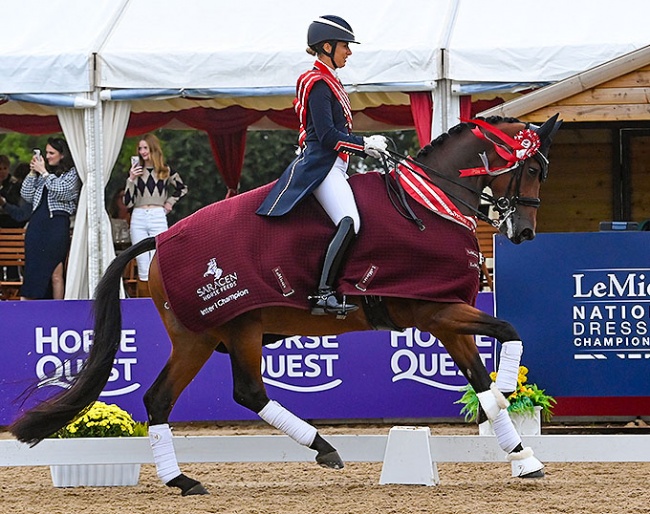 Charlotte Dujardin, her student Annabella Pidgley, and Carl Hester student Becky Moody scooped up all the small tour level titles at the 2023 British Dressage Championships at Somerford Park on 14 - 17 September 2023.
In Great Britain there are titles to be earned for each class as well as overall champion's titles, which they call "supreme champion" in the U.K.
Prix St Georges: Dujardin and Kismet
Off the back of her Europeans success Charlotte Dujardin topped the podium with her eight year old mare Kismet (by Ampere x Lord Leatherdale). "Obviously I've had very little preparation coming here," Charlotte reflected on her success," I've done two days of preparation to be in fact." Times Kismet was a winner here at the National Championships in 2023 securing the Advanced Medium title and has been lightly competed since, fitting in around Charlotte's busy international calendar and mum duties, "she's done a handful of tests since then including Somerford and Wellington Premier League as well as heading over to Europe for Aachen two months ago".
"Kismet was amazing, just amazing to ride. We had an error in the three-time changes, which was my fault, not hers but otherwise absolutely amazing. I was so happy with her."
The judges panel of Claire Ballantyne, Sue McMahon, Clive Halsall, Christine Prip and Jane Peberdy awarded them 78.529% in the main arena which drew quite the crowd. The always in-form Becky Moody took second and third placings with her handsome stallion James Bond II and nine year old gelding Jack Diamond, the duo only split by just a handful of marks. 
Prix St Georges Kur to Music: Pidgley and Espe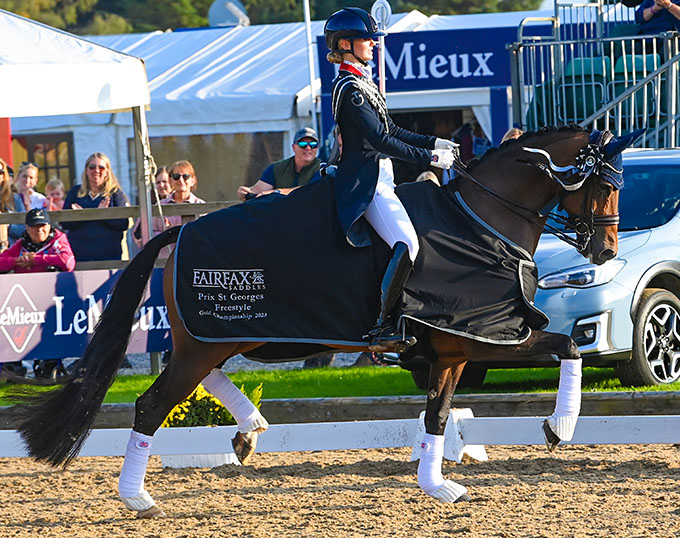 The Young Rider European Championships double gold medal combination of Annabella Pidgley and Espe were   in the winners' circle. Riding to the Taylor Swift arrangement that accompanied their golden performance in Budapest, they delivered a fantastic score of 75.27% to take the 2023 crown.
Nine-year-old Espe (by Escolar x Dimaggio), owned by Sarah Pidgley, experienced some costly tension in yesterday's PSG, but today that was put behind her as Annabella explains; "She been really hot and spicy here. I think it's because of all of the people and she feels the atmosphere. She was a bit naughty before my test, but I was really pleased with how she listened to me once we entered the arena and how she kept it together.
"Everything is a highlight with her," continued Annabella. "She's so expressive, particularly today because she was really on fire. The trot work was just so powerful and she's really fun to ride when she's so excited to work and brings that type of energy.
"Yesterday she was a bit naughty in my first halt. She got a bit scared of the people, but I was really proud of how I managed to reassure her after she got frightened and spooked. We managed to go back up the centre line and then do a really nice test for 72%. I think it's so nice that we've now got the confidence in our partnership to keep going when something like that happens and actually get quite a big score of 72%, so I've been really, really pleased with her."
About how her training with Charlotte Dujardin has helped, Annabella said; "Charlotte's training has really helped the partnership to come together. Here last year, she (Espe) lit up in the arena and just couldn't keep control of her power, and we had to retire. She's come back a year later to have the same power but this time with 72% and then 75% and a win. I think just speaks of Charlotte's training. Not only does she train the technicalities and the movements but also how to bring that bond together with the horse, and I think that's really shown in the improvement. And to me that's a win in itself - to have had such a big improvement because that's all we can ask at the end of the day."
On how their partnership has grown over the past 12 months to come back and win, Annabella said; "It's been incredible. I usually would have been maybe a bit disappointed that we had a mistake, but I was just over the moon because that improvement is all we want to see in our horses.
"You can't control the competition, and from last year having that huge blip and retiring to this day keeping it together - that's all I can ask for. And we stepped up a level. Last year was in the Advanced Medium this year the PSG, which was quite a big step for a young horse," continued Annabella. "She's nine now so I was just really, really pleased with her. After she's had two gold medals at the Europeans, it's just a really nice way to finish the season.
"It is nice to be back on home soil with home crowds and to feel the support and to see so many familiar faces," added Annabella about what it feels like being back on home soil. "I always love coming to the Nationals here at Somerford. It's always got a great atmosphere, but of course competing abroad and Aachen (Annabella and Espe dominated the CDIY classes at this year's CHIO Aachen) is also amazing. But I think that this show brings more and more atmosphere every year I come in. I competed in Aachen for the first time this year and I can see parts of Somerford really coming up to that atmosphere, especially in that arena today."   
Prix St Georges Overall Champion: Becky Moody and James Bond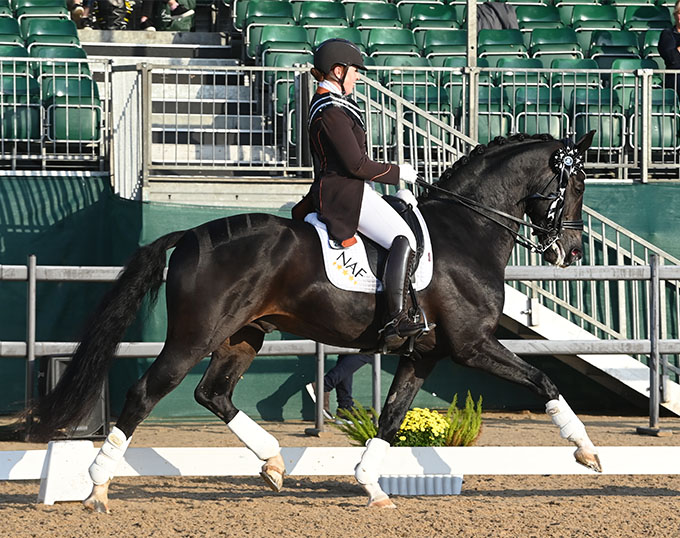 On overall ranking was drawn for combinations who competed in the Prix St Georges and Prix St Georges Freestyle. The ultra-consistent Becky Moody claimed the Fairfax Saddles Prix S Georges Supreme Championships after posting two confirmed performances at the first Small Tour level with Jo Cooper's James Bond 2; yesterday the duo were worthy runners up to Charlotte Dujardin on 74.176 before going on to score 73.625% in today's sun-drenched freestyle.
"I was super pleased with his Prix St Georges yesterday, it was probably one of his best tests to date. Today in the freestyle he was a little tired. I think having done the Inter I this morning, but he is he is really coming on and I'm really excited about him."
Talking about the nine year old James Bond's consistency, Becky continued, "I think that's what's changing, that's what's taken time. He's getting stronger, he's getting more confident and he really is training quite a lot for Grand Prix work now. So actually coming and doing this is starting to be a bit easier for him, which is how it should be because that's when it looks good and when it looks easy."
Renowned for delivering an impressive freestyle, Becky was critical of her performance, which nevertheless produced a superb score: "I was really frustrated in that because I got a little ahead of my music. So it wasn't my finest freestyle, because I love that music and I think actually because he has changed a little bit in his movement I then got a little bit out of sync with my music. He's doing the Inter I Freestyle tomorrow. We'll see if we can nail it in that."
"I do love it at Somerford and the main arena has a real buzz to it with the stands around it. The arena next door, like I was riding the six year old in there, and it's nice it's just that little bit quieter. It helps the young horses just to cope with it a little bit more. But I mean, we've been incredibly lucky with the weather haven't because it was not a good forecast! I have got so many raincoats packed it's unbelievable! When the sun is shining everything is good."
It's been a flat-out week already for Becky who's competing no fewer than seven horses at the LeMieux Nationals, with the total tests clocking up due to multiple starts in the Freestyle competitions which she described as 'a little crazy'. The Sheffield-based rider returns in the Saracen Horse Feeds Inter I Freestyle tomorrow where she'll aim for her second Supreme title of the week with her top drawer Desperado-sired stallion.  
Intermediaire I: Dujardin and Kismet On Repeat
Dujardin and Kismet showed all their class to head the Intermediate I championship with a score of 77.73% from judges Debbie Wardle (E), Mary-Anne Horn (H), Clive Halsall (C), Claire Ballantyne (M) and Denmark's Christine Prip (B).
Kismet  stepped into the international spotlight at CHIO Aachen in July, where she and Charlotte made a clean sweep of the Small Tour classes. Once again, consistency and quality shone throughout their test today, their score sheets featuring no fewer than 12 9s.
"I was so pleased with her today," commented Charlotte after the prize-giving. "This is only her third or fourth Inter I so she is still very green and only eight years old, and I've had very little preparation to come into these Championships. I've had only two days to prepare and I have to praise my horses because they've been fantastic so far. I have had a wonderful show.
"She's a top horse - she's one for the future," said Charlotte. "Next year I will still keep her at Small Tour. She does do everything for a Grand Prix, but she's a very tall mare so I feel she needs another year. She's done really well and it's very easy to jump to that next level, but I think mentally and physically for her, it (staying at Small Tour) would be the right and correct thing to do. I'll then save her for hopefully the following year for Grand Prix."
Sadie Smith and her British-bred mare, Swanmore Dantina (Dante Weltino x Charatin), fourth in yesterday's PSG Gold, put in an impressive performance to take second place on 75.118%, with Becky Moody and Jo Cooper's James Bond 2, third (72.82%). 
Intermediaire I Kur to Music: Dujardin and Kismet, Who Else?
Taking her fourth win of the week, Charlotte Dujardin completed the Intermediate I Freestyle Championships triple crown with a win in the Freestyle delivering her the Supreme Small Tour Champion title. In front of Fiona Wilson, Pam Bushell, Jenny Ward, Sarah Leitch and Leanne Wall, Charlotte rode Peter Belshaw's Ampere-sired talent to 80.757%, recording the first 80% score of the championships. 
The extended trot was a real highlight of the test, achieving no fewer than three 9s from the judges; whilst there were also high marks for the lateral work, with both the trot and canter half passes pleasing the panel. There were 23 marks over an 8 for the combination's artistic marks as Charlotte presented a picture of harmony and opted for elegant tunes to suit her light-footed, modern mare.
For the Freestyle placings, it was Becky Moody and the superb James Bond II to take second place with 76.82%, whilst Michael Eilberg notched up 76.225% for third with Nicky Hannam's MSJ Encore (Escolar x Caprimond). Sadie Smith climbed to second place in the overall Supreme rankings, following two super consistent +75% performances.  
Intermediate II: Dujardin and Hawtins San Floriana, 77.88% 
It was a double day one victory for Charlotte, who went on to claim the   Intermediate II with Hawtins San Floriana, whilst taking the second spot with Alive and Kicking on 76.471%. "So, to be honest, I'm really happy with all the horses today," Charlotte said, "I mean, Alive and Kicking as well, they both did nice tests. Things could be a bit better but that's what happens when you have that extra week of just tuning them. I think that's Flo's third Inter II and Alive and Kicking's second Inter II. So I was really happy with both of them. I've just got to get them out and get them in the competition arena and do a bit more."
Following a super quick turnaround from the FEI European Championships, Charlotte was delighted to be back on home soil and presenting her string of up and coming horses at the LeMieux Nationals. "It's great to be here supporting British Dressage and it's just a great experience and exposure for my horses, these sort of atmospheres you can't repeat."
Hawtins San Floriana is a former Young Horse winner at the Nationals and is a fine example of great British breeding, hailing from Hawtins Stud in Gloucestershire: "It's lovely obviously having a British Bred mare and some offspring competing here as well so it's great to see that generation come through. I'm just so excited to be able to have such a fantastic mare."
Third place belonged to Anders Dahl with Tophojs Zackira scoring 72.441%. 
-- Text by British Dressage, edited by Eurodressage - Photos © Kevin Sparrow