2000 KWPN Stallion Licensing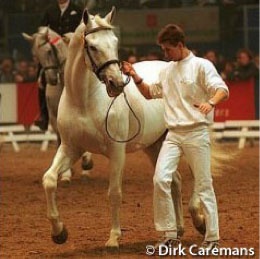 At the 2000 KWPN Stallion licensing days Friday afternoons and evenings are always reserved for Dressage. After the Talkline Young Dressage Stallion Competition a complete clinic and show extravaganza
is arranged as a way of promoting the breed, i.e. certain prominent stallions, and of course to enjoy the crowds.
Three sires were omnipresent at the 2000 "Hengstenkeuring" and that were Uniform, Cocktail and Ferro. As dressage ambassadors of the Dutch warmblood breed, these three stallions have an important function to fulfil. They carry out the message and goal of the studbook and try to emphasize that the breeding of dressage horses can be as prophitable and enjoyable as raising show jumping babies. 
With Cocktail's death early 1999 the Dutch breeders' scene lost one of its prime stallions. However, his get carries on the tradition. Rising star Ferro takes in a lead position in the 1999/2000 breeding rankings thanks to his recent successes and international star performances. Uniform is one of the older generation stallions. With offspring as Anne Gribbon's Metallic and Anky van Grunsven's Junior, Uniform has at least two sons surfing the curb on international turf. 
Uniform
Preferent stallion - born 1978 - 16.3 hh - by Wahtamin out of Liris
One of the leading sires of dressage horses in Holland and sire of several graded stallions. His stock are exported all over the world and his son Metalic became "Horse of the Year" ridden by Anne Gibbons in USA. He is also sire of Montreux, Germany who seems to be very successful. Uniform scored 10 on his character in the 70 day Stallion test, even though his get is known to have a difficult character. All his foals have his distinctive grey colour. 
Uniform is a preferent stallion born in 1978. Standing at 16.3 hh the white stud is by Wahtamin out of Liris. Bred and owned by  Stoeterij Het Vierspan, Uniform was their foundation stallion bringing the farm wealth, fame and success. Gestion Junior STV is currently making headlines under Dutch prima donna Anky van Grunsven. The pair won the Prix St. Georges test at the CDI-W Malines, Belgium. 
Successful in the US are
Metallic
First ridden and Owned by Anne Gribbons - competed in the 96 Olympics under Robert Dover. Now being ridden by Gunther Seidel
Chalis
Tara Stegen's Grand Prix mount - competed in the 1996 Region 6 Championships
Congo STV
Formerly owned and ridden by Ton de Kok, then moved to the U.S. where Congo competed under Leigh Cochran.
Successful in Europe are
Junior STV
Ridden at internationa Prix St. Georges level under Anky van Grunsven
Denderos, Furiant, Halla Utopia,...
Cocktail
Keur stallion - born 1984 - Died: 1999 - 16.2 hh - by Purioso II out of Ulissa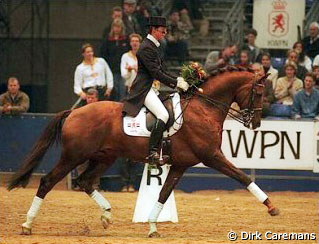 Cocktail's sire Purioso is the sporthorse producer of the 90's as much for dressage as jumping, with three "Olympic" children, namely Olympic Wendela, Olympic Ambush and Olympic Cocktail. Purioso is a son of the leading German stallion Furioso II. Furioso II, who at least has 70 approved sons, influenced breeding world wide. The full brother of Purioso II is the French stallion Mexico, whose son Le Mexico is a familiar name as a producer of sporthorses in the Netherlands. Cocktail's dame is the "keur preferent" mare Ulissa. She is also the mother of the KWPN approved stallion Falco. Further back in the pedigree we find the excellent moving Trakhener stallion Hessel. In the fourth generation we find the Holsteiner stallion Antonio (v. Anblick xx). Anblick also sired the dominant breeding stallion Aldato and the Olympic Dressage horses of Josef Neckermann Venetia and Antoinette.  
Olympic Cocktail was awarded Horse of the Year in 1995. With his rider Anky van Grunsven he won an incredible number of Grand Prix, Specials and Kürs to Music.Cocktail is father of the approved stallions: Havel, Hierarch, Jazz, Jordan, Hucarlos and Hawthorne. Furthermore Cocktail is the leading sire on the Dutch Dressage Index. His offspring start to show at Prix St.Georges level. His son Havel for instance won the Prix St.Georges at Leeuwarden. Cocktail was made a "Keur" stallion in 1998. 
Renowned Get
Havel

Prix St Georges winner at Leeuwarden. Approved and For Sale

Jazz

Ridden by Tineke Bartels - competing at Prix St. Georges level. His get swept away all breed show prices during the 1999 breed season

Norway

Approved in 2000. Won the Pavo Cup Championships in the four year old class. Ridden by Liseon Kamper
Ferro
Keur stallion - born in 1987 - 16.2 hh - by Ulft out of Brenda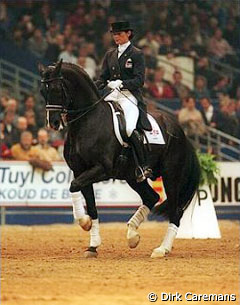 Ferro was the 70 Day Stallion test winner in 1990 after his approval by the KWPN studbook scoring 6.5 on his walk, 8.5 on his trot and 8.5 on his canter. His sire, Ulft is a son of 'Le Mexico',  is listed 10th on the jumping-index with 142 points. Le Mexico carries Furioso xx's blood, a thoroughbred who appeared to be a very valuable asset to a number of breeding studs.  Furioso is well known in by his offspring Urioso & Brilloso in France, Voltaire & Le Mexico in The Netherlands, and Furioso II in Germany, as well on dam-side Cor De La Bryère.  Brenda, Ferro's dam, is an offspring of the Holsteiner stallion Farn, who's listed 6th on the jumping-index (146).Olympic Ferro (by Ulft x Farn) received his Keur-status thanks to the exceptional show performances of his descendants. The oldest offspring is seven years old. 113 of his daughters already received the "Ster" mare status, while 5 of his male gets have been approved. Three of his approved sons are successfully competing in the KWPN stallion competitions. While Kennedy (Ferro x Saluut) won the title as four and five year old, Negro and Metall are now striving for the lead. Metall is stabled at Coby van Baalen's barn where he's trained by first "bereiter" Nathalie Smeets or either her daughter Marlies van Baalen. (Metall pictured left)
 Negro is a highly temperamental and elegantly built black with refined movements. He dominated this year's Talkline Stallion Show Circuit and won the competition in 's Hertogenbosch beating Neostan, Nexxus and other promising mounts.  Métall is more bolder and muscled, however he sometimes loses impulsion from behind and can be more steady on the bit. Paddo, a Ferro x Darwin youngster, excelled at the 2000 Stallion Keuring Days and finally captured the Champion's title. During the days he gave the best overall impression with gaits and conformation.
Renowned Get
Kennedy
First approved Ferro son - Double Winner of the NHS/KWPN Stallion Competition - currently ridden by Leida Strijk
Metall
Rising star shown by Marlies van Baalen and Nathalie Smeets - approved. Is a real picture perfect however tends to miss power from behind.
Negro
Approved son competed by the Danish Anne van Olst - highly tempered black pearl with great movements - definitely a highlight in his offspring
Osmium
All round son - tends more to be a show jumper
Paddo
2000 Stallion Keuring Champion