2000 French Dressage Championships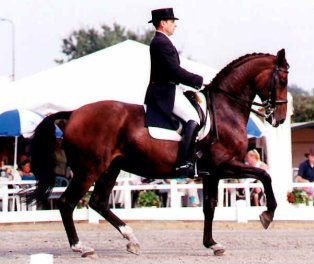 The name Michel Assouline does not automatically ring a bell, but, know it or not, this person did win the 2000 French Dressage Championships.
At the National Dressage Championships, hosted by the French National Equestrian Facility in Saumur, Assouline presented his steady partner Annastassia in excellent shape. Throughout the three-days of Grand Prix dressage competition, the pair dominated every single test. Taking the 2000 Champion's title and leaving long-time rival Dominique D'Esme on Ultimat Thor behind him, Assouline reboosted his career and renewed his international fame and recognition.
That Assouline's life would be controlled by horses became obvious at early age. Hel quickly decided to make a career in horses and graduated at the French National Equestrian Center in 1977. Receiving valuable turoring from Commandant Saint Fort Paillard, Willi Schultheis (Germany) and Jürgen Koschel, Assouline's knowledge and experience granted him the opportunity to move to England. Offered a training position at Addington Manor in Buckinghamshire, England, Assouline emigrated to Great Britain to become the trainer of the Countess of Inchscape. In 1988 he was selected as a team member to represent France at the Seoul Olympics.
Currently based in East Grinstead, West Sussex (GBR), Assouline is working hard on a new competition career. With the Hanoverian mare Anasstasia (by Akzent I) Assouline hopes to get represent his country with the French Dressage team at the 2001 European Dressage Championships in Verden.