2002 CDI-PJYR Bilzen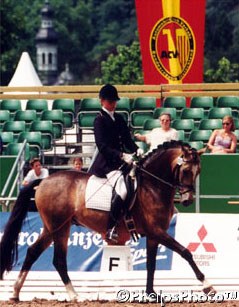 Pony rider Angoli Anne Jensen, junior rider Wendy Fokker and young rider Joyce Heuitink dominated the very first international youth dressage riders competition of the season.
Gathered at the Belgian equestrian academy in Bilzen, riders between the ages of 12 to 21 battled for team and individual top placings.
In the pony division, experienced pony rider Angoli Anne Jensen scored magical 70% scores with her own Goldino (by Golden Dancer). Her Rhinelander dun pony is in top shape and has started his bid for the 2002 European Pony Championships as a hopeful for the individual gold medal. Angoli Anne scored 69.67%, 70.11% and 72.50% claiming three wins and the overall individual champion's title. British rider Henry Boswell was the only one who could lay a breeze in Jensen's neck with his DHI Peppino. Boswell scored 69.92% in the pony kur to music, which counted as individual final. Dutch Andrea Villaverde, who has a dual citizenship in The Netherlands and Spain, received 68.83% for her freestyle. Villaverde rode the gorgeous Weser Ems pony stallion Condor (by Constantin). The 13-year old Luxembourg Veronique Henschen rode 67.92% with her former European Pony Champion gelding Casper (by Downland Folklore)
In the junior riders' class, four talented riders were in competition with each other for an individual medal. It was new comer Wendy Fokker who eventually claimed gold in the junior riders' kur to music. Aboard her mother's licensed KWPN stallion Darwin, Fokker rode to 72.60% score and left fellow team member Danielle van Aalderen behind her. Van Aalderen, who is trained by Coby van Baalen, received 71.72% in the kur with her Westfalian stallion Festivo. Belgian Arnaud Reper saddled his georgeous Westfalian gelding Fortissimo (by Foxtrot) and collected 70.38% and a third place. Valentina Truppa, daughter of the international judge Vincenzo Truppa, finished fourth aboard Don Rico with 70.13%.
If German Nicole Giesen never tried for the young riders division at all, Joyce Heutink would have been the European Young Riders Champion. This Dutch 21-year old, trained by Rien van der Schaft, has an absolute superb, yet sensitive horse. Her Berkel I Dancer already dominated various Euro-Future Cup competitions last year, and now seems to be ready to take over the throne from Giesen,. At Bilzen, Heutink and Berkel I Dancer scored 69.83%, 71.32% and 74.13%. Only two rising Belgian talents were able to spice up the competition a bit. Rising star Ruth van Campen has been a constant competitor on the Belgian dressage scene since her pony days. Her junior riders' period was not as successful as her young chestnut mare Capriccio (by Caprimond) was inexperienced then. Now the combination has matured and seems ready for a serious battle this upcoming show season. In Bilzen, the pair improved every test and scored a final 68.52% in the kur to music, which placed them second. Belgian junior rider champion Hannelore Volders finished third aboard her KWPN gelding Jakko (by Chronos). She received 68.35% from the distinguished panel of judges.