2002 World Cup Finals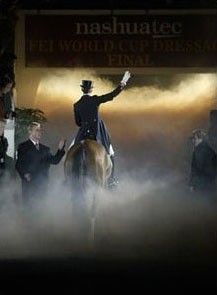 Together with Anky van Grunsven, over 10,000 dressagefans could not manage to control their tears. With a fantastic show wonder horse Gestion Bonfire said farewell to the topsport in an emotional way.
After a heart of torches was taken around the arena by Bonfire's former grooms and riders, the four screens in the arena showed the most beautiful moments of his life. The historical pictures showed all victories and medals won on international championships. Bonfire was brought into the spotlights and presented a beautiful Kür to Music, for which most of the Worldcup competitors did not have to be ashamed of. The most emotional moment was Anky's thank you to her Bonnie. ' I could not have had a bigger luck in my life than to have this horse. A horse like Bonfire is one in a million. He always gave everything and as everybody can see today he is still topfit.'
Anky also thanked Indoor Brabant and all fans of dressage and Bonfire: 'This is our event. We have experienced wonderful moments here in front of our own fantastic crowd.' After Anky spoke, the screens showed pictures of a very emotional Sjef Janssen, Anky's partner and trainer. That nobody will forget this by life already legendary horse was made clear by the thousands of fans who waved Bonfire goodbye with white handkerchiefs.
Source: Indoor Brabant
Image by Dirk Caremans
Related Links
Ulla Salzgeber Prolongs World Cup Title at 2002 World Cup Finals
Gestion Bonfire To Retire (Again) at World Cup Final