2002 European Junior/Young Riders Championships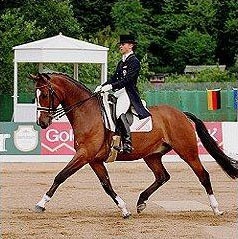 Junior rider Jessica Werndl and young rider Nicola Giesen became the individual gold medalists at the 2002 European Junior and Young Riders Championships held in Pratoni del Vivaro, Italy, at the show grounds where the 1998 World Equestrian Games were hosted. 
Junior Gold for Werndl
In the junior riders' division, German Jessica Werndl scored the most consistently and the highest. Riding Bonito, Werndl won team gold for her country Germany and the individual gold with a 76.01% marked kur to music.
The silver medal went to Austrian Victoria Max-Theurer who had been vying for gold over the past three years but was never able to achieve it (2 bronze medals in 2000 and 2001, silver in 2002). Max-Theurer is the daughter of former Olympic Champion Sissy Max Theurer and trains at her own facility at Castle Achleiten in Austria.
Dirk Viebrock and Willy the Kid received the bronze medal and contributed to the 12 golden medals the country won at the championships over the weekend.
Young Rider Gold for Giesen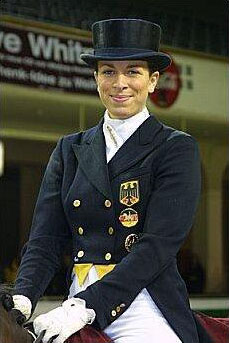 Nicola Giesen secured her second consecutive Young Riders' title with her trusty mount Slow Fox V (by Saros xx). Giesen's entry at the EUYRC was uncertain for a while as her chestnut gelding got injured at the beginning of the 2002 show season. Only performing at the necessary qualifiers and one CDI, Giesen spared her horse in order to make a deep impact at the one show every Young Rider dreams of competing in.
For a long time it seemed that the Dutch Joyce Heuitink would snoop into Giesen's golden plan, but Giesen, who is trained by the German chef d'equipe Holger Schmezer, scored 75.98% and won the freestyle.
Eventually it was team mate Jan Andreas Viebrock with Muchacho who became Giesen's biggest threat. With 75.36% in the kur, Viebrock gained points in the overall ranking and was just 0,01 point short for a tie.
The bronze medal went to Heuitink who rode three beautiful tests with her temperamental mare Berkel I Dancer (by Candyboy) during the event.
Related Link
Eurodressage Coverage of the 2002 European Junior/Young Riders Championships