Dutch Dressage News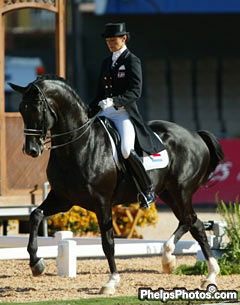 The results of the vet check conducted on November 16, 2002, carries severe consequences for the future of breeding and competition stallion Olympic Ferro.
The results of the vet check by veterinaries Van Ooijen and Welling were sent to Coby van Baalen's lawyer. The vet check discovered the following facts. Despite lightly swollen hocks from kicking his legs against the stable walls, the old tendon injury on his front right leg was still there. Ferro was detected with this tendon injury right after the Olympic Games of Sydney and had to ondergo two years of revalidation. Ferro made his come back on the competition scene in 2002 at the Dutch Dressage Championships but turned lame again at the World Equestrian Games in September 2002.
The vets of the vet check mention that a recovery period of half a year to one whole year will be necessary for Ferro. Complete functional revalidation is uncertain as this injury has the tendency to easily return.
The owners Lamers and Van der Goor conclude, inforced with the vet check report, that it's no longer necessary for Ferro to stay at Coby van Baalen's stable. Lamers and Van der Goor did not comment on how they wanted to realize Ferro's revalidation or if he would be breeding next season or not.
Ferro's owners will now return to court to reclaim their stallion legally.
Source: KWPN
Image copyrighted: Mary Phelps
Related Links
Olympic Ferro Vet Checked
Ferro Returns to Coby van Baalen 
Coby van Baalen Sues Ferro Owners Lamers and Van der Goor