Dutch Dressage News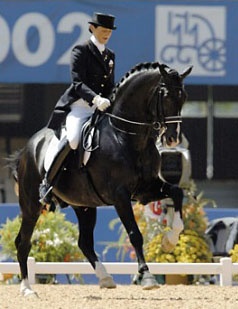 Although it was announced after the unfortunate law suit drama with Coby van Baalen that Olympic Ferro would be retired from competition and never be seen again in the show ring
, owners Lamers and Van de Goor recently reported the contrary to Dutch equestrian magazine Hoefslag.
Former Dutch Grand Prix rider Hélène Aubert has been appointed Ferro's new rider. She will present Holland's most popular KWPN breeding stallion in several stallion shows in The Netherlands. "Aubert will be riding Ferro at stallion shows and so and we are taking the time to make a new kur to music for him," Mrs Lamers told Hoefslag.
Aubert is not the first rider who has been asked to ride the stallion, but many declined the ride because of the sensitive and difficult situation between Lamers/Van de Goor and former rider Coby van Baalen. According to Ferro's owners, the stallion is completely healthy and capable of performing in the arena.
Source: Hoefslag
Image copyrighted: Arnd Bronkhorst
Related Links
Olympic Ferro Conflict Resolved 
Olympic Ferro to return Lamers and Van der Goor
Olympic Ferro Vet Checked
Ferro Returns to Coby van Baalen 
Coby van Baalen Sues Ferro Owners Lamers and Van der Goor